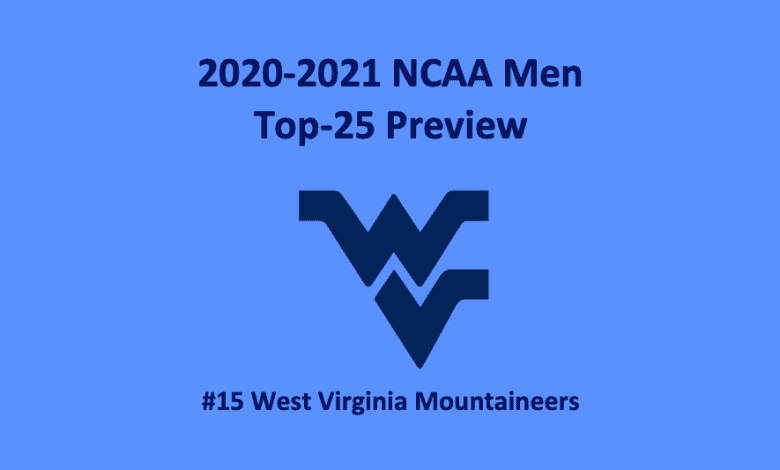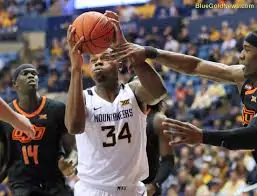 Our West Virginia basketball preview 2020 – 2021 observes that like another Big 12 team, Texas Tech, the Mountaineers had a disappointing season last year. Also, like the Red Raiders, WVU struggled down the stretch, losing six of their last 10 games. Although coach Bob Huggins' team had a solid overall record at 21-10, their Big 12 mark was a mediocre 9-9. The result was a four-way tie for third with Oklahoma, Texas, and Texas Tech. They finished eight games behind Kansas and six in back of Baylor. This is a team that looks to get back on track. One area they need to improve is offense.
Stats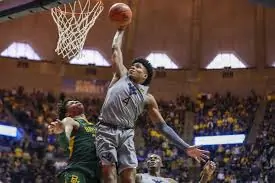 Last season, for West Virginia, the issue was not defense. They had one of the best ones in the nation. However, offensively they struggled. On the positive side, the Mountaineers were 15th nationally and third in the Big 12 in scoring defense, allowing just 62.4 PPG. Plus, they were 16th nationally and second in the conference in field-goal defense, holding opponents to a 39.1 shooting-percentage. Their rebound margin of 8.1 ranked first in the Big 12 and fifth in the nation.
However, offensively the Mountaineers struggled. On scoring offense, WVU averaged 70.3 PPG (202nd Nationally, 5th Big 12), while their three-point field goals per game came in at 5.0 (339th Nationally, 10th Big 12). Field-goal percentage was 42.2% (254th Nationally, 7th Big 12) and three-point percentage was 28.6% (338th Nationally, 10th Big 12). WVU's free-throw percentage of 64.1 (333th Nationally, 9th Big 12) was problematic. Finally, assists per game totaled just 12.4 PG (235th Nationally, 7th Big 12) and turnovers per game came in at a hefty 14.4 PG (291st Nationally, 10th Big 12). Every part of the Mountaineers offense was substandard.
West Virginia Basketball Preview 2020 – 2021 – Players
Each player on the starting five comes to this season with experience. The unit is comprised of three juniors and two sophomores. Four of five started last season. The frontcourt is occupied by sophomore Oscar Tshiebwe, last season's leading scorer, and junior Derek Culver. While junior Emmitt Matthews takes on the guard/forward role. Four freshmen round out the frontcourt. Included are redshirt freshman Jalen Bridges. In 2019, Bridges was a top-100, four-star recruit. Incoming freshmen are Isaiah Cottrell, Seny Ndiaye, and Taj Thweatt. Junior Jordan McCabe and sophomore Miles McBride share the backcourt. Top junior college prospect Kedrian Johnson joins the unit. He has a huge upside and a lot of potential.
Frontcourt
As a freshman last season, Tshiebwe put up fine numbers. While hitting 55.2% of his field goals, he averaged 11.2 PPG. He brought down 9.3 RPG and recorded 1.0 BPG. He also connected on 70.8% of his free-throws. Even more is expected of him this season. Culver averaged 10.4 PPG, 8.6 RPG, and 1.4 APG. WVU's second-leading scorer, Culver was good on 45.7% of his field goals. Together, the 6-9 Tshiebwe and 6-10 Culver form a lethal duo of frontcourt enforcers who command the paint and the rim.
G/F Matthews, who showed a lot of promise in his freshman season two years ago, had an off-year as a sophomore last year. Now a junior, a lot is expected of him in what is projected to be his rebound year. Despite putting up poor numbers last season, including 6.3 PPG, Matthews proved to be the difference-maker against Baylor in the final game of the season. In that contest, he played 33 minutes, scored 18 points, and grabbed four rebounds. As noted, redshirt frosh Baker, as well as true freshmen Cottrell, Ndiaye, and Thweatt, could see playing time.
Backcourt
Our West Virginia basketball preview 2020 – 2021 notes that in his freshman season last year McBride averaged 9.5 PPG and 1.1 SPG. Coming off the bench, he put in 22.2 MPG and connected on 40.2% of his field goals. McCabe, who averaged 3.1 PPG, is a junior with lots of solid experience. But he'll need to pick up production. Johnson, the third-top JUCO prospect in the nation, comes to Morgantown having recorded 25.5 points per game along with 5.4 rebounds, 5.4 assists and 3.4 steals. His 25.5 PPG made him the fourth-top scorer in the nation. He possesses a huge burst of speed off the dribble, taking him past and through defenses, creating separation. Watch him score.
Mountaineers – Make or Break for 2020-2021
Last season down the stretch, the Mountaineers could not step-up. They had plenty of talent, but coach Huggins could not find the right combination of players to get the job done. Our West Virginia basketball preview 2020 – 2021 finds that overall players were unable to take their games to the next level. The one exception was McBride.
This season, WVU should be able to utilize their experience together to find the give and take as well as the variety in their play needed to push them past the daunting competition. Improvement on offense is essential. Also, players like Matthews and McCabe will need to reestablish themselves. If they can do that, and the transfers and freshmen all pull their weight, this could not only help improve WVU's record in nonconference games, but also, make them competitive within the Big 12. Essential to winning will be reducing the number of turnovers they commit and utilizing passing more effectively.
West Virginia Basketball Preview 2020 – 2021- Final Word
Our West Virginia basketball preview 2020 – 2021 notes that this team is returning the top three players from last season. That's promising. Bob Huggins starts this season with a solid roster of vets and some very talented freshmen. This team has a chance to take down the Big 12 title. However, there's a huge amount of competition from Kansas, Texas Tech, and Baylor. That's a boatload of quality, highly competitive teams. We think the result will be that WVU will perform better than last season, however, we doubt they'll be top-dog in the Big 12. Third-dog looks promising.
West Virginia Mountaineers – 2020-2021 NCAA Projection
Big 12 Finish – Third
NCAA Tournament Result – Second Round