NCAA Previews
#14 Stanford Cardinal Preview
Can a Pac-12 Title Be In This Team's Immediate Future?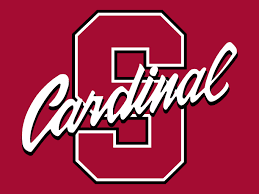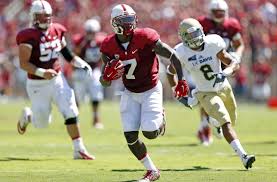 The Stanford Cardinal (10-3), which last season finish third in the Pac-12 North with a 6-3 conference record, will be very competitive this year. Our 2017 Stanford Cardinal college football preview confirms that junior Keller Chryst, who was injured in the Sun Bowl last December 30, is healthy and will start at quarterback for the team. Stanford won that bowl game, beating North Carolina 25-23. This season the Cardinal team welcomes back eight starters on each side of the ball. Although this team faces a very tough schedule with away games at USC and Utah as well as a final regular season game with Notre Dame, they should finish in good stead.
Offense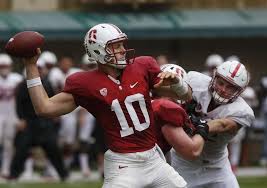 Chryst returns after a decent season where he threw 10 TD passes and two picks. His completion rate of 56.6% is not enviable and has to improve. At the same time, the Stanford offense does not revolve around the pass. It is all about the running game. The 35th ranked ground attack will this year be led by junior Bryce Love who should ably replace star RB Christian McCaffrey. Last year, Love ran for 783 yards and scored three times while averaging 7.1 YPA.
The receiving group includes the two top two pass-catchers from 2016, junior Trenton Irwin (37 REC, 11.9 YPC, 1 TDs and sophomore J.J. Arcega-Whiteside (24 REC, 15.8 YPC, 5 TDs). Junior TE Dalton Schultz, who in 2016 had 22 catches while averaging 9.7 YPC and scoring once, could be poised to contribute a lot more in 2017. The good news for Chryst and the ground attack is that the Cardinal offense line is experienced and skilled.
Defense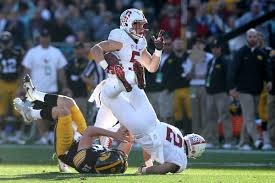 The Stanford defense, which last season allowed 20.4 PPG and was ranked second in the Pac-12 and 18th nationally, is poised for another fine season. However, they do face one major challenge and that's replacing LB Solomon Thomas who led the team in tackles (62), sacks (8) and TFL (7). Junior ILB Joey Alferi (51 TCKLs, 5 SCKs, 5.5 TFL, 9 QBH) , senior OLB Peter Kalambayi (45 TCKLs, 3.5 SCKs, 2.5 TFL, 5 QBH) and junior DT Harrison Phillips (46 TCKLs, 6.5 SCKs, 3 TFL, 3 QBH) were all major contributors last season. Alferi, who also had two picks and one pass broken up, is an agile and versatile defensive player.
The secondary is especially deep, as it includes eight players with solid experience. Junior CB Quenton Meeks and junior FS Justin Reid lead the group. Meeks defender six passes and grabbed two picks last season, while Reid was good for 57 tackles, four TFL, and seven PBU. Top corner Alijah Holder returns after missing 2016 with a shoulder injury.
Special Teams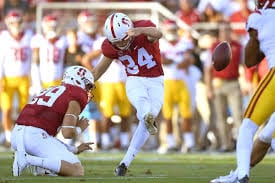 Placekicker Jet Toner, a highly regarded prospect, has to replace Stanford's all-time leader in field goal success, Conrad Ukropina. The word is he looks to be a fine replacement. Punter Jake Bailey placed 20 or his 55 punts within the 20-yard line while averaging 43.5 YPP. The dynamic Christian McCaffrey has to be replaced on runbacks. Love is the logical go-to in that area.
2017 Stanford Cardinal College Football Preview: Final Word
As noted above, this Cardinal team has perhaps the most difficult schedule in the conference. Entering his seventh year as head coach, David Shaw (64-17 Overall, 4-2 Bowls) continues to do fine work. If the rush attack can stay healthy, our 2017 Stanford Cardinal college football preview finds that this Stanford team will be successful.
Big games include the Sep 9 contest at USC. Stanford has been victorious in seven of the last nine meetings and has won four of five on the road. Oregon visits Stanford on Oct 14 for a major division matchup. Nov 10 features Washington on the Cardinal home turf. If Stanford can win this one, they may claim the Pac-12 North title. Nov 18 Cal plays Stanford for the Axe, which the Cardinal club has now won seven times in a row.
Top Three Takeaways
Watch this team run and run some more
Defense is solid and key
Schedule is tough and taxing
2017 Stanford Cardinal College Football Preview Projection: Record: 9-3 Overall/6-3 Big 12; Finish: 2nd Pac-12 North