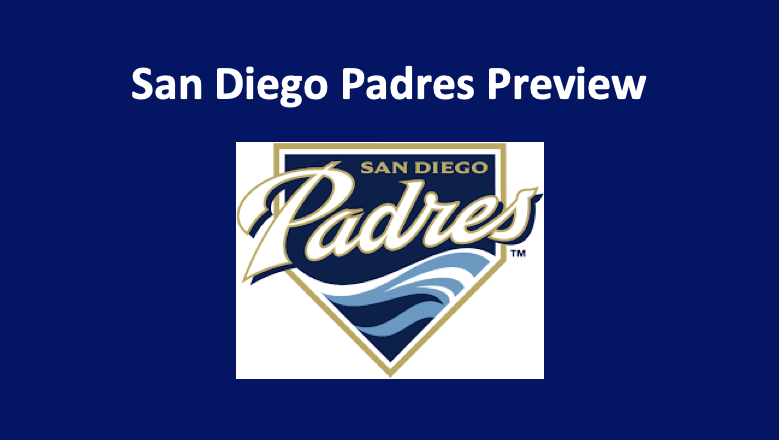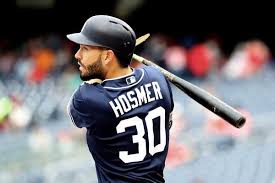 Our San Diego Padres Preview 2020 observes that this team posted its tenth-consecutive losing mark last season going 70-92. It was also their fourth-straight season with 90-plus losses. In many ways, the Padres looked good on paper, but the expected surge in wins did not materialize as they recorded 70 wins and 92 losses. With the end of the 2019 season, manager Andy Green was let go. The new skipper, Jayce Tingler, brings a solid reputation as a minor league coach and field coordinator for the Texas Rangers. Tingler, who has done a lot of work in player development and is bilingual, looks to be a good fit for San Diego, which features a lot of young talent and plenty of Spanish-speaking players. Our San Diego Padres preview sees 2020 as a major transition year for this ball club.
San Diego Padres Preview 2020 – Rotation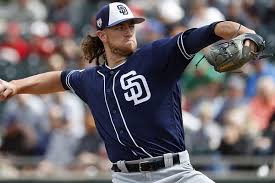 Padres pitching gave up a lot of runs last season as they finished 12th in the NL in ERA (4.60). However, overall, team pitching stats were not bad in some ways and even above average in others. The 215 homers they allowed ranked seventh while their 1,475 strikeouts earned them fifth-place. The teams WHIP of 1.30 tied them for seventh with two other NL teams. When it came to closing, the Padre's 47 saves were second only to the Milwaukee Brewers who notched 50.
The rotation features four righties with Chris Paddack getting the nod to take the mound first. The young ace offers a mid-90's fastball and a plus change. Against Paddack's changeup, batters are hitting just .190. Last season, he made a solid transition from Double A to MLB by posting a 9-7 record, 3.33 ERA, and 0.98 WHIP. Expect him to be better this season. Second and third in the rotation are two more righties, Dinelson Lamet and Garrett Richards. Coming off of Tommy John surgery last year, Lamet averaged 12.9 strikeouts per nine-innings-pitched in 14 starts. He's got a solid fastball and a developing slider and change. Richards has a high-speed four-seamer, an elusive curve, and a quick-dropping slider. The problem is over the past four seasons, he's missed huge parts of each season. He comes back this year from Tommy John surgery and with a lot of promise.
Bottom of the Rotation
The final two spots in the rotation feature righty Zach Davies and lefty Joey Lucchesi. Davies, who comes to the Padres from the Brewers via a trade, is not the most exciting pitcher. But he does get the job done with solid control and a sound changeup. Last season with Milwaukee he was 10-7 with a 3.55 ERA. Those are good stats for any fourth starter. Lucchesi brings a change, or "churve," which has more vertical drop than any changeup in MLB. Although he has average stuff, which will keep him at the end of the rotation, he does offer a good sinker/change/cutter combo.
San Diego Padres Preview 2020- Bullpen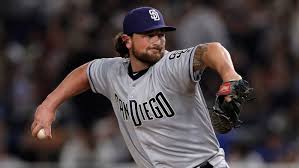 The San Diego bullpen is a happening place. Last season lefty Drew Pomeranz transitioned successfully from the starting rotation into the pen. His fastball clicked up about three extra miles per hour as he held opponent batters to a .165 average and struck out 50 hitters over 28.2 innings. He's could see multiple-inning stints in 2020. Setup man Andres Munoz throws a fastball that averages 100 mph and a slider that baffles batters. That's the good news. The bad news is he is out for the season with elbow issues.
That means former Ray Emilio Pagan gets the nod to setup. Our San Diego Padres Preview 2020 observes that last season with Tampa Bay, he posted 20 saves, 0.83 WHIP, and 2.31 ERA. His fastball comes in at over 95 mph. Righty Kirby Yates returns as the closer. Last season, he saved 41 games and struck out 101 batters. Yates, who posted an ERA of 1.19 and WHIP of 0.89, brings a deadly splitter to the mound and an effective four-seam fastball.
Padres – Everyday Players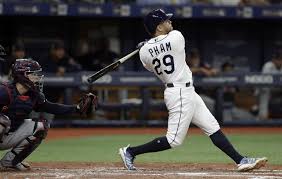 The one to three spots in the batting order go to shortstop Fernando Tatis, first baseman Eric Hosmer, and third baseman Manny Machado. In 2019, his rookie season, Tatis appeared in just 84 games due to two stints on the IL. However, he put up impressive numbers, hitting .317 with 22 homers and 53 RBI. If he stays healthy, he'll be a major force as Tatis has power, speed, and fine defensive skills. On the other hand, Hosmer has posted mediocre numbers over the past two seasons. He's solid at first and can get the bat on the ball, but his power stats are lacking. In 2019, he smacked 22 homeruns while driving in 99 runs. He batted .265.
Machado, who is merciless against lefties, struggled last season after coming to the Padres from Baltimore. He saw his doubles dwindle and his productivity take a dive. Machado did hit 32 homers. But the dimensions of Petco Park, which are much more imposing than those of Oriole Park at Camden Yards, took a toll on his numbers. Switch hitting second baseman Jurickson Profar hits fourth with right fielder Wil Meyers coming up fifth. Profar came to the Padres in a trade with Oakland. His numbers have been disappointing to say the least. Meyers, who hit .238 last year, was an on-again/off-again presence.
San Diego – Rounding Out the Order
Left fielder Tommy Pham will bat sixth. The seventh and eight spots go to Trent Grisham, who plays center, and Francisco Mejia, switch-hitting catcher. In 2019, with the Rays, Pham posted a .272 BA while poking 21 homers and stealing 25 basses. He's a top-notch base runner. However, Pham is a less-than-average fielder who has struggled with injuries. Grisham, who was acquired in a trade with Milwaukee, has some sound potential. Our San Diego Padres Preview 2020 notes that Mejia brings good power to the plate and a strong arm when behind it. But when batting he struggles with breaking stuff and is impatient. His catching skill are below average. There's a lot to work on here.
San Diego Padres Preview 2020 – Prediction
Our San Diego Padres Preview 2020 finds that this team has some real potential. The rotation is solid and the bullpen can keep this team in the game. But there are some major questions when it comes to hitting and depth. It will be interesting to see what rookie manager Tingler can do with this team. We expect some decent winning streaks. But we also anticipate some very tough losing streaks. Fourth in the NL West looks likely.
San Diego Padres – 4th in the NL West (75-87)