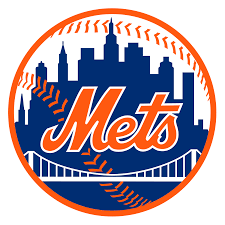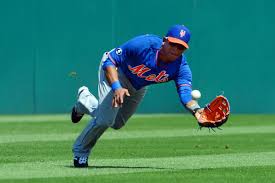 In 2015 and 2016, the New York Mets (70-92) made the playoffs. In 2015, they finished first in the NL East, as they won 90 games. The next year they were second with 87 wins. Our New York Mets 2018 preview sees this team as posting a winning mark and probably contending for a playoff spot. But we doubt that they will make it. Along with dealing with a Nationals team that is exceptionally strong, they have to battle an improved Philadelphia club and dangerous Atlanta franchise.
Pitching
The pitching staff had their problems last season, as they were tied for 23rd in saves (34), finished 29th in opponent batting average (.273), and ended up 28th in ERA (5.01). Their 70 wins ranked them 25th in MLB. This is a rotation that has some major challenges and bullpen that desperately needs its closer to be healthy.
Starters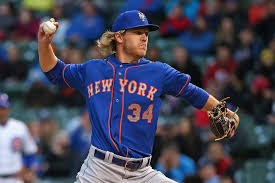 Noah Syndergaard (1-2 W/L, 2.97 ERA, 10.1 K/9) is the ace of this group. Still, in order for him to be effective, he has to stay healthy. He missed most of last season with a torn muscle. Syndergaard has a potent fastball, but he needs to temper it a bit. Jacob deGrom (15-10 W/L, 3.53 ERA, 10.7 K/9) had a productive 2017, finding his rhythm in midseason. He features an effective sinker and curve and a decent slider. Zack Wheeler (3-7 W/L, 5.21 ERA, 8.4 K/9) struggled near the end of the season and has health issues. He should be third in the rotation. Both Seth Lugo (7-5 W/L, 4.71 ERA, 7.6 K/9) and Matt Harvey (5-7 W/L, 6.70 ERA, 6.5 K/9) have showed potential but have been plagued by injuries.
Relievers
Closer Jeurys Familia (4.38 ERA, 6 SVs, 9.1 K/9) missed a lot of last season due to a shoulder injury. In his two previous seasons, he notched 94 saves in total. Good health will serve him and the team well. A.J. Ramos (2-4 W/L, 3.99 ERA, 11.1 K/9) could be an important contributor, while last season Anthony Swarzak (6-4 W/L, 2.33 ERA, 10.6 K/9) proved to be effective for the White Sox and Brewers.
Everyday Players
The hitters on this team were overall average last season. The team batted .250 (19th) and ended with 713 RBI (tied 16th). Mets batters did smack 224 homers (tied 7th), but they stole just 58 bases (27th). In the field, they were tied for 29th in double plays (125), while their fielding percentage was .984 (17th).
Hitting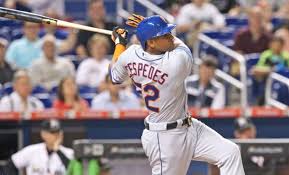 A lot of this lineup is overall the same as it was last season. Left fielder Yoenis Cespedes (.292 BA, 42 RBI, 17 HRs), who will bat fourth, is a fine homerun hitter. Wilmer Flores (.271 BA, 52 RBI, 18 HRs), who hits third and plays second, can also put the ball over the fence. Leading off is third baseman Asdrubal Cabrera (.280 BA, 59 RBI, 14 HRs), who had a fine second-half last year. In the second spot is right fielder Michael Conforto (.279 BA, 68 RBI, 27 HRs). He proved he could hit left-handed pitchers, as he batted .303 and had an OPS of .595, but he struggled against righties, posting a .212 average and an OPS of .444. Catcher Travis d'Arnaud (.244 BA, 57 RBI, 16 HRs) was good in the clutch, as nine of his 16 round trippers in 2017 either tied the game or gave the Mets the lead.
The final three spots in the rotation include first baseman Dominic Smith (.198 BA, 26 RBI, 9 HRs), shortstop Amed Rosario (.248 BA, 10 RBI, 4 HRs), and center fielder Juan Lagares (.250 BA, 15 RBI, 3 HRs). Smith came up to the majors last season and struggled. In the minors, he batted .302. Hopefully he can bring some of that consistency to the plate this season. Rosario could be an essential contributor, while Lagares is noted for his defense.
Defense
It's great to have someone like Lagares in center. He finished third in runs saved in the NL last season with 15. In right field, Conforto offers decent D, while Cespedes provides good ball tracking chops in left. Both were severly hampered by injuries last season. Health is a major factor for both in 2018.
Smith who came up from the minors and played first in 2017 proved to have good hands and agility. At short, Rosario, who also came up from the farm, is a talented player. Behind the plate, d'Arnaud is a below-average pitch framer, but he's quick and smooth and does a good job blocking balls.
Management and Front Office
The New York front office may be a haven for mayhem again, as ownership brought back former Mets GM Omar Minaya as a consultant. He's a solid evaluator of talent and knows the game inside out, but discord tends to follow him. They also brought in first-time helmsman Mickey Callaway. Callaway did wonders with the Indians as a pitching coach and is noted for being a guy who uses analytics well and connects nicely with players. Many feel he's a rising star. Current GM Sandy Alderson will monitor progress, and may blow this team up if he does not see some forward motion.
New York Mets 2018 Preview: Final Word
Okay, let's go Mets! How far will they go? In 2015, they made it to the World Series. However, we doubt they will go that far this year. The Mets have a new manager, a reshuffled front office, and a lot of young players. They also have a few vets. One thing is certain, the team's a bit thin and good health is a necessity. Our New York Mets 2018 preview sees this team as just falling a bit short this season, but doing better than they did last season.
Projected Finish: 2nd NL East, Record: 82-80