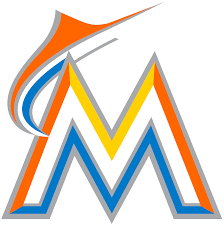 For each of the past five seasons, the Miami Marlins (77-85) have not won more than 79 games, and their best finish has been second in the NL East. That second-place finish occurred last season when they were 20 games out of first place. The Marlins unloaded a lot of players in the offseason, including top-of-the-heap slugger Giancarlo Stanton, who they traded to the New York Yankees. Our Miami Marlins 2018 preview anticipates this team, which in in major rebuild mode, will be at the bottom of the heap in the NL East. But that's the way it goes when you're starting all over again.
Pitching
The team ERA was 4.82 (26th), while opponents batted .263 (19th) against the Marlins. Their bullpen was tied for 23rd in save with 34. They do have some young talent in the starting spots, but there's problems with depth both in the rotation and in the bullpen. The closer situation is especially tenuous.
Starters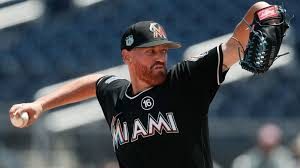 Two righties are the featured one and two starters with Dan Straily (10-9 W/L, 4.26 ERA, 8.4 K/9) being the ace and a young gun, Jose Urena (14-7 W/L, 3.82 ERA, 6.0 K/9), taking the number two spot. Straily is smart and has a solid fastball and changeup, but he has a tendency to give up the gopher ball. Urena discovered some good stuff last season, which includes a breaking slider and a 95-mph fastball. But he won't strike out a lot of guys, which means he needs some competent fielders to be effective. Three lefties look to complete the rotation. They include Adam Conley (8-8 W/L, 6.14 ERA, 6.3 K/9), Dillon Peters (1-2 W/L, 5.17 ERA, 7.8 K/9), and Justin Nicolino (2-3 W/L, 5.06 ERA, 4.9 K/9).
Relievers
The bullpen includes closer Brad Zielgler (4.79 ERA, 10 SVs, 5.0 K/9) who proved to be mediocre last season. Ziegler notched 10-of-15 save attempts. Kyle Barraclough (6-2 W/L, 3.00 ERA, 10.4 K/9) returns after a decent run in 2017.
Everyday Players
The Marlins certainly hit for average last season, as they were third in that category with a team batting average of .267. They finished 10th in RBI with 743 and 11th in runs with 778. Their OB% was .331(10th) and slugging percentage came in at .431 (14th).
Hitting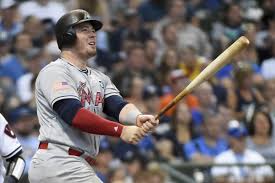 Stanton is gone as are a few other hitters. The Marlins will most likely have catcher J.T. Realmuto (.278 BA, 65 RBI, 17 HRs) in the leadoff spot. He's a smart hitter who makes the most of each trip to the plate. Center fielder Chrsitian Yelich (.282 BA, 81 RBI, 18 HRs) gets the nod next, followed by second baseman Starlin Castro (.300 BA, 63 RBI, 16 HRs) and first baseman Justin Bour (.289 BA, 83 RBI, 25 HRs). Yelich is a focused hitter, while Castro is a solid hitter. Bour offers power. Martin Padro (.250 BA, 12 RBI, 2 HRs), who plays left, will hopefully stay healthy enough this season to contribute. Right fielder Derek Dietrich (.249 BA, 53 RBI, 13 HRs),, who was hit by 17 pitches last season, steps into the box in the seventh spot. Up from the minors, Brian Anderson will play third and attempt to recreate his lower league numbers from 2017 that include 22 homers and a .492 slugging percentage. J.T. Riddle (.250 BA, 31 RBI, 3 HRs), shortstop, who had limited time in the majors last season, has shown potential.
Defense
Yelich is a top centerfielder who can track down just about any ball. In right, Dietrich offers sound skills, while Padro moves from third to left. The infield includes All-Star second baseman Castro, who comes over from the Yankees in the Stanton trade, and promising youngster Riddle at short. First base is secure with Bour while third will most likely feature Anderson. Catcher Realmuto is a team leader and skilled at handling pitchers.
Management and Front Office
Manager Don Mattingly, who starts his third year at the helm, welcomes back just about his entire group of coaches from last season. That should translate into consistency with a team that has little experience and requires quite a bit mentoring. GM Michael Hil has his work cut out for him, but a new ownership group headed by former Yankee Derek Jeter wants this team to be highly competitive.
Miami Marlins 2018 Preview: Final Word
This is a young team. They're bound to make a lot of mistakes and lose a lot of games, but they should come ready and willing to compete. Our Miami Marlins 2018 preview sees this club as coming in last. Anything better will be gravy. However, with new ownership, an eye at restocking the farm system, and a top-notch coaching staff, this team looks to have a bright future.
Projected Finish: 5th NL East, Record: 69-93