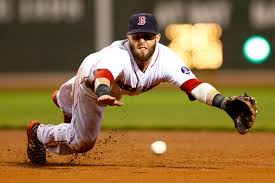 In the past five seasons, the Boston Red Sox (93-69) have taken the AL East division title three times. One of those seasons, 2013, they won it all. The two years they did not win the division the Sox finished last. It's either feast or famine with this team. However, this season our Boston Red Sox 2018 preview sees this team as most likely finishing in the mix the the AL East but not in the top spot.
Pitching
On paper, the Red Sox have one of the best rotations in the AL and perhaps the finest in the AL East. But paper is paper, and last season some of their top performers from 2016 struggled. The relievers look good, and should keep this team in the game.
Starters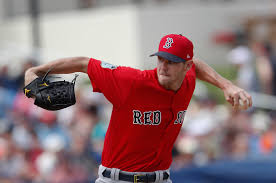 In 2017, lefty Chris Sale (17-8 W/L, 2.90 ERA, 308 SO) proved to be one of the most reliable starters in the majors. Second in the rotation, David Price (6-3 W/L, 3.38 ERA, 76 SO), another lefty, had a rough season, as injuries hampered the guy who led MLB is starts and innings the season prior. Righty Rick Porcello (11-17 W/L, 4.65 ERA, 181 SO), who won the Cy Young in 2016, has a terrible season and looks to rebound in 2018. The team's third lefty starter, Drew Pomeranz (17-6 W/L, 3.32 ERA, 174 SO), saw the Sox win 22 of his starts. He was essential down the stretch. Knuckleballer Steven Wright (1-3 W/L, 8.25 ERA, 13 SO) dealt with a bum knee last season. He went 13-6 two season prior.
Relievers
Closer Craig Krimbrel (5-0 W/L, 1.43 ERA, 35 SVs) was a stellar performer. In 69 innings, he posted 126 strikeouts. Righty Matt Barnes is a top performer, while in 2017, his first season, Joe Kelly allowed no runs in 42 of his 54 appearances.
Everyday Players
The Red Sox are rich in hitters who underperformed last season. The recent addition of J.D. Martinez (.303 BA, 45 HR, 104 RBI) from Arizona could shake things up. In the field, Boston could be better. They're subpar on defense.
Hitting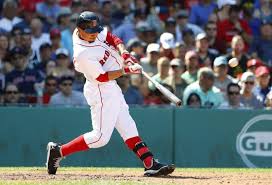 The batting order is certainly a work in progress for this team. Right fielder Mookie Betts (.264 BA, 24 HRs, 102 RBI) is a top leadoff hitter. Since 2015, his total rank him first in MLB in doubles, third in hits, and fifth in runs. Dustin Pedroia (.293 BA, 7 HRs, 62 RBI) offers no power but is a tough batter who can stay alive on long counts. Shortstop Xander Bogarts (.273 BA,10 HRs, 62 RBI) or Left fielder Andrew Benitendi (.271 BA, 20 HRs, 90 RBI) will most likely bat somewhere around third. First baseman Mitch Moreland (.246 BA, 22 HRs, 79 RBI) offers some power.
Now 33 years old, Hanley Ramirez (.242 BA, 23 HRs, 62 RBI) has struggled as DH. Might that be where the Sox put Martinez? Third baseman Rafael Devers (.284 BA, 10 HRs, 30 RBI) played just 58 games but had a good start to his MLB career. While center fielder Jackie Bradley Jr. (.245 BA, 17 HRs, 63 RBI) had an off season and catcher Christian Vazquez (.290 BA, 5 HRs, 32 RBI) showed improvement as a hitter.
Defense
The corners look to be well-manned, as Moreland plays first and Devers third. Moreland, who was injured last season, and Devers, who starts his second season in the majors, should both show improvement. Pedroia will miss the first few months of the season due to a knee injury. The aging, gritty second basemen isn't getting older, and he could be replaced by a younger player. Bogarts at short has shown promise but has as of yet to come through. Vazquez is a fine backstop as is backup Sandy Leon.
After an off year, the outfield needs to come back in 2018. Both Betts and Benintendi had subpar seasons. Although Bradley struggled at the plate, he was exceptional in center, making plays that drew comparisons to Fred Lynn.
Management and Front Office
President of Baseball Operations Dave Dombroski has proved to be an effective baseball executive. The Red Sox have a new manager, which most would agree is good. Alex Cora, who had a career as a respected utility fielder, was the hottest commodity on the managerial market. That's despite the fact that he's never taken the helm of a MLB team. Dombroski has hired Hall of Fame manager Tony La Russa as a consultant.
Boston Red Sox 2018 Preview: Final Word
The Sox really need to improve on last year's performance in terms of consistency. Although they won the division, once again they faltered in the postseason. Since winning the World Series in 2013, they've won just one playoff game. Our Boston Red Sox 2018 preview sees this team as being very competitive. We expect they'll finish second to the high-power Yankees and secure a playoff spot.
Projected Finish: 2nd AL East, Record: 94-68