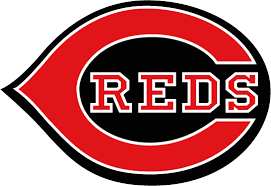 Last season, the Cincinnati Reds (68-94) had the youngest team in the majors. Seven of the 25 players on the opening day roster were rookies. With a lack of experience and various injuries, this team ended up fifth in the division for a third-straight season. Our Cincinnati Reds 2018 preview acknowledges that this club will most likely end up in the last spot once again. The big difference between 2018 and last season is that they may actually earn fewer wins this year. Here's our NL Central analysis of this year's Cincinnati Reds.
Pitching
The Cincinnati pitching staff certainly had its struggles last season as their 68 wins placed them 26th amongst all MLB clubs. They were 20th in opponent batting average with a .263 mark. The team's bullpen managed to notch just 33 saves (tied 25th). When it came to ERA, the Reds were ranked 29th. The team's earned run average was 5.17.
Starters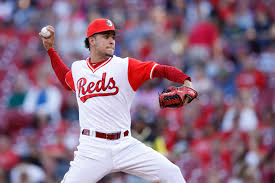 The top of the rotation features righty Luis Castillo (3-7 W/L, 3.12 ERA, 9.9 K/9). Last year, he led all NL rookies in ERA and opponent batting average (.202). Castillo, who was acquired in a trade with the Marlins last season, offers a mid-90s fastball as his bread-and-butter pitch. Second in the rotation is fastball/slider pitcher Anthony DeSciafani. He missed last season due to injury, but in two prior years with the Reds put up solid numbers.
The third man in is former promising prospect and now downgraded mid-career righty Homer Bailey (6-9 W/L, 6.43 ERA, 6.6 K/9). Baily has been plagued the last three seasons with injuries and ineffectiveness. Lefty Brandon Finnegan (1-1 W/L, 4.15 ERA, 11.1 K/9) saw little action last season, as he was dealing with injuries. In 2016, he posted a career-high 172 innings. The final guy in the rotation, right-handed pitcher Robert Stephenson (5-6 W/L, 4.68 ERA, 9.1 K/9), posted a 2.62 ERA over his final nine starts. He does have command problems and his stuff isn't what it should be in order to start.
Relievers
Right-handed closer Raisel Iglesias (2.49 ERA, 28 SVs, 10.9 K/9) led the majors in multi-inning saves with eight. His fastball/slider combo was effective. Michael Lorenzen (8-4 W/L, 4.45 ERA, 8.7 K/9), who uses the same pitch combination and also saw numerous mulit-inning relief appearances, led the team in wins despite the fact that he had no starts. He made 70 appearances last season. Lefty Wandy Peralta (3-4 W/L, 3.76 ERA, 7.9 K/9) has a fine season in 2017 as he topped all rookie pitchers in appearances (69) and managed to garner 16 holds.
Everyday Players
The fielding situation was good, as the defense posted a .986 grade (6th). However, double plays were not their strong points. The Reds made 133 DPs, which earned them a ranking of 24th. When it came to hitting and offense, this team was about average as they batted .253 (18th) as a team and had a slugging percentage of .433 (13th). Their on-base percentage of .329 earned them a ranking of 12th, while they were 13th in homers with 219 and 14th in RBI with 715. This was a team that stole a lot of bases, 120 (3rd). Lead-off batter Billy Hamilton had close to half of those steals, as he took 59 bases last season.
Hitting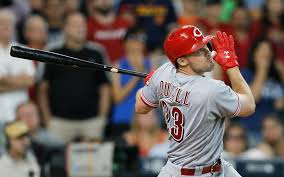 Hamilton (.247 BA, 38 RBI, 4 HRs), who plays center and leads off the order, is exceptionally speedy. His 11 triples last season were the most of any Reds player since Mariano Duncan hit the same number in 1990. Left fielder Adam Duvall (.249 BA, 99 RBI, 31 HRs) bats second. In his first two major league seasons, he's smacked 64 homers, driven in 202 runs, and struck out at 27% of his at bats. The third man at the plate is Joey Votto (.320 BA, 100 RBI, 36 HRs). The first baseman reached base safely 321 times. That mark not only set a new Cincinnati record, but it also led the majors. Third baseman Eugenio Suarez (.260 BA, 82 RBI, 26 HRs) showed power. However, it's be helpful to nudge up his batting average.
Second baseman Scooter Gennett (.297 BA, 97 RBI, 27 HRs) socked four grand slams and also has a four-homerun game last season. The only other player to ever do that was Lou Gehrig. Shortstop Jose Peraza (.259 BA, 37 RBI, 5 HRs) needs to show more consistency at the plate, while right fielder Scott Schebler (.233 BA, 67 RBI, 30 HRs) needs to be able to sustain his output throughout the season. Catcher Devin Mesoraco (.213 BA, 14 RBI, 6 HRs) saw his at-bat struggles continue last season.
Defense
At third base, Suarez is just about perfect. Last season, he went 71 straight games without an error. First baseman Votto offers a good glove. Gennett is a premium fielder at second, while the Reds are looking to shortstop Peraza to play better D than he did last season. Mesoraco is a good catcher, but he's been prone to injury throughout his career. His lack of durability is a real concern for this team. In center, Hamilton is not only fast, but he's smart and athletic. He's got fine defensive skills and instincts. Duvall in left and Schebler in right are both solid fielders with sound arms.
Management and Front Office
GM Billy Williams has put together a pretty good group of pitchers and a deep outfield. But he still has not shown great results. Williams uses analytics religiously and has improved the team. Manager Bryan Price has not has much success in Cincinnati, but his teams have been fairly deficient so it's hard to judge his helmsmanship. He's been creative in his use of relief pitchers in the late innings, leaving them in for a few innings at a time. Ownership continues to extend his contract each of the past few seasons, which means they must have some faith in Price.
Cincinnati Reds 2018 Preview: Final Word
Our Cincinnati Reds 2018 preview does see this team as improving overall. But this is not an easy division. The Cardinals and Cubs are both quality teams, while the Brewers and Pirates can certainly compete with, and in some ways, overmatch the Reds. We think another fifth-place finish is in order in 2018.
Projected Finish: 5th NL Central, Record: 64-98