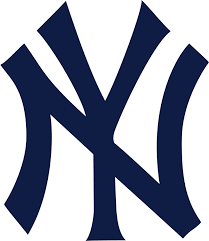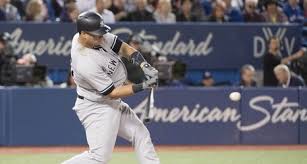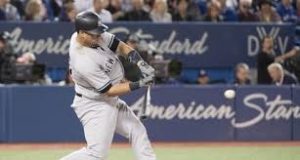 The New York Yankees (91-71) finished second in the AL East last season just two games behind the Boston Red Sox. Although they did not take the AL pennant, they were strong contenders in the postseason. The Yanks showed a lot of improvement from the prior season when they went 84-78, finished fourth, and missed the playoffs. As it is with just about every prognostication service, our New York Yankees 2018 preview projects that this team will win the AL East. Will they go even further? We think they have the stuff to go all the way.
Pitching
The pitching staff is solid, finishing first in MLB in opposition batting average (.228), fifth in ERA (3.72), and eighth in wins (91). Although they tied for 16th in saves, notching 36, they still possess one of the most promising closers in the league. Pitching is a major strength for this team.
Starters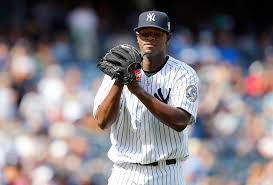 The ace in this rotation is righty Luis Severino (14-6 W/L, 2.98 ERA, 11.5 K/9). Severino has a massive fastball and tough to hit slider, but needs to control his emotions and keep his focus. He can mow down batters at will when he keeps his emotions in check. In his fourth season in the majors, Mashiro Tanaka (13-12 W/L, 4.74 ERA, 9.8 K/9) is fifth amongst active pitchers in winning percentage with a .650 mark. However, he struggled in 2017. Sonny Gray (10-12 W/L, 3.55 ERA, 8.5 K/9), a right-handed hurler, has been projected to be a winner, but must still prove that he is. Two lefties occupy the fourth and fifth spots, veteran C.C. Sabathia (14-5 W/L, 3.69 ERA, 7.3 K/9), who always seems to put up a winning record, and second-year starter Jordan Montgomery (9-7 W/L, 3.88 ERA, 8.3 K/9). Montgomery. Montgomery features a very tough curve ball.
Relievers
Closer Aroldis Chapman (3.22 ERA, 22 SVs, 12.3 K/9) has a fastball that is virtually unhittable, as it averages 100.1 mph. He'd like to improve on his ERA. Both Chad Green (5-0 W/L, 1.83 ERA, K/9) and David Robertson (9-2 W/L, 1.84 ERA, 12.9 K/9) were impressive in relief. In 2017, Robertson posted a 1.03 ERA and struck out 51 in 30 appearances.
Everyday Players
Although fielding is less than mediocre, Yankee hitting is extraordinary. The team ranked first in the majors with 241 homer runs, second in RBI with 821, and second in runs with 858. They come into the 2018 with even more power at the plate. This is a fearsome offensive team.
Hitting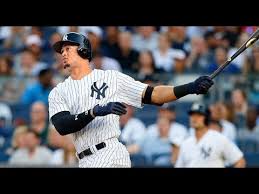 The addition of slugger Giancarlo Stanton (.281 BA, 132 RBI, 59 HRs) to the New York lineup makes this team about as intimidating as a baseball team can be. Stanton will be the DH and bat third. Brett Gardner (.264 BA, 63 RBI, 21 HRs) leads off with power and base stealing smarts while right fielder Aaron Judge (.284 BA, 114 RBI, 52 HRs) offers big-time homer run potential. First baseman Greg Bird (.190 BA, 28 RBI, 9 HRs) needs to improve against left-handed pitchers, as he managed to bat just .168 against that group. His overall stats last season were fairly dismal. In the fifth and sixth spots, catcher Gary Sanchez (.278 BA, 90 RBI, 33 HRs) and shortstop Didi Gregorius (.287 BA, 87 RBI, 25 HRs) both offer homer power. In the final three in the batting order are Aaron Hicks (.266 BA, 52 RBI, 15 HRs), Miguel Andujar (.571 BA, 4 RBI, 0 HRs), and Ronald Torreyes (.292 BA, 36 RBI, 3 HRs).
Defense
The Yankee defense is certainly below average, as they ranked 30th in DPs in 2017 with 102 and 18th in fielding percentage, managing a .984 mark. Behind the plate, Sanchez is anything but stellar, as he has a tendency to make basic mistakes such as allowing passed balls and mishandling throws from the outfield. The infield is all right, but not as impressive as one might expect. In the outfield, Judge and Stanton are very able fielders and in center Hicks offers a strong and accurate arm.
Management and Front Office
GM Brian Cashman is a smart baseball guy who knows how to make deals. Plus, he's got plenty of money to entice the players he wants to see wearing pinstripes. Aaron Boone takes over the managerial spot from Joe Girardi, who held it for a decade. Although Boone has no managerial experience, in his tenure as an announcer for ESPN he proved to possess fine communication skills and a keen understanding of the game. It's thought that he'll be a natural at handling this young team. Time will tell if he actually is.
New York Yankees 2018 Preview: Final Word
They've got a lot of power at the plate and a fine pitching staff. Plus, the Yanks possess one of the game's best closers. Can anyone possibly stop this team? The fact is baseball's long season is very taxing on teams. Although our New York Yankees 2018 preview sees this club as finishing first in the East, there's certainly no guarantee that they will
Projected Finish: 1st AL East, Record: 96-66