Legal
Illinois Gets Tough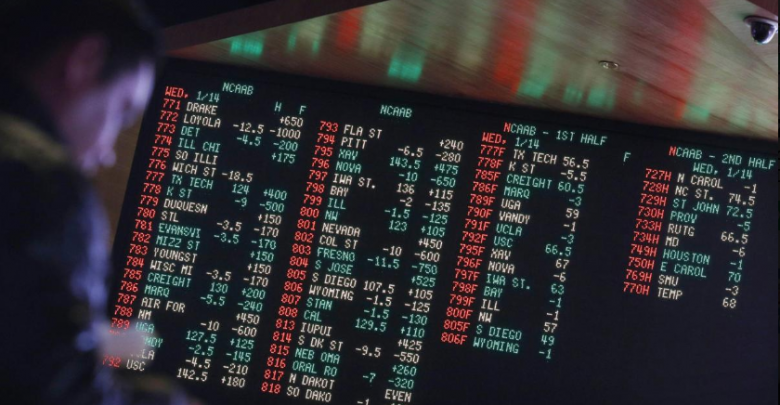 In an interesting turn in the state's chase of legal sports gambling, a late amendment introduced before an Illinois statehouse subcommittee hearing on sports betting last week brought forth a "bad-actor" clause aimed at keeping the two major Daily Fantasy Sports providers turned sportsbooks, DraftKings and FanDuel, out of the state completely. House Revenue and Finance Committee Chairman Mike Zalewski confirmed the existence of four new amendments which would be discussed as options to complete his sports betting bill, H 3308. Representative Bob Rita, who chairs the Subcommittee on Sales, Amusement and Other Taxes in which this hearing was held, has added a fifth Illinois sports betting amendment. This new amendment reads as follows, and it's quite easy to read between the lines:
No sports wagering operator license or Internet sports wagering vendor license shall be granted to an applicant that has accepted, that has or had an affiliate that has accepted, or that has officers or directors who are or have been officers or directors of another party that accepted wagers through the Internet in contravention of any United States law, Illinois law, or any substantially similar laws of any other jurisdiction before the application date …
Casinos, Horse Racing in Full Support of Language
Paul Gaynor, representing Rivers Casino outside of Chicago, made it perfectly clear who the "bad-actor" Illinois sports betting language was targeting. In 2015, the Illinois attorney general found daily fantasy sports violated their state law. Then, DraftKings and FanDuel ignored the opinion and continued to operate in Illinois, Gaynor stated.
Gaynor was quick to explain further. "Without language barring bad actors from the licensing process, the proposed legislation would ignore DraftKings and FanDuel's pattern of criminal conduct and reward bad actors who to this day refuse to comply with the laws."
For those keeping score, which Gaynor obviously is, DraftKings Sportsbook and FanDuel Sportsbook have been dominating the New Jersey market since they first appeared in the Garden State. Their online sportsbooks are winning the market-share battle in the state in a big way as they are licensed through partnerships with a brick-and-mortar casino and racetrack.
Even though it looks as if he is protecting his casino's interest. Gaynor makes a valid point here. Most of the Illinois sports betting amendments pending, other than the lottery-only model, would ask for a $10 million license fee per operator. This was clearly stipulated by newly elected Governor J.B. Pritzker in his first budget proposal. Gaynor points out that the remaining land-based casinos and racetracks in the state would be hard-pressed to pay the $10 million per license for 10 to 20 percent of remaining market share. "As a result of this lack of competition, Illinois will not achieve the maximum tax revenue collections it otherwise could have," Gaynor said. This is a fair point.
Zalewski frustrated
Zalewski has a particular interest there. For years, he attempted to get DFS regulated in Illinois and Zalewski noted displeasure that the issue was now taking over the legal sports betting debate. Of course, this has been the debate with DFS for years now. Is it gambling? Is it Fantasy sports? And what's the difference. Zalewski hopes this conversation on DraftKings and FanDuel be tabled for another day down the road. He would be thrilled to have it in his rearview stating, "They have nothing to do with sports wagering, as far as I'm concerned – daily fantasy sports – they're two separate things."
Mattias Stetz, who represents Rush Street Interactive, worries about the damage that enabling online-only operators could do to the ever-important state's brick-and-mortar gambling industry. As you would expect, the horse racing industry, which is huge in the entire state, came out in full support of the amendment.
"We feel it's very important that players in Illinois can bet within a safe and correctly regulated environment with operators that have a clean track record in the state of Illinois.
"… While it may be true that enabling online-only operators in the market will generate some incremental online-only revenues for the state, it fails to consider that … the vast majority of gaming revenues in Illinois [come] from brick-and-mortar casinos."
Others Not as Supportive
Dan Spillane of the NBA defended DraftKings and Fanduel. It's worth mentioning here that FanDuel is an authorized gaming operator of the NBA. A partnership which gives major sway to both parties.
"We have a partnership with FanDuel, and they're licensed in many states in the US right now, including New Jersey," Spillane said. "I wouldn't see any reason for them not to be similarly licensed in other states where they apply."
This type of bickering is expected. However, as other states have found, it is not wise to attempt to hammer out the perfect amendment immediately. Those who have, especially when dealing with the DFS players, only pigeon-hole themselves down the line. Hopefully, Illinois will not go down this road. If there is any state that needs the tax revenue legal sports gambling can quickly provide, it's Illinois for two key reasons. One: Illinois holds the largest debt of any state in the union. And Two: Chicago is the largest untapped market in the U.S. and losing them to Indiana could be right around the corner.