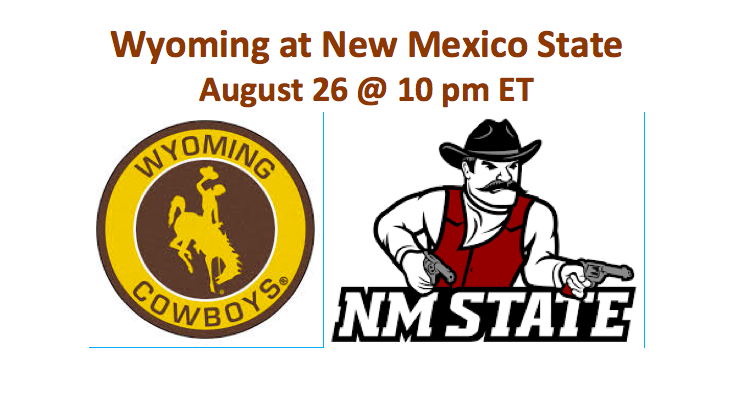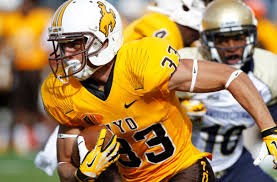 The Wyoming Cowboys (Mountain West – Mountain Division) visit the New Mexico State Aggies (Independent) tonight, Saturday, August 25 at 10 p.m. E.T. The Cowboys will be testing out freshman quarterback Tyler Vander Waal, while the Aggies start quarterback Matthew Romero. Neither has ever played a Division I FBS game before. Vander Waal is a red-shirted freshman, while Romero is a junior college transfer. Our Wyoming plays New Mexico State football pick has the Cowboys at -5.0 and the over/under at 46.5.
Cowboys Offense vs New Mexico State Defense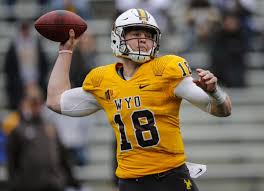 With Vander Waal starting, there are question marks regarding how the freshman will do. But here's the skinny on that, he won a tough competition by outperforming senior Nick Smith. You've got to give him something for that. Vander Waal will have plenty of targets, as the top seven pass catchers from last season return. WR Austin Conway, who had 62 receptions, and C.J. Johnson, who caught seven TD passes, are ready to go. RBs Trey Woods and Kellen Overstreet, each of whom had close to 500 rushing yards in 2017, are also back. The offensive line is experienced and talented, and if they stay healthy, will be a huge asset. We expect them to do well in this game.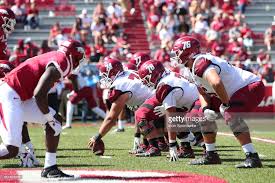 For the Aggies, defensive coordinator Frank Spaziani has done a good job, as this unit has shown improvement the past two years. Nine starters are back on D. That includes junior DE Cedric Wilcots II (29 TKLs, 8.5 SCKs, 3.5 TFL, 3 PBU, 6 QBHs). The LB unit includes Terrill Hanks (111 TKLs, 7 SCKs, 8 TFL 6 PBU, 2 INTs, 4 QBHs) and senior Malik Demby (47 TKLs, 6.5 SCKs, 4.5 TFL, 6 QBHs). The Aggies also have two of the best safeties around in senior Ron LaForce (104 TKLs, 5 PBU, 3 INTs) and junior Shamad Lomax (72 TKLs, 7 PBU, 4 INTs). They could take advantage of Vander Waal's inexperience. Still, New Mexico State did give up 29.7 PPG last season.
Aggies Offense vs Wyoming Defense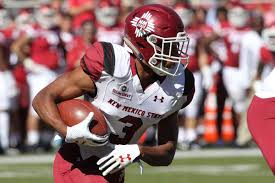 The Aggies have a solid O-line, which will certainly be a help to Romero. The biggest question is will junior college transfer Matthew Romero be able to perform at this level? After that, there's the NMS running back issue. The team is thin in this area. It's expected that junior Jason Huntley (420 YDs, 6.0 YPA, 1 TD) will get the call. The receiving ranks include seniors O.J. Clark (47 REC, 10.6 YPC, 3 TDs) and Jonathan Boone (31 REC, 12.9 YPC, 1 TD). We expect the Aggies to pass quite a bit tonight.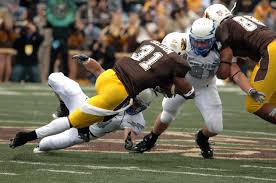 Last year, the Pokes recorded a nation's best 38 turnovers and were ninth nationally and first in the conference in points allowed (17.5 PPG). Senior DE Carl Granderson (77 TKLs, 9.5 SCKs, 6.5 TFL) and junior DT Youhanna Ghaifan (69 TCLs, 7 SCKs, 8.5 TFL), both All-Mountain West in 2017, return to lead one of the best defensive lines in the conference. SS Andrew Wingard (114 TKLs, 3 PBU, 5 INTs) and FS Marcus Epps (68 TKLs, 4 PBU, 4 INTs), both seniors, are top-notch defenders. Last seson, Wingard also recorded seven TFL and Epps had four. Logan Wilson (119 TKLs, 1 SCK, 7 TFL), the team's top tackler last year, anchors the linebacking unit.
Other Factors
For the Cowboys, junior Tyler Hall performed well bringing back kicks on special teams. He had two TDs and averaged 33.9 YPR. Junior placekicker Cooper Rothe (36-37 XP, 15-18 FG) is solid. His hit a 49 yard FG last season. Punter Tim Zaleski (39.2 YPP, 33 w/in20) had a fine freshman year and comes back for his second season. He could pin the Aggies deep in their own zone.
The Aggies also have a fine run back specialist. Jason Huntley brought two kicks back for scores while averaging 29.6 YPR. However, junior PK Dylan Brown (39-42 XP, 13-17 FG) has trouble with accuracy and distance. Punter Payton Theisler (41.5 YPP, 18 w/in20), a junior, is overll effective.
Our Wyoming Plays New Mexico State Football Pick
Wyoming doesn't score a lot of points, but they should do better than usual against this NMS defense. At the same time, the Wyoming defense is experienced, tenacious, and skilled. We think they'll control the Aggies. Our Wyoming plays New Mexico State football pick is the Pokes at -5.0. We see a final of around 29-15. It's close but we're going with the under.
Summary Pokes at Aggies Picks: Wyoming at -5.0 and under 46.5