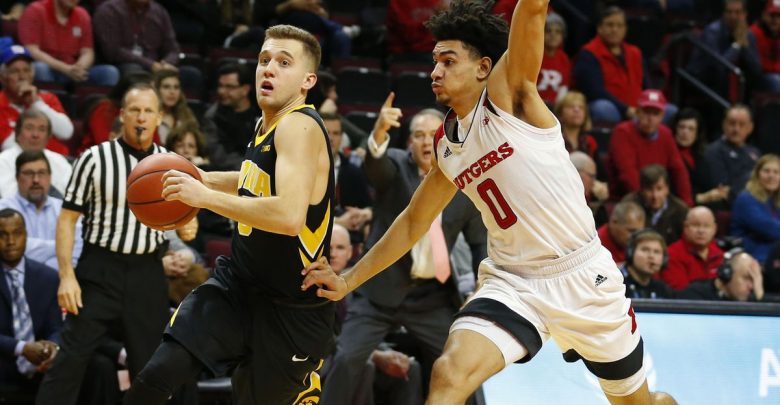 Almost 3/4 of the consensus wagers are on Iowa Saturday afternoon as they visit Rutgers in a February 16th Big Ten CBB free pick. The Hawkeyes are ranked 17th in the country and come into the contest riding a three game win streak. Granted those wins haven't all been pretty. The Scarlet Knights are playing much better basketball as a whole lately, but they don't have a lot to show for it with a 1-3 record over their last four. Even still, is there a possibility of upset in the air?
Iowa Aims to Avoid a Major Letdown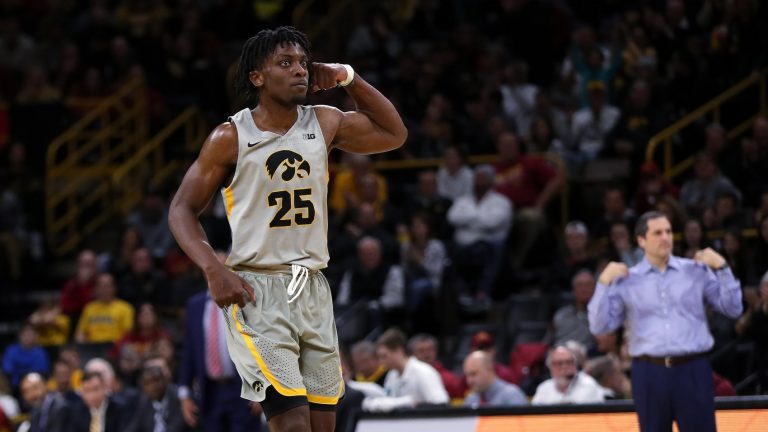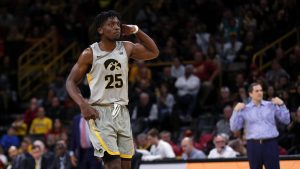 One of the reasons the Hawkeyes have climbed to a top 20 ranking is because they've been able to stay afloat in a very tough Big Ten. Iowa is 8-5 in the conference although three of those defeats came to ranked opponents. Even the loss to Minnesota wasn't a complete shock considering the Golden Gophers are 16-9 overall. Iowa has avoided the 'slip-up' loss, like the come from behind one point victory over Northwestern last Sunday. The Hawkeyes won in Bloomington 77-72 the game before and upset Michigan 74-59 as +5 home underdogs prior to that.
Iowa is 27th in the country in scoring (81.6 ppg) and basically has no problem getting into a shootout in the February 16th Big Ten CBB free pick. The O/U for Saturday is 147 which seems incredibly low. After all, Rutgers got into a 94-99 offensive explosion in an OT loss to Illinois. The Hawkeyes can hurt you in a variety of ways whether it's Tyler Cook (20.0 ppg last two), Joe Wieskamp (21 vs. Northwestern), Jordan Bohannon (25 at Indiana), or Luka Garza (25 at Minnesota). Can Rutgers find that same depth?
Rutgers Has Upset on Their Minds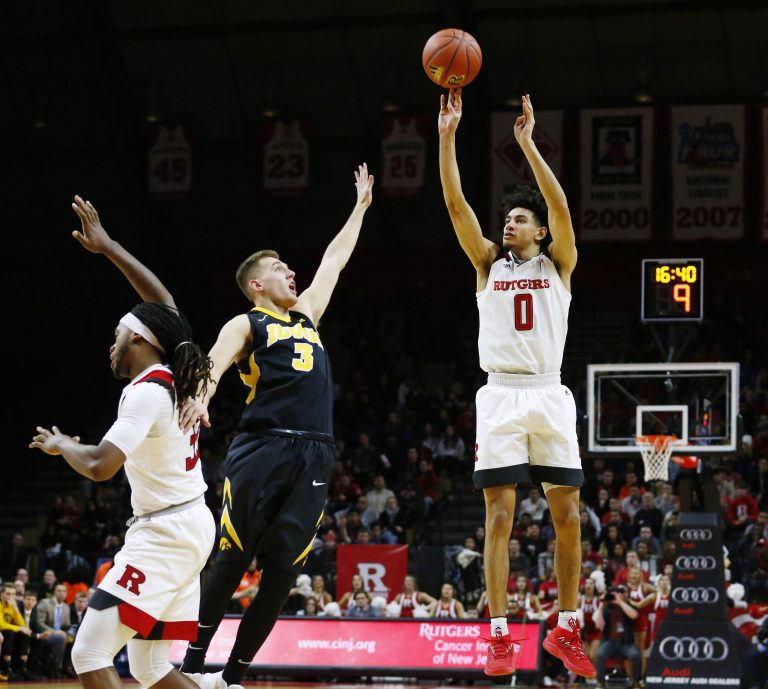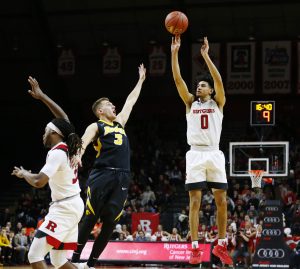 Rutgers is a much improved team this season, few would argue that. The Scarlet Knights have a positive vibe going into Saturday afternoon's game in New Jersey, mostly due to the fact that they beat Iowa 80-64 at the RAC last season. Geo Baker returns and he had 17 points in that game last season. Issa Thiam will also be in action today and he put up 16 against the Hawkeyes a year ago. The Scarlet Knights have a variety of other contributors that they can rely on in the February 16th Big Ten CBB free pick. Ron Harper, Jr. for example had 15 in a fast paced game vs. Illinois and he should be in for another big outing vs. the lackluster Hawks defense.
One of the big questions heading into Saturday afternoon's game is what Rutgers offense will show up? Normally this is one of the worst scoring attacks in the country as evidenced by their being held to 66 points or less in five of the last six. Then again the Scarlet Knights did have a 94 point outing a week ago against Illinois. Normally Rutgers likes getting into a slower pace, but this is also an Iowa defense that has allowed 79+ in three of their last five.
February 16th Big Ten CBB Free Pick Betting
Does Rutgers have a chance today? Iowa should be rested after having nearly a week off after the comeback vs. Northwestern while Rutgers is riding high after Wednesday night's win vs. Northwestern. The Hawkeyes are due for one of those 'slip up' games but does it come today? One things for sure, Rutgers should be able to score vs. Iowa's defense. With the Hawkeyes offense also clicking it's shaping up to be a high scoring affair.
Big Ten Free Pick: Iowa / Rutgers *Over* 147.5