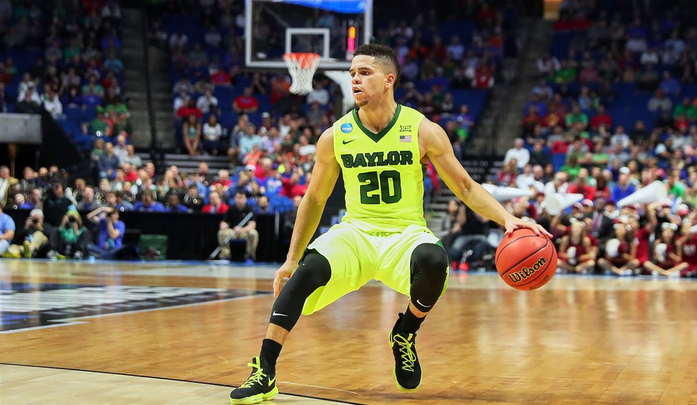 Two teams trying to stay in the Big 12 title race will meet up Tuesday night when the no. 19 Iowa State Cyclones host the Baylor Bears. At home, the Cyclones are favored by 8.5 points.
Despite a six-game winning streak earlier this season against Big 12 competition, Baylor has fallen on hard times, losing three of their last four games. They've fallen to 7-5 in conference play, 2.5 games off the pace, and 16-9 overall. At the moment, they appear to be firmly in the NCAA Tournament, but if they can't snap out of their losing skid, that could change.
Iowa State, meanwhile, is only 1.5 games behind Big 12 leaders Kansas State after knocking off the Wildcats over the weekend. Of course, the Cyclones still have to jump over two other teams before they can jump into first place. Nevertheless, Iowa State has won five of their last six games, making them one of the hottest teams in the Big 12 right now.
Three-Guard Attack
The Cyclones are led by the three-guard attack of Marial Shayok, Lindell Wiggington, and Talen Horton-Tucker. Shayok, a transfer from Virginia, has been great all season, averaging 19 points per game. However, Horton-Tucker has been an important contributor as a freshman and Wiggington has come on strong after missing the early part of the season with a foot injury. Both were big in the win against Kansas State, and the Cyclones are tough to contain when both perform at such a high level.
Of course, Iowa State is able to balance the contributions of their guards with frontcourt scoring from Michael Jacobson, a transfer from Nebraska. He averages 12 points per game to give the Cyclones some much-needed inside scoring. Power forward Cameron Lard is also making more of an impact on both ends of the court while coming off the bench after being a non-factor early in the Big 12 season. Those two are helping to give the Cyclones a little balance on an otherwise guard-oriented team.
Who's Suiting Up?
At the moment, Baylor is plagued by injury questions, specifically to their three leading scorers. Makai Mason, who averages better than 15 points per game, is a game-time decision as he deals with a toe injury that has caused him to miss two of the team's last three games. His backcourt partner, King McClure, has missed the last three games with a knee injury and is questionable to play on Tuesday. Meanwhile, second-leading scorer Tristan Clark has missed the last 11 games after undergoing knee surgery.
Despite the injury problems, the Bears have managed to stay afloat in the Big 12. Baylor's zone defense is capable of giving opposing teams trouble. A lack of size and rebounding are potential issues for Baylor, especially given their injuries. However, their defense has been the catalyst for a few big wins this season, making the Bears capable of pulling off the upset.
Caught in the Cyclones
Baylor beat Iowa State 73-70 earlier this season. But the Bears got 41 points that game from Mason and Clark, who may not be available on Tuesday. Meanwhile, Iowa State is a much better team than they were six weeks ago. Bet on Iowa State winning and covering the 8.5-point spread against an undermanned Baylor team.