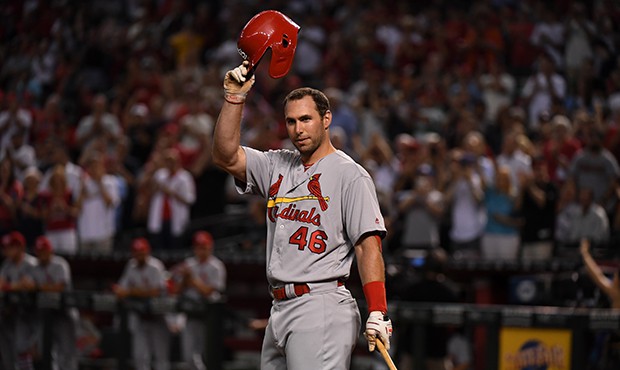 The May 27th Cardinals at Diamondbacks matchup is a somewhat surprising -110 toss up even though Arizona is on a 10-game losing streak and St. Louis remains in 1st place in the NL East. That would look to be hammer time on STL, but is that what this line is begging us to do?
St. Louis is by no means a sure thing on Thursday night however. The Cardinals are coming off a 4-0 win over the White Sox, but have dropped 5 of their last 6 road tilts. Shouldn't St. Louis almost win by default though against this horrible Arizona team? The D'Backs are just 1-6 in their last 7 home games, and are 3-13 in their last 16 vs. a RH starter.
Goldschmidt Comes Back to Arizona
The May 27th Cardinals at Diamondbacks matchup is a homecoming of sorts for Paul Goldschmidt, who spent his first 8 seasons with Arizona. Goldschmidt is playing in his 3rd season in St. Louis, and hit 3 HRs in five games against the Diamondbacks in 2019, while the teams did not meet up in the 2020 season.
The Cardinals will take any offense they can get in Thursday's series opener, as they have been held to 2 runs or less in three of the last five. Neither Goldschmidt or Nolan Arenado have gone deep in the past week for the Cardinals, and Arenado is hitting just .174 over that span. The Cardinals are coming off a win over the White Sox, but have dropped 4 of their last 6 which has allowed the Cubs to pull into a tie in the NL Central.
Is Carlos Martinez (3-4, 4.18 ERA) on the mound the big reason St. Louis is just a -110 favorite in this matchup? Martinez spent some time on the 10-day IL with a sprained ankle, but was solid with 2 ER allowed over 6.0 IP in his first start back vs. the Cubs. Martinez has allowed 2 ER or less in four of the last five.
Arizona Drops 11th Straight?
There's not a whole lot to be optimistic about for Arizona backers. Only 20% of the public are willing to pay -110 for a team on a 10-game losing streak – and with good reason. It's only May, but the Diamondbacks are basically already done for, their 18 wins are tied with Pittsburgh for fewest in MLB. Torey Lovullo's team is already 14 GB in the NL West.
Arizona has hit just 7 for 42 (.167) as a team vs. Martinez, and as a team have been held to 2 runs or less in 7 contests during their 2-game losing streak. David Peralta, Nick Ahmed, and Josh Rojas are all hitting above .300 over the past week, but it really hasn't translated to wins. Neither has Eduardo Escobar belting out 5 HRs over the last 12 games, but at least those stats show some offensive upside.
While Arizona definitely has some hitting question marks, their starting pitching is very iffy on Thursday as well. Starter Matt Peacock has made 8 of 10 appearances in his rookie season out of the bullpen, but will be starting for the 3rd straight time. Peacock allowed just 1 ER over 5.1 IP vs. the Dodgers in his last start.
Free May 27th Cardinals at Diamondbacks Pick
It seems like St. Louis should be at least a -150 favorite in this spot, and Arizona has only been priced in the negative twice in their last 13 games. That makes Arizona a contrarian play.
Diamondbacks 6 – Cardinals 4
Free Pick: Diamondbacks -110