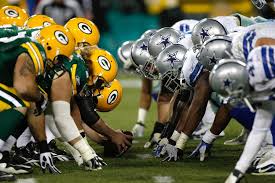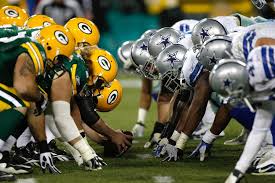 In this week six 2016 NFL free pick Dallas visits Green Bay. The Packers (3-1) are at -6.0. This looks to be a problematic game in that at first glance Green Bay seems to be the logical choice. But we think there may be value in going with the Cowboys (4-1) in this contest. Here's the skinny on this 4:25 p.m. game that will be played at Green Bay's Lambeau Field.
Keep in mind that the Cowboys have just one loss and that was by one point in the initial week of the season. The Giants beat them 20-19. Green Bay has one win that is by more than seven points. That was against the Jags, a team that they beat by 10. The teams are averaging about the same number of points per game. Dallas has been good for 25.8 PPG and Green Bay for 24.5 PPG. The Cowboys are holding clubs to just 18.2 PPG, while the Pack is allowing 20.8 PPG.
Cowboys Offense vs. Packer D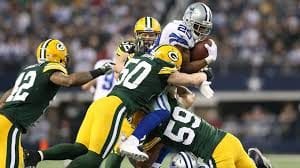 Cowboys QB Dak Prescott (69.0 COMP%, 4 TDs, 0 INTs, 7 Sacks) is putting in a solid rookie season. In filling in for the injured Tony Romo, Prescott has played in a cool, mature manner. Along with his four TD passes, he's scored on three runs. Dallas RB Ezekiel Elliott (109 ATT, 546 YDs, 5.0 AVG, 5 TDs) is having a massive season. He's been chewing up turf. Receivers Corey Beasley and Terrance Williams have proven to be fine go-to pass catchers.
The Packer defense includes LB Nick Perry. Perry leads the team in sacks with 4.5, and he also has three tackles for a loss. The team has a total of 14 sacks and 26 TFL. LB Jake Ryan leads the club in TFL with four and in total tackles with 29. He also has two passes defended. The Packers are allowing under 50 YPG on the ground. They have a good chance of neutralizing the Cowboys ground game. However, if Prescott can keep them off-guard by mixing in just enough passes, Dallas could see some breakaway runs.
Green Bay O vs. Cowboys Defense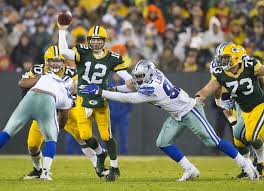 Who's having a better season, Packer QB Aaron Rodgers or Cowboy rookie Prescott? The answer is Prescott. Rodgers is completing 56.1% of his passes and has tossed three interceptions while hitting for nine touchdowns. Prescott's stats are better. RB Eddie Lacy (54 ATT, 295 YDs, 5.5 AVG, 0 TDs) has been central to the Packer ground attack. He's questionable for today. WR Jordy Nelson, who has five TD catches and 21 receptions overall, is Rodgers' primary target.
The Cowboy defense has played well. They've garnered 10 sacks and 15 TFL. The squad is very solid against the ground game. In addition, the Dalls secondary has defended 20 passes and made three picks. LB Sean Lee leads the team with 45 tackles, while safety Barry Church has notched 28 solo bring downs. Lee has one PD and two TFL, while Church has two TFL, two PD, and one INT. DT Tyrone Crawford (2 sacks, 2 TFL) is a key frontline player. They will offer decent resistance against an uneven packer offense.
Our Week Six 2016 NFL Free Pick Dallas Visits Green Bay
Who do we like in our week six 2016 NFL free pick Dallas visits Green Bay? We like the Cowboys at +6.0. This will be a close game. The winner may take it by three.
Week Six 2016 NFL Free Pick Dallas Visits Green Bay: Dallas at +6.0