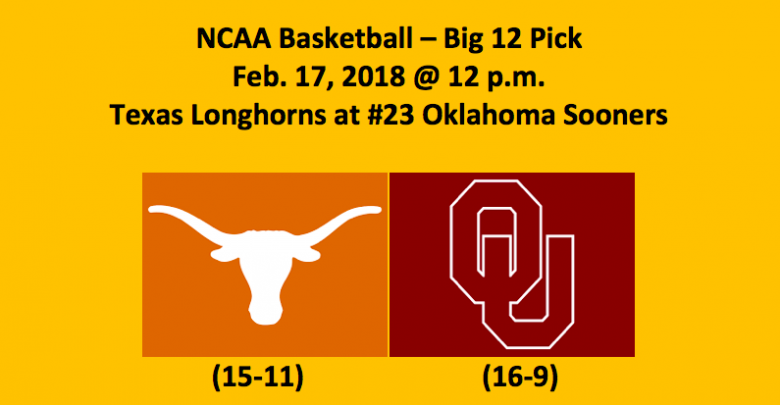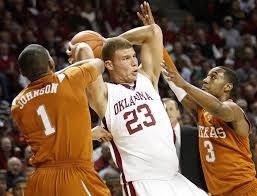 Today's 12 p.m. E.T. meeting between the Big 12's Texas Longhorns (15-11 Overall, 5-8 Big 12) and #23 Oklahoma Sooners (16-9 Overall, 6-7 Big 12) will feature two teams that are on losing streaks. One is assured a victory and the other will see their string of L's continue to accumulate. The Sooners are in the middle of the conference, sitting four games behind first-place Texas Tech. The Longhorns are next to last and five games away from the top spot. Our Texas plays Oklahoma 2018 NCAA basketball Big 12 pick has the Sooners at +7 and the over/under at 155.
Recent History
The Longhorns have lost three in a row, including a tough 74-73 OT loss to the Baylor Bulldogs on Monday. Their last win was Feb. 3 against the Sooners who they beat 79-74. Texas has been up and down against top 25 teams, beating #16 TCU 99-98 on Jan. 10 and #8 Texas Tech 67-58 on Jan. 17, while losing to #6 West Virginia 86-51 on Jan. 20 and #10 Texas Tech 73-71 in OT on Jan. 31. Oklahoma has lost four straight games with their last win being on Jan. 30 when they beat the Bulldogs 98-96. They've lost twice to nationally ranked West Virginia, with the latest being 75-73 on Feb. 5. Their most recent losses were to unranked Iowa State 88-80 on Feb. 10 and #7 Texas Tech 88-78 on Feb. 13.
Matchup
Texas is noted for its very tough defense, which is allowing on average just 68.0 PPG, while the Sooners have a very productive offense, which is averaging 88.4 PPG. The Longhorns have been good for 72.4 PPG, while Oklahoma has allowed opponents on average 82.2 PPG. The Sooners hold the edge in field goal percentage (47.7% to 43.9%), rebounds (39.6 to 35.8), and assists (15.9 to 11.8). They are also better from the charity stripe (76% to 67%) and from the arc (38 to 31).
Players to Watch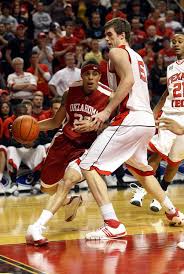 For the Longhorns, this game will be about controlling the boards, using their front men, and slowing down the Sooner offense. Much of that will fall to two forwards, freshman Mohamed Bamba and junior Dylan Osetkowski. Bamba is averaging 13.7 PPG, 10.8 RPG, and 4.1 BPG. Dylan Osetkowski has been good for 13.6 PPG, 7.1 RPG, and 1.1 SPG. Junior guard Kerwin Roach II, who's averaging 11.9 PPG, will need to be quick and play tight against the Sooner guards. As of late, freshman guard Matt Coleman has been added to the roster. He's a fine playmaker, averaging 4.6 APG and 8.8 PPG.
Freshman guard Trae Young, who has been inconsistent at times, leads the team in points and assists, averaging 29.1 PPG and 9.3 APG. He is a major, controlling force on the court. Junior guard Christian James (12.4 PPG, 48 FG%, 38 3PT%) will need to have a solid game, while freshman forward Brady Manek (11.2 PPG, 5.6 RPG, 50 FG%) will have his hands full upfront. Senior forward Khadeem Lattin (7.5 PPG, 6.5 RPG, 2.2 BPG), who is a tough defender, could be a major factor in this contest.
Our Texas Plays Oklahoma 2018 NCAA basketball Big 12 Pick
This game comes down to the Sooners backcourt being able to set up plays and convert from the outside and their guys in the paint negating the Texas forwards. For the Longhorns, it's about slowing down and frustrating the Sooner backcourt and taking charge underneath the basket. We expect a close game from two teams that are rested and frustrated. Our Texas plays Oklahoma 2018 NCAA basketball Big 12 pick is the Longhorns at +7.0. We also like the over at 155.0.
Summary Longhorns at Sooners Picks- Texas at +7.0 and over 155.0