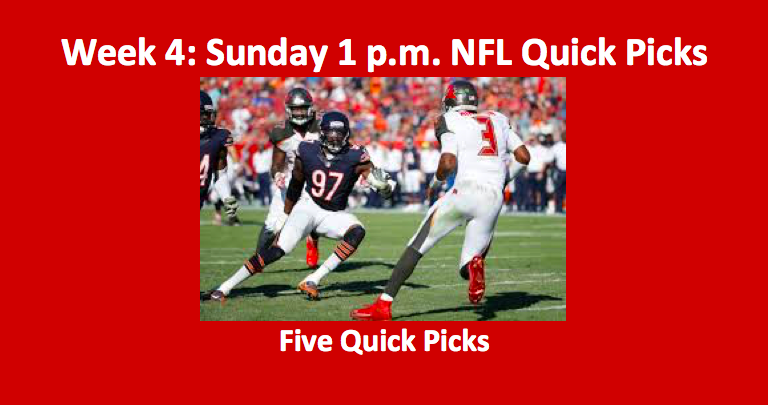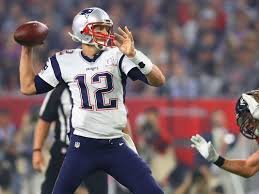 Sometimes we like to do a fast analysis and offer either an over/under or spread pick on certain games. We've selected three of the eight 1 p.m. E.T. games for our Week Four NFL picks. These picks are done without a massive amount of analysis, but they are not guesses. We have weighed various factors in making our Week Four quick Picks. We're looking at the following games, Miami at New England (over/under), Tampa Bay at Chicago (spread and over/under), and Houston at Indianapolis.
Five Week Four NFL Picks
Miami at New England (Under 50.0 for -105) – Why? Pats D steps up a bit today, while Fins D still plays tough. We like around 43-to-45 points today.
Tampa Bay at Chicago (Bucs +3.0 for -118) – Fitzpatrick starts and should do well despite a solid Bear D. The Bears will get worn down by the second half.
Tampa Bay at Chicago (Over 45.5 for -110) – The Bucs have scored a lot of points this season, and they have allowed a lot. Even if the Bucs score under their 34.0 PPG, we think they get a minimum of 25 and the Bears 23. That's an over.
Houston at Indianapolis (Colts at -0.0 for -110) – Texans are winless and Colts 1-2. But Indy has a better team on paper, and the QB matchup favors the Colts. Plus, the Texan O-line has been porous.
Houston at Indianapolis (Under 48.0 for -105) – Neither team is generating many points. As of late, the Colt D has been stingy. This will be fairly close, but we still like the under.
More to Come for 1 P.M.
Now that you've got our five Week Four NFL picks, streamlined to get to the point as quickly as possible, make sure you check out our New York Jets and Jacksonville Jags betting preview. Plus, we've got three great 1 p.m. NFL props.