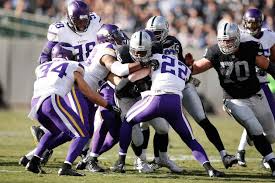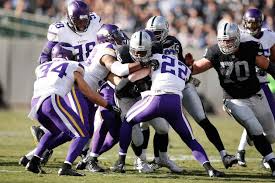 Our week eight Monday Night Football free pick features the Minnesota Vikings (5-1) at the Chicago Bears (1-6). We think this game offers sports bettors great value as the Vikings are at -4.0. This seems to be a gift for those who are going to take Minnesota.
The first thing to consider is that the Vikings put a massive defense on the field. They are holding teams to 14.0 PPG. Plus, the Vikings are averaging 21.5 PPG while the Bears are putting 15.9 PPG on the board. Chicago's defense is allowing opponents 24.1 PPG.
Last week, Minnesota came off their bye-week and lost to the Eagles 21-10. Prior to that game, they were perfect, beating a wide range of teams including Green Bay, Houston, and the New York Giants. The Bears have had one win. That was a 17-14 victory over Detroit. The Packers beat the Bears last week 26-10.
Minnesota Offense vs. Bears D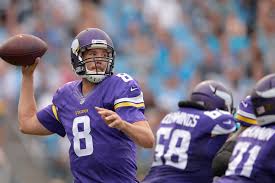 QB Sam Bradford (67.5 COMP%, 7 TDs, 1 INT, 14 Sacks) has played well since coming to the Vikings to fill in for the injured Teddy Bridgewater. Key receivers include wide out Stefon Diggs (27 REC, 390 YDs, 14.4 AVG, 1 TD) and tight end Kyle Rudolph (26 REC. 291 YDs, 11.2 AVG, 3 TDs). Monday night's game will feature Matt Asiata (48 ATT, 158 YDs, 3.3 AVG, 2 TDs) at running back, as Jack McKinnon will not play due to injury.
If the bears are going to have a chance in this game, they will need their defense to continue to perform well. Chicago has caused seven fumbles and recovered three. Plus, they've defended 31 passes while making four picks. Total number of sacks stands at 15. Unfortunately, DB Tracy Porter, who has five PD and two INTs, is questionable for the game. The good news is that LB Willie Young (20 TCKL, 6 Sacks, 2 TFL, 1 PD, 1 FF) will play. He will set the tone for this defense.
Chicago Offense vs. Vikings Defense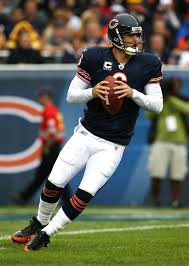 QB Jay Cutler (60.9 COMP%, 1 TD, 2 INTs, 4 Sacks) is expected to return to the field for Monday night's game after missing numerous weeks due to an injured thumb. He's back just in time as his backup, Brian Hoyer, has been placed on the injured reserve list. Wide outs Cameron Meredith and Eddie Royal are both questionable for this game. WR Alshon Jeffrey (32 REC, 520 YDs, 16.3 AVG, 0 TDs) and TE Zach Miller (33 REC, 305 YDs, 9.2 AVG, 3 TDs). Jeffrey does not yet have a touchdown. This would be a good game for him to find pay dirt. Chicago's primary offensive weapon is running back Jordan Howard (73 ATT, 352 YDs, 4.8 AVG, 1 TD). But he will be challenged by a D that is allowing only 81.7 yards per game on the ground.
The Viking defense is unrelenting. They have seven forced fumbles, all of which they have recovered. They have grabbed nine interceptions and defended 28 passes. Finally, they are one of the best teams at pressuring QBs. The Vikings have accumulated 19 sacks. Three players have four sacks each, including DE Brian Robinson who also has two forced fumbles, two tackles for a loss, and one pass defended. We expect this defense to shutdown the Bears.
Our Week Eight Monday Night Football Free Pick
In creating our week eight Monday Night Football free pick, we've concluded that this will be a very physical, defensive game. All in all, we believe that the Vikings have a major edge. We're taking them at -4.0
Our Week Eight Monday Night Football Free Pick: Minnesota at -4.0