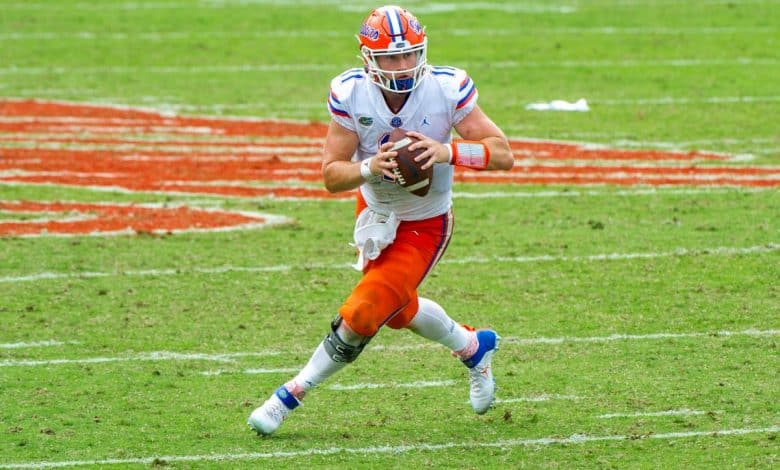 Oddsmakers aren't concerned about a few weeks off for the Gators heading into the Week 9 NCAAF Missouri at Florida betting pick. UF is a -14 favorite over Missouri on Saturday night (7:30 ET, SECN) and the offenses are both expected to click with a betting total of 63.
The reason this game is a bit difficult to handicap is because UF hasn't played since October 10th, missing the last two weeks because of positive COVID tests. There's always the obligatory 'rusted or rested' debate after extensive time off, but Missouri comes in on a 2-game win streak and with rhythm after a 20-10 win over Kentucky last week as +3 point home underdogs.
Three of Missouri's four games this season have been at home. Does going on the road cause them struggles Saturday, even if this will be the Gators' first game in almost three weeks?
Mizzu Very Underrated
Missouri might be in a nice spot to take advantage of an emotional (and possibly injury/COVID test riddled) Florida team on Saturday night. The Tigers are 2-2 on the season, but have been underdogs in all four games. Mizzu lost to Alabama 38-19 in the season opener, but held the 'Tide to 303 pass yards and 111 rushing yards which is actually respectable.
Over their last two games the Tigers have upset LSU 45-41 as +14 home underdogs and toppled Kentucky by 10 last week, once again as home 'dogs (+3). Connor Bazelak was dynamic vs. LSU, going 29/34 for 406 yards and 4 TD. Mizzu used 220 yards on the ground to beat Kentucky last week so this is a very diverse offense.
We haven't seen the Gators in nearly three weeks, so it's hard to know how the team reacts Saturday night. UF was exploited for 205 yards rushing and 338 through the air on October 10th in a 41-38 loss at Texas A&M so the Tigers should be able to put up points in this one. It's a big reason the betting total is a whopping 63.
What to Expect From Florida?
The Gators are a wild card heading into Missouri at Florida betting. Dan Mullen's team wanted to get back on the field as soon as possible following their 41-38 loss at Texas A&M in week 6 as -3 point road favorites, but have had to wait nearly three weeks after a COVID outbreak in Gainesville.
UF did have some momentum going prior to the temporary lockdown. The Gators had beaten Ole Miss and South Carolina to start the year, fueled by 14 TD to just 1 INT through three games from QB Kyle Trask. The combination of Trask and TE Kyle Pitts (7 TDs in three games) is dangerous – but will they still be in rhythm after so many weeks off?
It might be business as usual for Trask against a Missouri team that gave up 430 yards and 4TD to Myles Brennan in the win over LSU in week 6. Then again Kentucky managed just 8 first downs to go with 95 yards rushing and 47 yards passing last week against Mizzu.
NCAAF Missouri at Florida Betting Free Pick
You're asking a lot for Florida to snap their fingers and automatically return to the form of about three weeks ago. Kentucky is no comparison offensively to the Gators, but the Mizzu defense looked great against the Wildcats last week. UF might pull things off at home, but two TDs is too much to lay, especially with a ton of Gators still on the COVID list.
Missouri 27 – Florida 23
Free Pick: Missouri +14