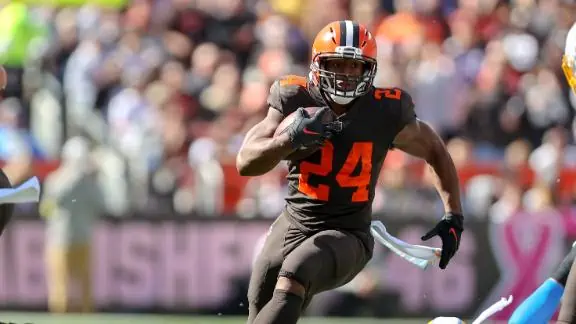 The week 6 Patriots at Browns betting matchup feels like it is going to be a smash mouth football game. New England's defense is dialed in after beating up on the Lions 29-0 last week while Cleveland continues to employ the leagues #1 rushing offense at 192.4 ypg.
While their opponents come into this game with momentum off a shutout win, the Browns suffered another heartbreak last week in falling 30-28 as Cade York's 54-yard field goal was no good with just 0:11 on the clock. That loss dropped the Browns to 2-3 on the season, but their three defeats have come by a total of six points.
New England Defense Can Be the Difference
Detroit has the #3 scoring offense in the NFL at 28.0 ppg, but that's dropped after Bill Belichick dialed up the game plan that pushed the Patriots to a 29-0 victory last week. The Lions went 0-3 in the red zone and managed 100 yards less than their 411.8 average.
The Patriots were home last week and Detroit had padded their stats a bit coming from a huge deficit in a loss to the Eagles and in a back-and-forth 48-45 home loss to the Seahawks. If New England can manage some similar success against a Cleveland team that is top 5 in total yards (396.4) and is sixth in points scored (26.6) then it's time to take note.
While the 29-0 win last week was impressive for the Patriots last week, they managed just one offensive TD (24-yard Jakobi Myers reception) and were 0-3 in the red zone against a Detroit defense that had allowed 555 yards the week prior against Seattle. QB Bailey Zappe was 10/15 for 99 yards and a TD in relief of Mac Jones two weeks ago in Green Bay, but Sunday is the rookie's first official NFL road start.
Browns Always Play It Close
Cleveland can't seem to pull away with the close one since their 26-24 win over what now looks like a very bad Panthers team in the season opener. The Browns gave up a 14-point lead with under 2 minutes left in a one point loss to the Jets and then have had a made field goal by Atlanta and a missed FG by their own kicker put them into a two game losing streak.
It would be hard to see Cleveland pulling away by too much against a Belichick defense in the Patriots at Browns betting matchup, That being said if New England has a weakness it's their run defense (128.8 ypg) which also happens to be Cleveland's strength. Nick Chubb had 134 yards on just 17 carries in last week's loss to the Chargers while Kareem Hunt added 47 yards and a score.
Free Patriots at Browns Betting Pick
One of these days Cleveland is going to put a complete game together. Will it be Sunday – who knows – but being at home with that running game and against a rookie QB in his first road start wouldn't have me too confident in New England here.
Free Pick: Cleveland Browns -2.5