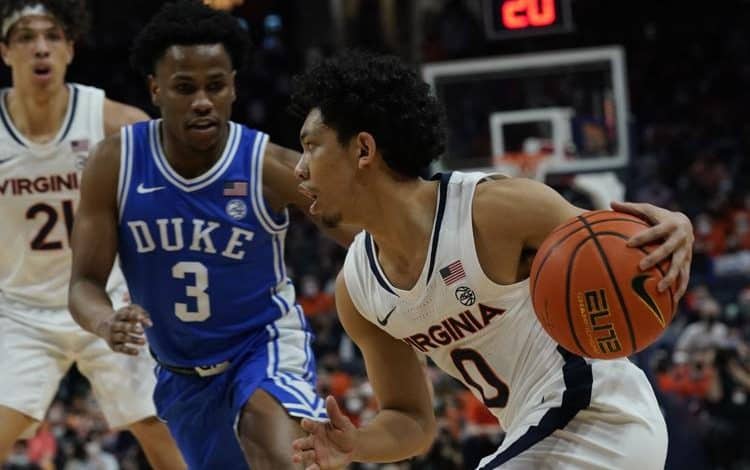 The Blue Devils didn't do a lot to instill confidence by getting blown out 81-59 at Miami as just +3 point underdogs. That definitely puts some value on the home team in the Duke at Virginia betting matchup, especially considering Jon Scheyer's club has now dropped three of their last four road tilts.
Duke struggling on the road coincides nicely with Virginia's 11-1 mark at home this season. The Cavaliers had a 7-game win streak snapped with a 74-68 loss at Virginia Tech last Saturday, but bounced back nicely by beating #22 NC State 63-50 on Tuesday. UVA is a -5.5 favorite in this spot, getting a slight 55% of public action.
Why Duke Can Cover +5.5 Points
You can kind of throw out the records – or even the point spreads – in most of the recent Duke at Virginia betting matchups because these have traditionally been very tight games. The Blue Devils have a 65-55 win in 2017 and an 81-71 victory in 2019 but otherwise six meetings since 2016 have been decided by 2 points or less and last year's 65-61 Duke win was close as well.
Duke can also cover +5.5 points on Saturday because this looks like an incredibly low scoring game with a betting total of just 125.5. Virginia is #1 in the ACC in scoring defense, but the Blue Devils are right behind them at #2. When there's not that many total points scored in a game, it's much harder for a team to pull away.
They're young, but Duke also has incredible talent that could very easily lead them to an outright win. 7'0″ freshman Kyle Filipowski has been as good as advertised with five double-doubles in his last eight games while averaging 15.5 and 9.3 on the season. Junior Jeremy Roach has provided the experience to hold this team together, and had 20+ in recent wins over Wake Forest and UNC.
Why Virginia Can Cover -5.5 Points
If you want a reason to take Virginia -5.5 points, look no further than Miami's 22-point throttling of Duke this past week. The Blue Devils had a huge size advantage and were still outrebounded 38-31 in that game while nobody on Duke scored more than 11 points.
If Duke can get that flustered against Miami's 101st ranked defensive efficiency, how are they going to do against a Virginia team that gives up a measly 60.4 ppg, 10th fewest in the country? The Cavaliers just held NC State – the #2 scoring team in the ACC (78.4 ppg) – to just 50 points on Tuesday night.
The Virginia offense is going to be the biggest question mark on whether they can get the ATS win on Saturday. Jayden Gardner had 18 against NC State while Reece Beekman added 15, but the real X-factor might be Kihei Clark who dropped 25 in last year's home loss to Duke.
Free Duke at Virginia Betting Pick
Duke's loss to Miami this week was ugly, but they were also suffering an emotional hangover after the win over rival North Carolina the game before after the Tar Heels spoiled Mike Krzyzewski's last game at Cameron Indoor Stadium and then sent him into retirement with a win in the Final 4.
Duke has won 7 of the last 10, and their losses over that span have come by a total of 5 points. Sure it's a new Blue Devils regime, but Virginia has to prove themselves before they become the play in this series.
Free Pick: Duke +5.5