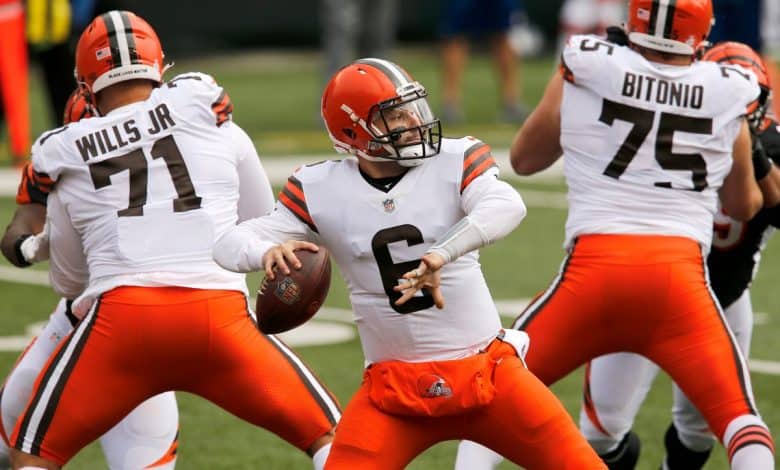 The Week 8 NFL Raiders at Browns betting matchup is going to draw a lot of public action. Cleveland is just a -1 favorite (down from a -3 open) so it's one of those contests where you simply need to pick a winner. The default choice would be the Browns at FirstEnergy Stadium, where they are 3-0 this season.
Are oddsmakers begging us to take Cleveland though? The Browns have won five of their last six and QB Baker Mayfield looked especially great last week in a tough 37-34 win at Cincinnati.
The Raiders are a good enough team to go into Kansas City and score a 40-32 win in week 5 as +11 point underdogs, but the last time we saw Las Vegas they were getting pummeled 45-20 at home against Tampa Bay.
Can Raiders Rekindle Road Magic? 
Las Vegas was abused last week, but that was against a red hot Tampa Bay team. Tom Brady was 33/45 for 369 yards and 4 TD / 0 INT which bodes well for Mayfield to continue his strong play on Sunday. The Raiders did do a good job of stopping the Bucs' rushing attack though, allowing just 85 yards on 25 carries. Cleveland has the #3 rushing attack in the NFL.
What Las Vegas is really looking for in Raiders at Browns betting is the kind of play they had in the week 5 win at the Chiefs. Derek Carr threw for 347 yards and 3 TD when the Raiders handed Kansas City their only loss of the season – and at Arrowhead Stadium.
The K.C. win was a divisional matchup between two very familiar opponents however. On Sunday Las Vegas must travel across the country for 1:00 PM EST kickoff. Daylight savings actually helps the Raiders a bit, but the forecast of light rain and 26 MPH winds doesn't do any favors to either offense.
Mayfield Looks to Stay Hot
Brady shredded the Raiders secondary last week, something that Baker Mayfield will look to build upon even though wind gusts could be up to 45 MPH Sunday in Cleveland. After an 0-3 start with an INT last week vs. Cincinnati, the Browns QB hit 22 of his next 25 passes and tossed 5 TDs.
The Browns put up 37 points last week in their first game without O'dell Beckham (IR-knee). Sunday's game looks to be much lower scoring though with a betting total of 48, down from a 55.5 open due largely in part to the weather. Look for the Browns to lean on Kareem Hunt, who has had his struggles as the lead back since Nick Chubb was injured. Hunt has run for 72, 40, and 76 yards the last three games.
Raiders at Browns Betting Free Pick
This line seems dumbfounding with the Browns favored by just one point, but 52% of the public still likes the Raiders. Las Vegas did look good in the win at KC, but also lost 36-20 when traveling cross-country to New England earlier this season.
The weather will play a factor on Sunday and the Browns are pretty banged up with Kareem Hunt, Myles Garrett, and Jarvis Landry among those on the injury report. Either oddsmakers are begging us to take Cleveland, or this is classic overthinking. Either way, consider the bait taken.
Browns 23 – Raiders 21
Free Pick: Browns -1