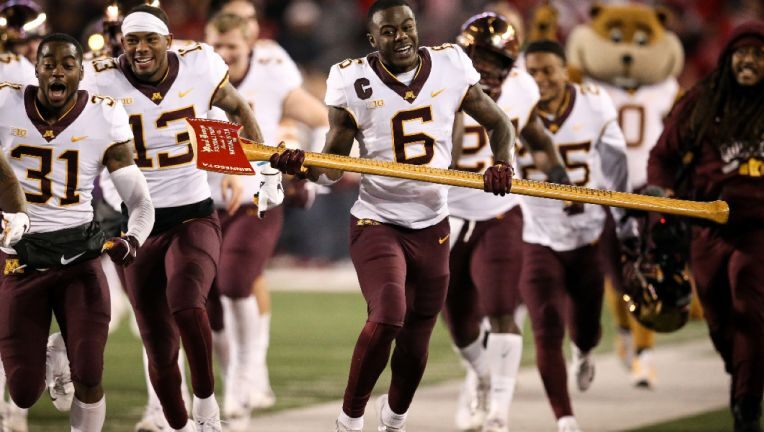 It's been a remarkable year for the Golden Gophers but they need one more win in the NCAA week 14 Wisconsin at Minnesota free pick to put a bow on it. That's because the winner of Saturday's tilt in Minneapolis is crowned Big Ten West champion and faces Ohio State next week in the title game. Of course the Badgers have other plans, bringing a 3-game winning streak into this game as -3 road favorites.
Can Wisconsin Play Spoiler Here?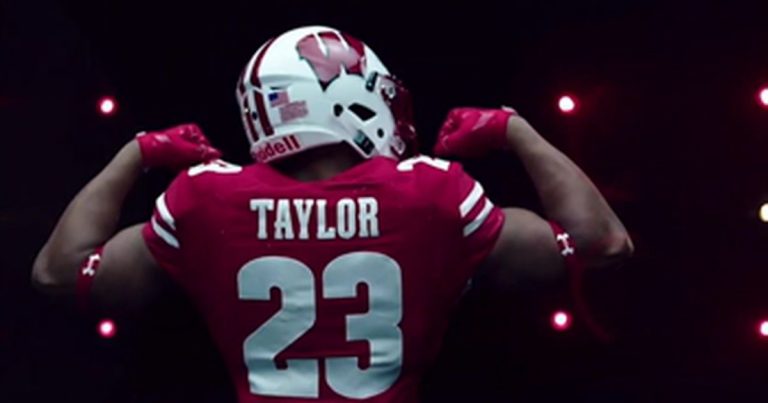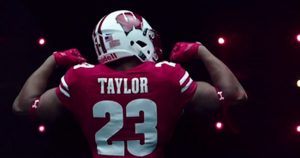 The Badgers had two rough weeks at the end of October, getting upset in Champaign as +28.5 favorites vs. Illinois and then taking their expected medicine 7-38 at Ohio State. Besides that, it's been a dominating year for Paul Chryst's team save for a tough 24-22 home win vs. Iowa. UW played great defense to start the year, with 4 shutouts in their first 6 games.
Playing defense and running the ball – it's what the Badgers are going to try and do in the NCAA week 14 Wisconsin at Minnesota free pick. Jonathan Taylor is running at his best late in the year – and that is saying something with the 1685 yard season the Badgers RB has had. Taylor has gone for 200+ in each of the last three – but the Gophers defense is greatly improved this season. Taylor had 19 carries for 120 yards in the meeting last season, but it was a game Minnesota dominated 37-15.
About that 2018 meeting, the Golden Gophers went into Madison and ran for 201 yards and had a 30 point lead late in the 4th quarter. Minnesota's offense has been clicking with 34+ points in 7 of the last 9. Purdue just threw for 320 vs. UW and Nebraska ran for 277 vs. Wisconsin in the game prior so there are some vulnerabilities on that side of the ball for one of the nation's top 10 defenses.
Is It Minnesota's Moment?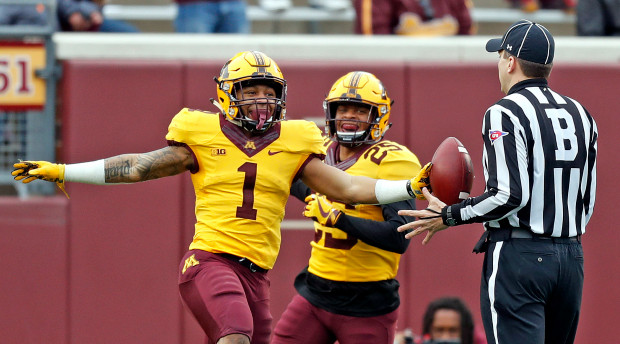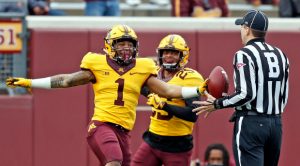 There have been questions surrounding this Minnesota team all season. They had to come from behind in the 4th quarter in each of their 3 nonconference wins to start the year. The first three wins in Big Ten play then came with the other teams starting QB out of the lineup. P.J. Fleck's team then knocked off a couple tomato cans in Rutgers and Maryland.
Minnesota's last home game was their most impressive of the year, a 31-26 win over #10 Penn State that was powered by an 18/20, 339 yard, 3 TD day from QB Tanner Morgan and 203 yards receiving from Rashod Bateman. After a 19-23 loss at Iowa City, Minnesota got back on their winning ways with a 38-22 domination at Northwestern last week.
Minnesota showed their versatility on offense in the win over the Wildcats last week. Rodney Smith, Mo Ibrahim, and Shannon Brooks all had over 44 yards rushing while Bateman and Tyler Johnson combined for 4 TD through the air. Fleck has assembled an offensive line that would make Wisconsinites gush as the Gophers average 6'6″, 340 up front. It's allowed Minnesota to compile a 1,00 yard rusher in Smith, as well as two 1,000 yard receivers.
NCAA Week 14 Wisconsin at Minnesota Free Pick
It didn't look like it early in the season, but Minnesota is just good. The Gophers will be playing in front of an electric atmosphere that hosts ESPN College Gameday on Saturday. It's 34 degrees in Minnesota and there's a 70 percent chance of light snow. All of this is coming together for what seems like it could be a magical afternoon in Minneapolis. Wisconsin has already lost by 31 vs. Ohio State this year – people want to see the boat get rowed next week in the Big Ten Championship.
Pick: Minnesota Golden Gophers ML +130