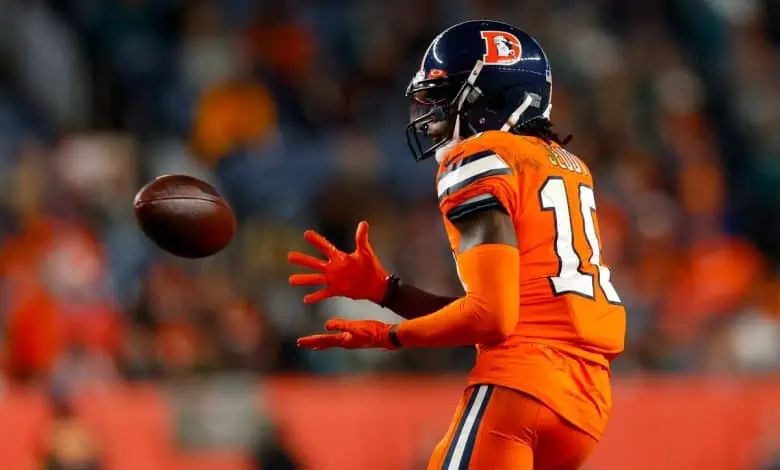 Fans of electrifying offense should probably tune out of the Cardinals at Broncos betting matchup on Sunday afternoon. Arizona begins life without Kyler Murray who tore his ACL last week, while Denver has the lowest scoring offense in the NFL at just 14.9 ppg.
This is a tough game to put a line on, but oddsmakers are going with the Broncos -1.5 at home even though Russell Wilson (concussion) will not play. It can be hard to go into Denver and get a win this time of year, but temps aren't bad forecast in the 40s. Does that mean we see some offense here and this total pushes over the listed 37.5?
Cardinals Better Off with McCoy?
He definitely doesn't have the mobility that Murray does, but Sunday's Arizona starter Colt McCoy is a 12-year veteran in his second season working in the Cardinals system. He was 2-1 as a starter last season completing 74% of his passes, and went 27/40 for 246 yards (with an INT) filling in for Murray in Monday night's 27-13 loss to New England.
McCoy has a tough matchup in the Cardinals at Broncos betting matchup considering Denver has the #7 total defense in the NFL (314.3) and have allowed less than 200 passing yards per game.
While their offense may struggle, Arizona also has some defensive concerns coming into Sunday's game after allowing 25+ points in three straight. The good news is that even though the Patriots scored 27 last week, they only had 328 total yards and also Denver's offense is horrible.
Hopeless Feeling in Denver
There's not a lot to be optimistic about right now for 3-10 Denver, because even losses don't matter at this point considering their 1st round pick (currently #2) goes to Seattle as part of the Wilson trade. In last week's 34-28 loss to Kansas City, at least the Broncos got a glimmer of hope with Wilson being 23/36 for 247 with 3 TDs (1 INT) but then he got concussed and could quite honestly be shut down for the last three games of the year after Sunday.
In Wilson's absence Brett Rypien will get the start , coming in during the 4th quarter last week and going 4/8 for 16 yards with 1/1. Rypien started vs the Jets earlier this season, going 24/46 for 224 yards. Arizona has the 25th ranked pass defense in the NFL (243.8) and gives up the league's most points (26.8) so maybe Rypien can get the Broncos offense going here.
Denver's defense picked off Patrick Mahomes three times last week and the Broncos offense had their highest output of the season with 28 points – but it was still a loss. McCoy is not Mahomes however.
Free Cardinals at Broncos Betting Preview
Both teams have a top end receiver (Deandre Hopkins, Jerry Jeudy), a backup QB, and a mediocre run game. With all of those cancelling each other out, the fact that Denver is playing at home and has the much better defense makes them the play in this spot and it doesn't feel like it will be close.
Free Pick: Denver -1.5