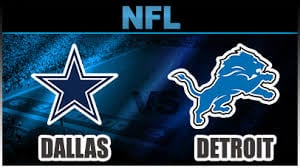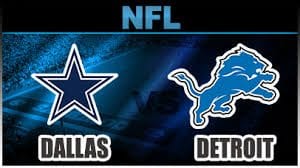 The Detroit Lions travel to Dallas to play the Cowboys in an attempt to clinch a playoff spot by taking the NFC North. Our Detroit Lions play Dallas Cowboys free pick is a game of importance. The Lions are in first place tied with the Packers. If they win this one, it won't matter what the Packers do next week. Detroit meet the Packers next Sunday at 8:30 p.m. They'd rather that game have no bearing on their future whatsoever. The Cowboys have nothing to gain in this game except another win. They have clinched everything they possible can in the NFC.
The Lions (9-5) have been winning the close ones and they all seem to be close ones these days. They had won five straight, all in the waning minutes of the final quarter, before losing to the Giants last week 17-6. The Cowboys (12-2) have beaten everyone they've faced this season except for the Giants. After losing two weeks ago to NY, they got back on track with a 26-20 win over Tampa Bay.
Detroit Offense vs. Packers Defense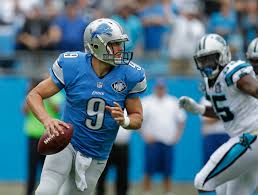 Detroit QB Matthew Stafford is having one of those seasons where clutch play and last minute drives define his success. Stafford has manufactured six come from behind wins this season. He manages to spread his passes amongst four different receivers, including the elusive WR Anquan Boldin (7 TDs). WR Golden Tate (79 REC, 942 YDs, 11.9 AVG, 3 TDs) is Stafford's go-to guy, while Marvin Jones, who's averaging 17.1 yards per catch, provides big play potential. The Lions are averaging 21.5 PPG with most of their offense being launched through the air.
The Cowboys are holding teams to 18.4 PPG. They go into this game with various injuries and subs especially long the defensive line. Their most impressive stat is their 17 FF. In addition, the team has 30 sacks, 54 TFL and 53 PD. But their eight interceptions are exceptionally low. Top performers like LB Sean Lee and safety Barry Church, as well as others, are questionable for this game.
Green Bay Offense vs. Lions Defense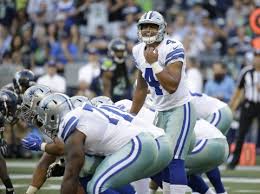 We know that the Dallas offense, which is scoring 26.1 PPG, is the Dak Prescott and Ezekiel Elliot show. How much they will play tonight is anyone's guess? Oakland QB Derek Carr went down this week and is out for the playoffs. That injury has made the Raiders very vulnerable, If Dallas lost Prescott or Elliot, it could alter their entire postseason play. There are plenty of fine receivers on the Cowboys' roster and the Dallas O-line is solid. Simply put, the Cowboys, who have one more regular game after this, may focus more on staying healthy tonight than winning. They have nothing at stake.
Although their stats aren't awe-inspiring, Detroit's defense has played well. Limiting teams to 20.4 PPG, they've nabbed 10 pick and defended 58 passes. They've forced nine fumbles, have 24 sacks, and managed 35 TFL. The strongest aspect of the Lions' defense is how they play as a unit. Their weakest is their red zone defense, which is one of the worst in the NFL. Still, they are solid against both the pass and run.
Detroit Lions Play Dallas Cowboys Free Pick
Our Detroit Lions play Dallas Cowboys free pick likes Detroit at +6.0. The Lions are going for it tonight, and they should keep it close. Kickoff is 8:30 p.m. ET.
Detroit Lions Play Dallas Cowboys Free Pick: Detroit at +6.0