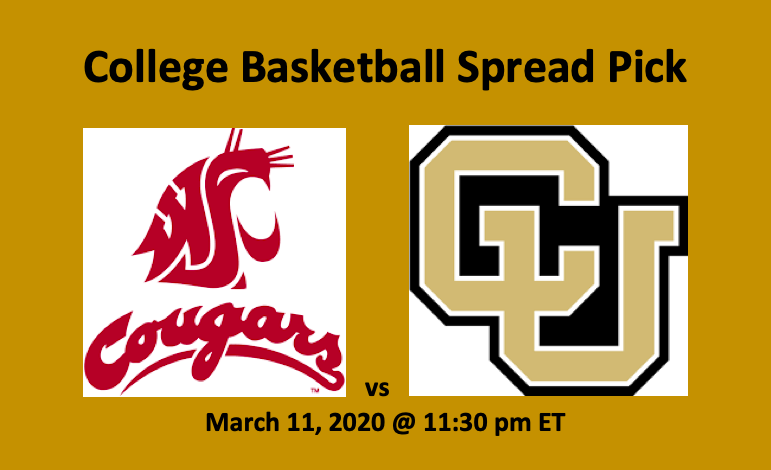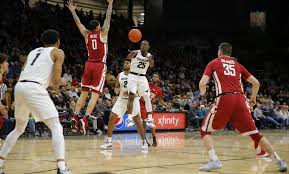 Our Pac-12 Washington State vs Colorado pick has the Cougars at -10.0. This Washington State vs Colorado prediction/analysis observes that the Washington State Cougars (15-16 Overall, 6-12 PAC-12) finished 11th in the Pac-12 and seven games behind first-place and #13 Oregon. In the regular season, the formerly nationally-ranked Colorado Buffaloes (21-10 Overall, 10-8 PAC-12) tied the Arizona Wildcats for fifth in the conference. They ended the 2019-2020 season three games out of first. This Pac-12 playoff contest will be played Wednesday, March 11, 2020 at 11:30 pm ET. The game will be held at the T-Mobile Arena in Las Vegas, NV. Also, for today, see our California Golden Bears vs Stanford Cardinal Pac-12 college basketball pick.
Washington State vs Colorado Pick – Recent Performance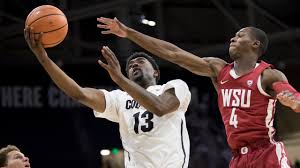 These two teams met in the regular season on January 23. In that game, #23 Colorado took down WSU 78-56. That loss started a string of a dozen games that saw the Cougars post just three wins. Washington State comes to this game having lost six of their last seven contests. The team's one win was on February 28 against last-place Washington. The final in that game was 78-74. In was the second time in the 2019-2020 season that the Cougars beat the Huskies.
Despite winning 12 of their first 14 games of the 2019-2020 season, the Buffaloes were unable to create a sustained effort this season. After their intial 14 games, Colorado sustained a pattern where they would win a few games and then interject a loss. In the final two weeks, their season really went downhill as they lost four games straight. The Buffaloes last played on March 7, losing to Utah 72-74 in OT.
Cougars at Buffaloes – Stats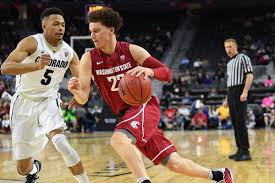 In our Washington State vs Colorado pick, the Buffaloes hold an edge in field goal percentage (43.9% to 39.5%), points score (71.0 PG to 69.5 PG), and points allowed (63.7 PG to 69.7 PG). The overall combined differential offers the Buffaloes a +7.5 advantage. From the arc, Colorado is five percentage points better than WSU, and they are recording two more assists per game. Both teams are fairly even in other areas with each taking down about 36.5 RPG.
Player and Roster Assessment
Much of Washington State's point production comes from the guys in front. WSU's leading scorer, CJ Elleby, is averaging 18.0 PPG. He's also grabbing 7.8 RPG. Also, upfront, senior forward is hitting 51.0% of his field goals while averaging 8.8 PPG and 4.1 RPG. Junior forward Tony Miller a 62.4% field goal shooter, is averaging 7.6 PPG and 3.2 RPG. In the backcourt, guard Isaac Bonton is making 3.9 APG while averaging 15.3 PPG and 3.7 RPG. He's a solid playmaker.
Three guards and two forwards make up the bulk of the Buffaloes' offense. In the backcourt, junior McKinley Wright IV leads the team with 14.2 PPG and 5.1 APG. The junior is a premium guard who does an able job running the offense. In addition, guards Tyler Bey and D'Shawn Schwartz are double-digit scorers. Bey, who's averaging 13.7 PPG, also brings 9.1 RPG as well as fine shooting percentages. He's hitting 52.5% of his field goals and 43.3% of his threes. Schwartz is recording 10.1 PPG. In the paint, Evan Battey and Lucas Siewert are combining for 16.9 PPG and 10.1 RPG. Battey is a 54% shooter and both are hitting more than 37% of their threes.
Our Washington State vs Colorado Pick
Our Washington State vs Colorado pick likes the Buffaloes overall. Despite their recent woes, Colorado is solid in front and back. Still, their recent string of losses is worrisome as is the team's inconsistency. On the other hand, the Cougars lack depth and have struggled the last few months, posting numerous double-digit losses. When these two teams met earlier this season, Colorado beat WSU by 22 points. With that in mind and a few other factors, we're taking the Buffaloes at -10.0.
Washington State Cougars vs Colorado Buffaloes Prediction – Summary
Colorado Buffaloes at -10.0