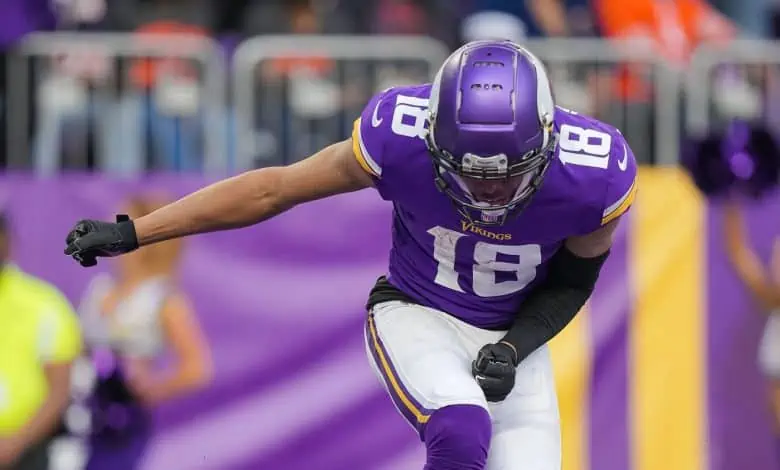 International travel is Chicago's best defender in the week 5 Bears at Vikings betting matchup from the Twin Cities. Minnesota played in London last weekend getting a 28-25 win over the Saints as -4 point favorites but opted to save their bye for later in the season. Despite possibly being a bit jet lagged, the Vikings are still -7.5 favorites in Sunday's meeting.
If Minnesota (3-1) has recovered and recuperated from their trip across the pond, Chicago (2-2) could be in some trouble here. The Bears were swept in last year's season series and have their fair share of issues on both sides of the football in 2022.
Chicago Defense Could Be Exploited Here
The Bears have officially dropped to the worst defense in the NFL against the run after allowing 262 yards against the Giants in last Sunday's 20-12 loss in New York. That has to have Minnesota RB Dalvin Cook licking his chops, as he needs a stat padding game after tallying just 1 rushing TD this season and not yet breaking 100+ yards on the ground.
It will be interesting to see what kind of game plan Minnesota will come up with in the Bears at Vikings betting matchup, because they'll seemingly be able to throw the ball at will too. Chicago starts two rookies in the secondary and will be without their best cover man Jaylon Johnson on Sunday as he continues to nurse a quad injury.
The Bears being vulnerable on defense wouldn't be as big of an issue if they had the offense to hang in a 38-35 type game, but that is far from the case for Chicago. Justin Fields and the Bears passing game is on pace to set the record for fewest completions in a season, and their 97.5 ypg through the air is easily the worst in the league.
Minnesota Should Cruise Here
You have to wonder what the point spread would be for this game if Minnesota hadn't played in London last week? That's a lot of travel and teams often get a bye after the visit to the UK, but both the Vikings and New Orleans have chosen to push that back until later in the season with the long 17-game schedule.
Despite a bit of jet lag, Minnesota should be able to move the ball at will against this struggling Chicago defense. Justin Jefferson had 10 catches for 147 yards last week in London, and went for 107 yards and a TD against the Bears in last year's meeting in the Twin Cities. QB Kirk Cousins was 14/22 for 250 yards and 3TDs in that 31-17 victory in January.
Free Bears at Vikings Betting Pick
Really the only way the Chicago can hurt you on offense is through their running game, which averages 177.3 ypg. The Bears could be getting RB David Montgomery (ankle) back, but Khalil Herbert has also been solid in a backup role.
Even if Chicago does get some semblance of a running game going, it's going to be hard seeing them keep the pace with the Minnesota offense that should be able to do what they want on Sunday. This looks like a double digit win in the Twin Cities.
Free Pick: Minnesota -7.5