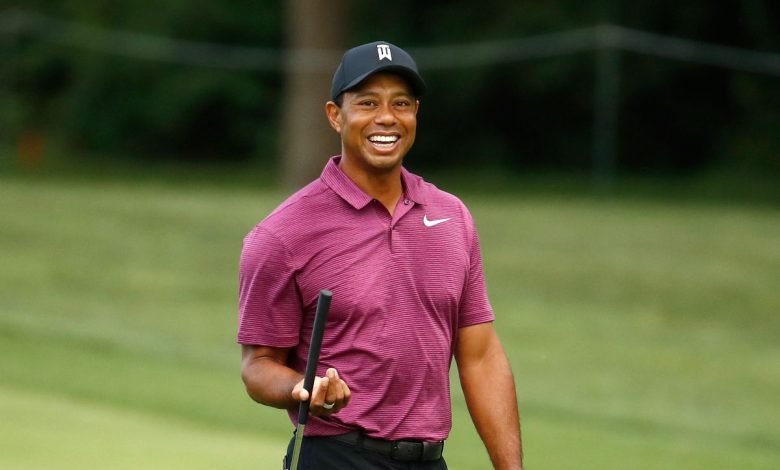 It's shaping up to be a great weekend of golf from Dublin, Ohio as the field for the Memorial Tournament features such big names as Rory McIlroy (+1000), Bryson DeChambeau (+1800), Brooks Koepka (+2500), Jordan Spieth (+2500), and Dustin Johnson (+5000) to name a few. Oh, and there's also a slew of Tiger Woods the Memorial Tournament betting available.
A number of sportsbooks have laid out Tiger-centric wagers as Tiger Woods plays his first PGA event since February. Woods, always a bettors favorite, is +1200 to win the entire tournament but let's take a look at some of the more interesting prop bets on the board:
Tiger Woods Number of Birdies in Round One: 4.5
A lot of the Tiger Woods the Memorial Tournament betting is circumstantial as nobody knows how he'll perform after 5 months off. Woods has won this event 5 times though including a 3-peat from 1999-2001. Woods also finished 9th at Muirfield Village a year ago, 10 strokes off the lead of Patrick Cantlay's -19.
The over/under for Woods' birdies in round one is 4.5. Tiger had 4 birdies in round 1 last year and just 3 in round 2. He picked it up with 13 over the final 36 holes last May but you'd think after a long layoff Woods isn't going to be completely sharp on Thursday afternoon.
Pick: Under 4.5 (+110)
Tiger Woods Number of Bogeys in Round One: 2.5
Just because Woods doesn't kill it with birdies in round one doesn't necessarily mean he'll be all over the course either. Woods is teeing off with world #1 McIlroy and Koepka, who has won four majors which should fuel the competitive fire.
Woods had just two bogeys in the first round in his horrible showing at the Genesis in February (68th). The wheels came off in the final 36 holes with 12 bogeys but he should be sharper at the Jack Nicklaus designed Muirfield Village. Woods had two bogeys or fewer in 3 of his 4 rounds in Dublin a year ago.
Pick: Under 2.5 (+110)
Tiger Woods Round One Score: 69.5
A lot of the Tiger Woods the Memorial Tournament betting for round one's score depends on how hard the course is laid out. One positive thing for this tournament is that the PGA just held an event here last weekend with Collin Morikawa taking the day one lead at -7. 58 golfers shot below 70 in last week's 1st round.
Of course Woods wasn't one of those players who fired a sub-70 because he didn't play last week. Woods had just one round below par at his last tournament in February – but it was the 1st round. At the Memorial Tournament last season Woods' first three rounds were 70 or above before a final day 67.
Pick: Over 69.5 (-125)
Will Tiger Woods Be in Top 20 After Round 1?
Woods is well rested but unfortunately this tourney's field is littered with players who will be playing this course for the 2nd straight weekend. Quality players such as Matt Kuchar, Jon Rahm, Viktor Hovland, Justin Thomas, HIdeki Matsuyama, and more all played in the Workday Charity Open last weekend.
The course is expected to play harder the 2nd time around but that might just give more of an advantage for those who are comfortable with how it played last weekend. Not everybody in the top 20 will be somebody who played last weekend, but they'll likely take up a good chunk.
Pick: No (-140)