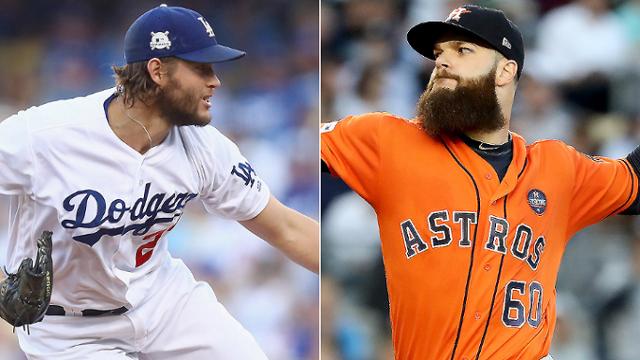 It's pretty crazy that we're on the brink of the first World Series since 1970 between 100-win teams and all anybody is talking about is the weather like they're an old man at a coffee shop. This is, of course, because temperatures at game time are expected to near triple digits. The weather could actually be a huge factor considering the fact that Dallas Keuchel and Clayton Kershaw may fatigue early. So is the 2017 World Series game one pick based solely on bullpens?
Let's be honest, the heat would be more of a factor if New York had made it because Houston isn't exactly known as a Winter wonderland. Still, to assess this game you have to analyze the game as a whole, and not base your wager on Mother Nature or a global warming crisis that may or may not exist.
Crazy to think that Kershaw and Keuchel are both making World Series debuts. Hard to believe it's their first times with their resumes.

— Ethan Schmidt (@EthanSchmidtTV) October 24, 2017
Do the Astros Have a Shot – In Game One At Least?
It's easy to forget the Astros struggles in the three games at Yankee Stadium when you look at the 11 runs they scored in games six and seven at home to win the ALCS. Jose Altuve got his groove back with long balls in both games and Carlos Correa added four hits as well. Even so, the Astros hit just .181 in the ALCS as a whole and scored under three runs a game. The 'Stros sport the majors' top offensive squad – in the regular season – but can they return under the bright lights of the Fall Classic?
Astros lefty Dallas Keuchel takes the mound trying to find some confidence of his own. The 2015 Cy Young award winner was roughed up for 4 runs on 7 hits in Game 5 in New York but he will have a full five days rest tonight. Only four Dodgers players have ever hit against Keuchel so he will have that advantage.
I think Astros crack Kershaw tonight. Astros offense is dangerous and Kershaw has been flawless. He might be due for a letdown spot 2night

— RayArocho yaheardme (@EastsideRay23) October 24, 2017
So….About this World Series Kershaw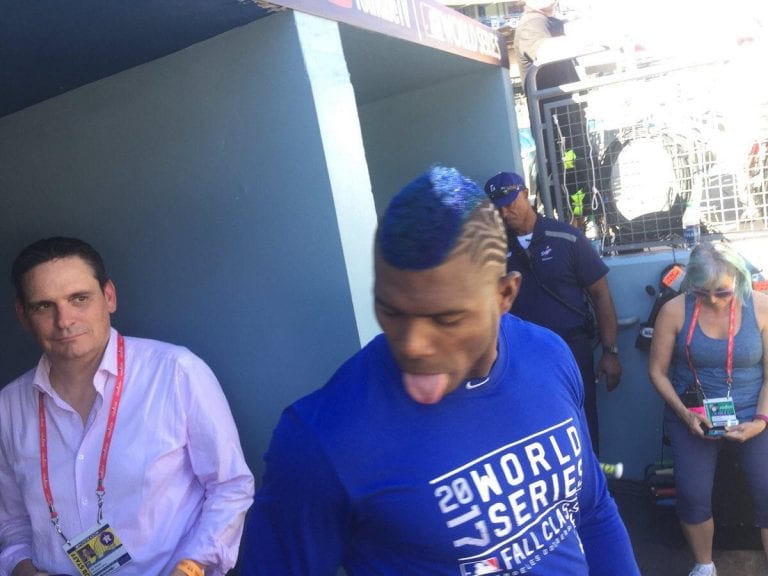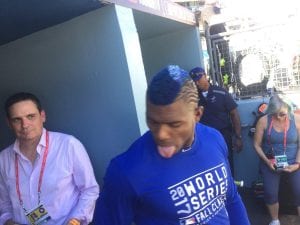 Clayton Kershaw is a first ballot Hall of Famer regardless of what happens over the next week-plus, but he could still further cement his legacy with a strong World Series showing. Kershaw had been known as the Peyton Manning of baseball in that he always choked in the big games. That rhetoric is largely dispelled after allowing only 3ER in the NLCS but as has been noted before – the lights get a bit brighter in the 2017 World Series game one pick.
The Astros do have a bit of an advantage of 7 players having experience against Kershaw including Altuve who is 6 of 15 lifetime.
Puig got the blue hair… dodgers in 4

— Leone (@Moneyloben) October 24, 2017
2017 World Series Game One Pick – Betting
As expected, the Dodgers are big favorites at home being listed at -174. and nearly 70% of the bettors are liking that number. Getting back to the heat wave for a minute, a 1995 study showed that fly balls travel 16 feet farther than ones in 50 degree weather. Kershaw has given up six HR in three postseason starts while Dallas Keuchel has a ground ball percentage approaching 70% – something to chew on.
So who do you take for the 2017 World Series game one pick? Maybe this game will be decided by the bullpens as LA relievers carry a 23-game postseason scoreless inning streak and a microscopic 0.94 ERA. Keuchel should be better than last time out and Kershaw is Kershaw. The heat wave should push the 'over' bets but people forget about the Santa Ana winds creating a cross-breeze – and how bad the Houston bats were in New York. Therefore, the play is a sneaky one on the total:
Pick: Houston Astros / LA Dodgers *Under 7