MLB Picks
MLB Pick: Detroit Tigers at New York Yankees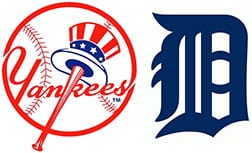 The Detroit Tigers and New York Yankees finish up their four game series today at Yankee Stadium in New York. The Yankees won games one and three of the series while the Tigers took the second game. The Tigers are 11-8 in their last 19 meetings versus the Yankees including 8 of the last 15 in New York.
Head to Head Trends
Tigers are 2-5 in the last 7 meetings.
Under is 5-2 in the last 7 meetings in New York.
New York Yankees (-106)
The New York Yankees are 3rd in the American League East 5 games back of the Baltimore Orioles. The Yankees are 5 games over .500 overall but are just .500 at home on the season with 27 wins and 27 losses. The Yankees average 4.04 runs per game on offense and allow 4.25 runs per game on defense overall but at home their offense seems to struggle a bit average just 3.61 runs per game. The Yankees have won 4 of their last 5 games outscoring their opponents 21-15. On the hill for the Yankees today is the rookie Shane Greene who is 2-1 with a 3.68 ERA in 5 starts and 1 relief appearance this season.
New York Yankees Trends
Yankees are 4-0 in their last 4 games vs. a right-handed starter.
Yankees are 8-3 in their last 11 home games vs. a team with a winning road record.
Yankees are 4-1 in their last 5 overall.
Detroit Tigers (-104)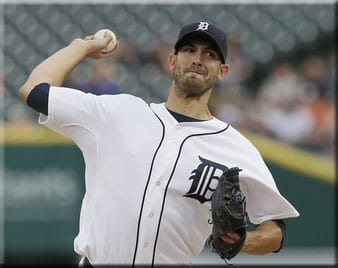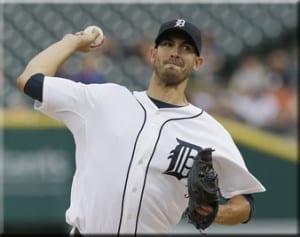 The Detroit Tigers are 1st in the American League Central 3.5 games up on the Kansas City Royals. The Tigers have the 3rd highest scoring offense in the American League averaging 4.65 runs per game and are middle of the pack in pitching allowing 4.23 runs per game. On the road the Tigers also average 4.65 runs per game on offense but their pitching is much better allowing just 3.74 runs per game. Starting for the Tigers today is Rick Porcello who is 13-5 with a 3.18 ERA overall but on the road he is 8-2 with a 2.73 ERA.
Detroit Tigers Trends
Tigers are 6-1 in Porcellos last 7 road starts vs. a team with a winning record.
Tigers are 8-3 in Porcellos last 11 road starts.
Tigers are 6-0 in their last 6 after allowing 5 runs or more in their previous game.
Conclusion
I like the Detroit Tigers to Beat the Yankees today. The Tigers are the better team overall and have one of the best road records in baseball at 32-22 while the Yankees have struggled at home in Yankee stadium at times this season. The Tigers also got the advantage in starting pitchers with Rick Porcello who is 8-2 on the road this season versus the Yankees rookie Shane Greene.
Free Pick: Detroit Tigers -104