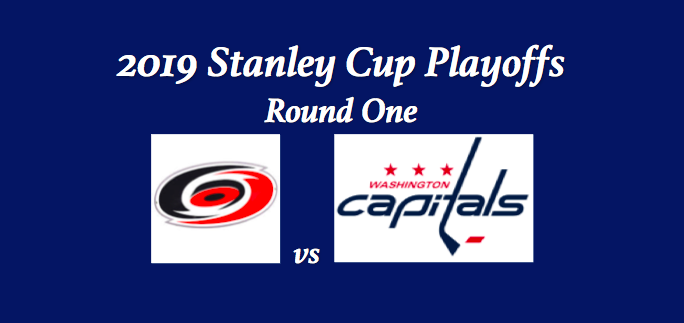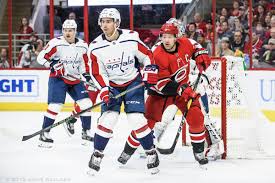 Our Hurricanes vs Capitals Playoff Preview has the 2018 Stanley Cup champs, Washington, trying to do it again. This Hurricanes vs Capitals preview notes that Carolina finished fourth in the Metropolitan Division with 99 points while Washington was first in the division with 104. Carolina ended the season with the three-game winning streak, going 6-4-0 for their last 10 contests. The Caps lost their final game of the season, but they were 6-3-1 for their final 10 games. Washington comes to this series at +29 in terms of GF/GA differential, while the Hurricanes at +22. This should be a very tough series for Carolina, as they did not beat the Caps this season, and they are -8 versus Washington in GF/GA differential.
Hurricanes vs Capitals Playoff Preview – Goaltending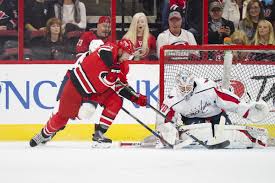 For the Caps, it will be Braden Holtby (31-19-5) in goal. Over the last five games, in which Holtby went 5-0-0, he notched a 1.60 goals-against average and .947 save percentage. For the season, the veteran had a .911 SV% and 2,82 GAA. In his last regular season game, which was against the Montreal Canadiens, the netminder turned away 33 of 34 shots in a 2-1 winning effort. Against the Hurricanes this season, Holtby is 4-0-0 with a 2.21 GAA and .918 SV%.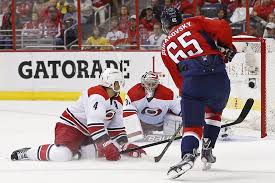 Our Hurricanes vs Capitals playoff preview expects the Hurricanes' Petr Mrazek (23-14-3) to get the start in goal. Mrazek stopped 36 of 37 shots in Thursday's 3-1 win over the Devils. Mrazek is 0-2 against the Caps this season. He's earned a 2.56 GAA and .915 SV%. However, Curtis McElhinney (21-11-2) is certainly a viable alternative. Mrazek has a GAA of 2.39 and a save percentage of .914. His counterpart on the team has posted a 2.58 GAA and a .912 SV%. About four days ago, McElhinney stopped 28 of 31 shots to beat the Flyers 4-3. He's 0-1 against Washington this season with a 3.10 GAA and a .850 SV%.
Washington Capitals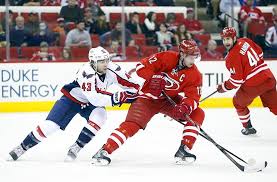 Alex Ovechkin topped the NHL in goals this season with 51. Eight times in his career he's scored 50 or more goals. the eighth time he's scored at least 50 in his career. Ovechkin topped the team with 89 points. The Caps bring a lot of O to the ice. They include Nicklas Backstrom, Evgeny Kuznetsov, T.J. Oshie and John Carlson. Kuznetsov was essential in the Capitals' big run to the Cup. But he's been less than consistent this season.
The Caps did have some bumps in the road this year that included a mid-season seven-game losing streak. But the team seems to have found its edge, especially in terms of D and PK. wing Carl Hagelin and defenseman Nick Jensen, who came in on trades, have both been useful.
Carolina Hurricanes
It's been a decade since the Hurricanes made the playoffs. Head coach Rod Brind'Amour captained that 2009 team that played in the Stanley Cup. Of the regular players, 11 have no post-season experience. Thus, this is an untested team with a lot of question marks. The top goal-scorer on the team is Sebastian Aho, who notched 30 goals and contributed 53 assists. His 83 points are the high on this team. Justin Williams, formerly with the Caps, is second in goals with 23. He's third in points, tallying 53. Teuvo Teravainen, who has a Cup to his credit from his time with the 2015 Chicago Blackhawks, has a total of 76 points and 21 goals.
Hurricanes vs Capitals Playoff Preview – Our Pick
The players on the Capitals have four times as much playoff experience as those on the Hurricanes. Although Carolina has a slow start this season, they did build momentum. The Capitals got off to a strong start, and then, as noted, struggled for a bit. But they finished strong coming into the Stanley Cup Playoffs. Our Hurricanes vs Capitals playoff preview and series pick is Washington in five games.
Hurricanes vs Capitals Playoff Preview
Washington Capitals over the Carolina Hurricanes in 5 games