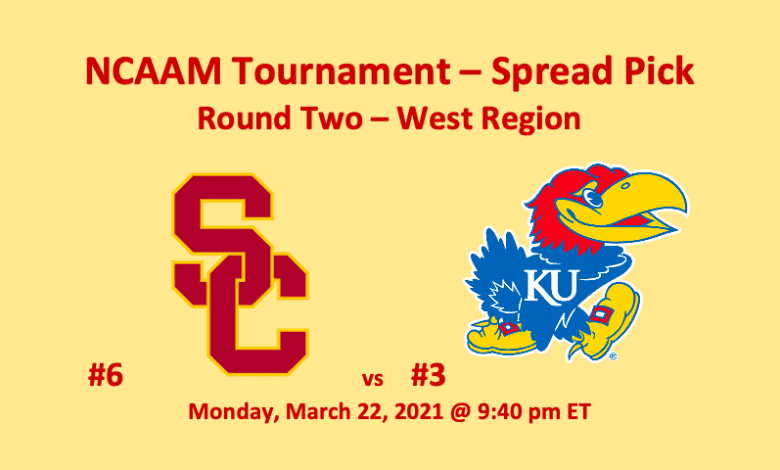 This USC vs Kansas pick has the Trojans as the favorite. This 2021 NCAAM Tournament West Region Round Two game has the USC Trojans at -1.0 (-110). The best line for the slight underdog Kansas Jayhawks is +1.5 (-110). In Round One, USC beat the #11 Drake Bulldogs 72-56. Over their last five games, the Trojans have gone 4-1. The Kansas Jayhawks, who've won their last four games, beat the Eastern Michigan Eagles 93-84 in Round One. The Trojans and Jayhawks will meet on Monday, March 22 at 9:40 pm ET. The game will take place at Bankers Life Fieldhouse in Indianapolis, IN. Make sure you check out all of our March Madness picks, as we've got every game covered including Maryland vs Alabama.
USC vs Kansas Pick – Stats
These two teams are very close statistically. The major statistical category where they diverge is foul shots. Kansas is shooting 71.2% from the charity stripe, while USC is connecting on just 64.7%. Both teams are shooting 34.5% from downtown and USC is a little better on field goals, 46.7% to 44.0%. In other areas they are either tied or exceptionally close. USC is scoring 74.8 PPG, bringing down 39.5 RPG, making 13.7 APG, and turning the ball over 12.4 times. The corresponding numbers for Kansas are 73.1 PPG, 38.0 PPG, 13.7 APG, and 12.4 TO. The Jayhawks are making two more steals per game than the Trojans, while USC is making one more block per contest than Kansas.
Key Players
When it comes to scoring and rebounding for USC, forward Evan Mobley leads the way with 16.8 PPG and 8.7 RPG. Mobley is hitting 58% of his shots. Isaiah Mobley is averaging 9.2 PPG and 7.3 APG while completing 40.0% of his three-point attempts. At guard, Tahj Eaddy is good for 13.5 PPG while Drew Peterson is scoring 10.0 PPG and grabbing 4.9 RPG.
The Jayhawks, who have four double-digit point makers are led by guard Ochai Agbaji and his 14.4 PPG. Also in back, Marcus Garrett is making 3.6 APG while scoring 10.8 PPG and grabbing 4.5 RPG. Forwards David McCormack and Jalen Wilson are scoring 13.7 and 12.1 PPG and 6.2 and 8.2 RPG respectively.
USC vs Kansas Pick – Final Thoughts
Our USC vs Kansas pick observes that this game could come down to foul shots. The fact is with such a small spread, the bounce of the ball either way could result in one team winning and the other losing. We're going with the Kansas Jayhawks at +1.5 (-110).
#6 USC Trojans vs #3 Kansas Jayhawks
Kansas Jayhawks at +1.5 (-110)