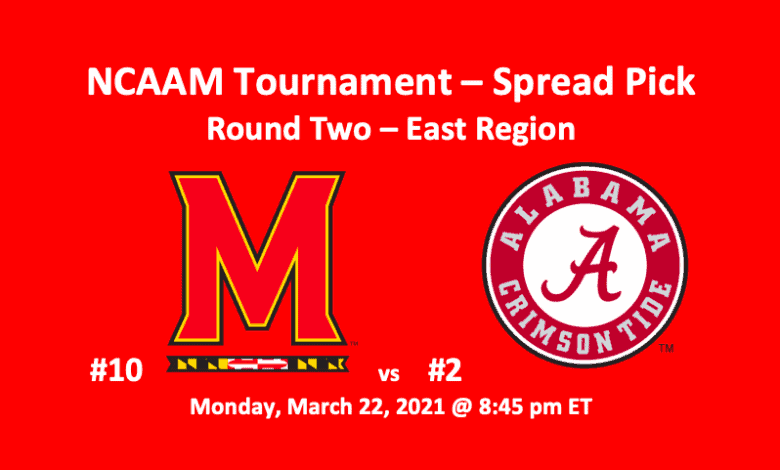 This Maryland vs Alabama pick has the Terrapins as the underdog. This 2021 NCAAM Tournament East Region Round Two game has the Maryland Terrapins at +6.0 (-115). The best line for the favored Alabama Crimson Tide is -5.5 (-111). Maryland made it to this second round by beating the UConn Huskies 63-54 in Round One. The Terrapins have gone 2-3 over their last five contests. In Round One, the Alabama Crimson Tide, who've won their last five games, met and defeated the #15 Iona Gaels 68-55.
The Terrapins and Crimson Tide will meet on Monday, March 22 at 8:45 pm ET. The game will take place at Bankers Life Fieldhouse in Indianapolis, IN. Remember, we have picks for every single 2021 NCAAM Tournament contest. Check out all of our March Madness picks, as we've got every game covered including USC vs Kansas.
Maryland vs Alabama Pick – Stats
On paper, Alabama looks like a team that should dominate in this game. The Tide is averaging 79.6 PPG to Maryland's 68.6. Plus, they are grabbing 40.5 RPG and making 14.2 APG. In those categories, the Terrapins are averaging 33.3 and 13.3 respectively. 'Bama is making 3.5 more steals than their opponents and one more block per game. They're also approximately two percentage points better from the charity stripe. Concerning three-point shot completion, both teams are at 35%. However, Maryland does have a better field-goal percentage, as they are completing 45.6%, while Alabama is good on 43.1%
Key Players
Maryland brings six players to this contest who are successful on anywhere from 43 to 50% of their field goals. Included in that stat are the team's two top scorers, guards Eric Ayala and Aaron Wiggins. Ayala leads the team with 15.2 PPG. He's shooting 44.1% from the field. Wiggins, who has a 43.6% success rate, is averaging 14.0 PPG. He's bringing down 6.8 RPG. Also, in the backcourt, Darryl Morsell, who leads the Terrapins with 2.8 APG, is completing 48.6% of his field goal attempts and averaging 8.9 PPG. Forward Donta Scott is grabbing 6.1 RPB while scoring 10.9 PPG.
For the Tide three guards and one forward bring double-digit scoring stats to this contest. Guard Jaden Shackelford tops Alabama scorers with 14.1 PPG, while counterpart Jahvon Quinerly is scoring 12.6 PPG. Third guard John Petty Jr. is averaging 12.2 PPG while taking in 5.1 RPG. In the paint, Herbert Jones is a major playmaker. He recording 11.5 PPG, 6.5 RPG, and 3.4 APG. He also has 1.8 SPG and 1.1 BPG.
Maryland vs Alabama Pick – Final Thoughts
Our Maryland vs Alabama pick finds that the Crimson Tide has everything it needs to make a longer run in this tournament. They can score, rebound, and create opportunities. Although a reduction in turnovers would be helpful. Still, we like the Alabama Crimson Tide at-5.5 (-111).
#10 Maryland Terrapins vs #2 Alabama Crimson Tide
Alabama Crimson Tide at -5.5 (-111)