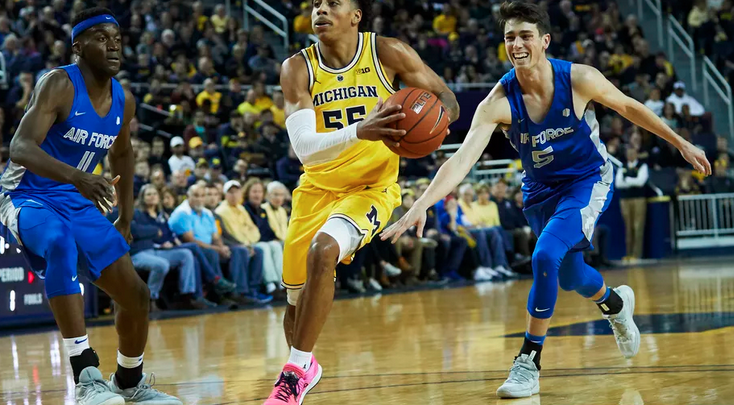 A college basketball Saturday kicks off in style with a Big Ten showdown between the no. 7 Michigan Wolverines and no. 19 Wisconsin Badgers. The Wolverines are listed as 6-point home favorites.
This game will afford Michigan the chance to avenge one of their two losses on the season. The previously undefeated Wolverines suffered a loss at Wisconsin in mid-January. Since that loss, Michigan has won four of five and remain on top of the Big Ten standings with a 10-2 league record.
Of course, Wisconsin is just one game behind Michigan, with both Michigan State and Purdue equally close in the standings heading into the weekend. That win over Michigan started what is now a six-game winning streak for the Badgers. Those six wins have taken the Badgers from a modest 11-6 to 17-6 and a team that could be dangerous in March.
Come On Get Happy
Senior Ethan Happ continues to be the key for Wisconsin. He's averaging a double-double with 18 points and 10 rebounds per game, not to mention dishing out five assists per game to lead the team. Happ rarely has a bad game, and on his best night, he can carry the Badgers on his back. In the first meeting against Michigan, Happ scored 26 points to help the Badgers get over the hump after a string of close losses.
Of course, the more help that Happ gets, the better Wisconsin will be in a big game. In that sense, the key to this game could be the sophomore trio of Nate Reuvers, Brad Davison, and D'Mitrik Trice. All three are capable outside shooters who can change a game if they get hot from three-point range. However, all three have been a little inconsistent, and none of them scored in double figures the first game against Michigan. That will likely have to change on Saturday unless the Badgers assume that Happ will carry them.
The Three Musketeers
Once again, the Wolverines are a legitimate national championship contender, and it's primarily due to the trio of Ignas Brazdeikis, Jordan Poole, and Charles Matthews. All three are averaging double figures and combining for over 40 points per game, which amounts to well over half of Michigan's total points. When all three are on at the same time, the Wolverines are tough to stop and almost impossible to beat given how strong they are on the defensive end of the court.
The caveat, of course, is that that the Wolverines are vulnerable when one of those three has a bad game. For instance, Brazdeikis was held scoreless during the team's first meeting against Wisconsin. On the bright side, point guard Zavier Simpson has taken on more of the scoring responsibilities lately, in addition to handing out six assists per game on the season. But against a quality Wisconsin team, the Wolverines need their big three to lead the way.
Redemption Time
Michigan should be eager to get redemption against Wisconsin, especially with the Big Ten race so tight. While the Wolverines can be vulnerable if their big three don't show up, the Badgers don't always get major contributions from players other than Happ. Bet on Michigan winning and covering the 6-point spread against Wisconsin.