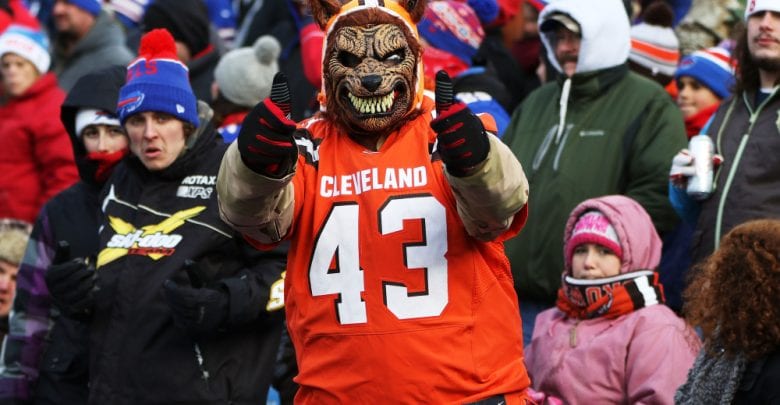 Week two of the of the preseason wraps up with a Monday Night Football matchup between the Giants and Browns in Cleveland as part of the NFL Preseason Week 2 Betting Pick.
There are two major points to consider when wagering on preseason games because they can be such a crapshoot. One key area is team depth. Starters are only going to be playing a quarter and at most a half in week two of the preseason. This means second and third stringers are likely going to determine the outcome of your bet.
The other notable aspect of preseason games is head coaching. Some head coaches treat this game for what it is – an exhibition. It's a great opportunity to evaluate every player in your camp and to find those hidden gems that will round out your depth chart. Other head coaches however feel that creating a winning culture starts in the preseason and they will pull out all the stops to get the W.
NFL Preseason Week 2 Betting Pick – Depth Charts
Obviously one of the biggest positions that will determine preseason outcomes is quarterback. The Giants definitely have the advantage in this area at the starting quarterback slot with Eli Manning vs. Brock Osweiler. Eli will likely only play barely into the second quarter however so New York backs him up with Josh Johnson, Geno Smith, and Davis Webb. Cleveland might actually have the advantage here as their second and third stingers include an experienced starter in Cody Kessler and an upstart rookie DeShone Kizer. Look for big games from these Browns signal callers – especially since the starting slot is anything but guaranteed to Osweiler.
The Browns have some big name depth at other positions as well for the NFL preseason week 2 betting pick including rookie Jabrill Peppers (2nd string Safety), Calvin Pryor (3rd string Safety), and Duke Johnson (backup RB). The Giants backups lack any major name recognition except for maybe Shane Vereen (2nd string RB) and Dwayne Harris (2nd string WR).
bigblueview Giants updates unofficial depth chart #nyg https://t.co/cLRO5P6GTq #Giants

— Giants R Back (@GiantsRBack) August 21, 2017
NFL Preseason Week 2 Betting Pick Coaches
It takes some guts siding your money with Browns coach Hue Jackson in the preseason as he's recorded two 0-4 doughnuts in 2011 with Oakland and then again last year with Cleveland. Jackson in fact just got his first ever preseason win last week, 20-14 over the Saints. Kizer was great in a third string role, bringing Cleveland back in the 4th quarter with 11/18 and 184 yards (1TD) numbers.
#Browns players have been lobbying for DeShone Kizer to be the starting QB, per source. He's won them over. The team is supporting Kizer.

— Browns Chalk Talk (@BrownsChalkTalk) August 16, 2017
Giants head coach Ben McAdoo hasn't fared much better in the warmups to the regular season going 2-3 in the preseason in his two years with the Giants. The offensive whiz kid looked like a dunce last week as the Giants managed just 12 points (4 FG) in a loss to the Steelers.
Game Preview and Betting Pick
The line opened at Cleveland -1.5 but has since shifted to New York being favored by -1. Roughly 64% of the betting public is on New York for some Monday Night Football wagering. In actuality however Cleveland is the play. The Browns have better QB depth, more young talent, and the benefit of playing in front of the Dawg Pound in one of the few opportunities the fans have to see their team on MNF.
FREE Pick: Cleveland +1