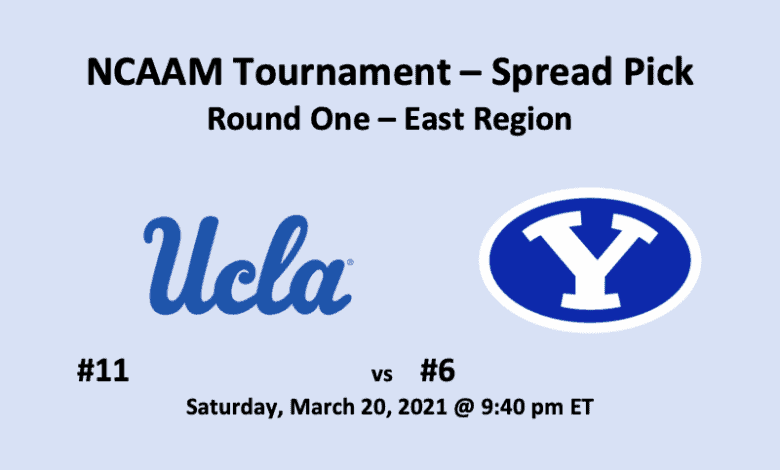 In this UCLA vs BYU pick the Bruins are the underdog. This 2021 NCAA Tournament Round One East Region game has the UCLA Bruins at +3.5 (-112). The best line for the favored BYU Cougars is -3.5 (-100). UCLA finished fourth in the Pac-12 Conference and then lost in the conference tournament quarterfinals to the Oregon State Beavers 79-83. Over their last five games, they've gone 1-4. The Bruins have lost four games straight. The BYU Cougars, who've won four of their last five games, finished second in the West Coast Conference, four games away from first-place Gonzaga. In the WCC Tournament Finals, the Cougars lost to the Zags 78-88.
The Bruins and Cougars will meet on Saturday, March 20 at 9:40 pm ET. The game will take place at Bankers Hinkle Fieldhouse in Indianapolis, IN. Make sure you check out all of our March Madness previews and picks, as we've got every game covered including Abilene Christian vs Texas.
UCLA vs BYU Pick – Stats
Statistically, BYU outpaces UCLA. The Cougars stats include 78.7 PPG, 39.4 RPG, and 16.6 APG. The Bruins come in at 72.8 PPG/35.0 RPG/13.6 APG. BYU is a bit better in field goal percentage (48.2 to 46.2), free throws (73.1 to 72.1), and threes (37.8 to 36.7). The Bruins are recording two fewer turnovers than the Cougars.
Key Players
Five Bruins come to the court as double-digit scorers, including guard Johnny Juzang who's averaging 14.5 PPG. Point guard Tyger Campbell is good for 5.5 APG and 10.3 PPG, while backcourt players Jaime Jaquez Jr.and Jules Bernard are averaging 12.4 and 10.4 PPG respectively. In the paint, Cody Riley adds 10.2 PPG and 5.2 RPG.
Three standout players start for BYU. Guard Alex Barcello tops the team in scoring with 15.9 PPG. He's also bringing down 4.7 RPG and making 4.5 APG. Brandon Averette, also in the backcourt, is scoring 11.5 PPG and 3.7 APG. In the frontcourt, Matt Haarms is putting up 11.8 PPG while bringing down 4.8 RPG.
UCLA vs BYU Pick – Final Thoughts
Our UCLA vs BYU pick notes that although BYU is better statistically than UCLA, the Bruins are deeper. However, the Cougars have a solid core that's led by three quality players. Lately, UCLA has struggled, while BYU has performed well. We expect this to be a close game. When push comes to shove, we anticipate a Cougar victory. We're going with the BYU Cougars at -3.5 (-100).
#12 UCLA Bruins vs #5 BYU Cougars
BYU Cougars at -3.5 (-100)