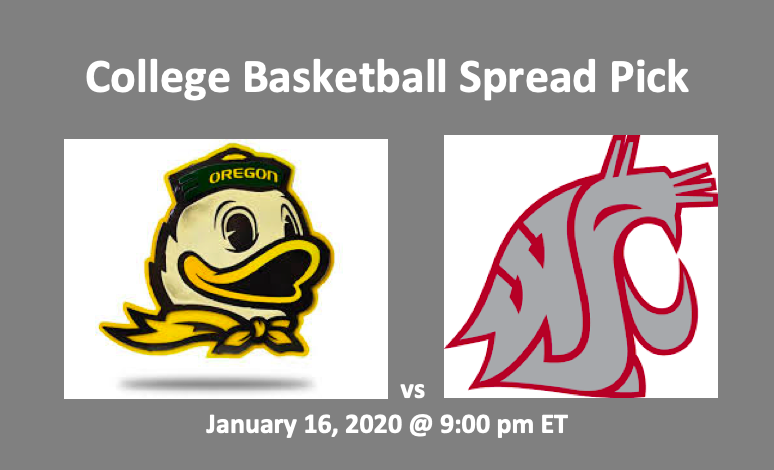 Our Oregon vs Washington State pick offers the #8 Ducks at -9.5. This Oregon vs Washington State prediction notes that the #18 Oregon Ducks (14-1 Overall, 3-1 PAC-12) are second to the unranked Stanford Cardinal who possess a perfect 4-0 conference record. Conversely, the Washington State Cougars (10-7 Overall, 1-3 PAC-12) are last in the conference. They're tied with the Washington Huskies and the UCLA Bruins. The game will tip off Tuesday, December 16, 2020 at 9:00 pm ET. The game will be played at Friel Court in Pullman, WA.
Oregon vs Washington State Pick – Recent Performance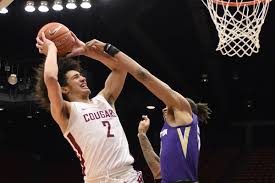 The Ducks, who won their first six games of the season, had two big victories in those first half-dozen games. On November 12, they took down the #13 Memphis Tigers 82-74 and on November 27, Oregon beat the #13 Seton Hall Pirates 71-69. But their next two games, which were on November 28 against the #8 Gonzaga Bulldogs and November 29 versus the #6 North Carolina Tar Heels, saw the Ducks falter. Gonzaga edged Oregon 73-72 in OT and North Carolina beat them 78-74. Since those two losses, the Ducks have gone 8-1, including a 71-70 OT win against #5 Michigan. They also beat #24 Arizona 74-73 in overtime. Oregon's one loss was to the then unranked Colorado Buffaloes 74-65. The Ducks are coming to tonight's contest with a three-game winning streak.
At the start of the season, the Cougars were erratic, losing four of their first seven games. They then enjoyed a six-game winning streak that started on December 4 and went through to the end of the year. In their first game of 2020, which was on January 2, WSU lost to USC. The score was 65-56. In the new year, the Cougars have played four games and are 1-3. Their one win was against UCLA 79-71 in OT. Washington State's last game was January 11 against Stanford. The Cardinal beat the Cougars easily 88-62. The Ducks are the first nationally-ranked team that WSU is facing this season.
Ducks at Cougars – Stats
There are a few statistical categories where these two teams are in virtual ties. Our Oregon vs Washington State pick observes that in points allowed the Ducks are at 66.9 PPG and the Cougars at 66.8 PPG. In terms of rebounds, Oregon is grabbing 37.2 per game and Washington State 37.7 per game. In just about every other area, the Ducks are on top, and in some they dominate.
The biggest discrepancy concerns three-pointers. Oregon is hitting 39.4% of their shots from the arc, while Washington State is good on just 29.6%. In addition, the Ducks are dominant in field goal percentage, 48.4% to 39.7%. Plus, they take the lead in points, averaging 78.2 PPG to WSU's 71.5 PPG. Also, Oregon is better on assists (15.1 to 11.4), blocks (3.4 to 2.4), and steals (7.2 to 6.7). On free-throw percentage, WSU leads 72.2% to 68.3%.
UO vs WSU – Players
The Ducks have a solid and deep roster. Guard Payton Prichard tops the team with 19.2 PPG and 5.9 APG. Also, in the backcourt, Chris Duarte is putting up 13.0 PPG and taking down 5.4 RPG. Guard Will Richardson, who's good on 51.3% of his threes, has been averaging 10.6 PPG. Forward Shakur Juiston is putting in 8.0 PPG and grabbing 6.3 RPG.
WSU forward CJ Elleby and guard Issac Bonton lead the Cougars. Elleby is the team's leading scorer and rebounder. He's averaging 18.4 PPG and 6.7 RPG. Bonton is good for 13.5 PPG and 3.2 APG. Forward Daron Henson, who's putting up 7.0 PPG, is a 55.6% field goal shooter. Also at forward, Jeff Pollard, who is hitting 52.2% of his shots, is averaging 9.2 PPG.
Our Oregon vs Washington State Pick
In our Oregon vs Washington pick, we find that the Ducks have a much better squad. They are certainly deeper and more productive. Plus, the Ducks have played a much tougher schedule and have been able to hold their own with some very challenging teams. We are taking the Oregon Dicks in this game at -9.5. Also, we have a great Cincinnati vs Memphis prediction.
#8 Oregon Ducks vs Washington State Cougars Prediction – Summary
Oregon Ducks at -9.5