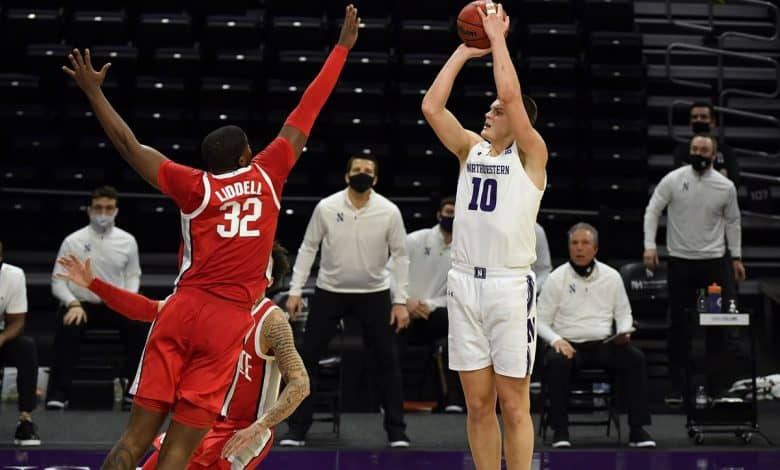 On Tuesday, the No. 10 Iowa Hawkeyes will guard their home court against the No. 19 Northwestern Wildcats. The Top 25 matchup airs on FS1 at 9:00 P.M. Eastern.
The college basketball season has had its ups and downs because of COVID-19, but these two teams have gotten to play the majority of their schedules. And now, the Big Ten is getting into conference play, which features several teams with ambitions to make a run in March.
Iowa has beaten Northwestern in their last seven meetings, dating back to 2012. And Northwestern will again be the underdog and are getting 11 points on most sportsbooks.
Iowa Bouncing Back from Loss
Iowa lost their last game against Minnesota. Before that, their only loss was to top-ranked Gonzaga. They did win against a ranked North Carolina team, but that is not starting to look like such a great win.
The game after Northwestern will be No. 14 Rutgers, so they could use a win against the Wildcats. Iowa is 1-1 in Big Ten play, and starting 1-2 would not be the ideal situation for a team with expectations this high.
Center Luka Garza has been the highlight for the Hawkeyes. The defending Big Ten Player of the Year is scoring 18.8 points per game and adding an average of 10 rebounds. Garza, a 6'11, 250-pound senior, dropped 32 points in Iowa's loss to Minnesota.
Northwestern Not Accustomed to Top 25 Ranking
This is just the seventh season that the Northwestern Wildcats have been ranked inside the Top 25. They are 6-1 this season and are one of two undefeated teams in Big Ten play.
Last time out, Northwestern beat No. 23 Ohio State. That game was tied at halftime, and the Wildcats went on to win 71-70 after the Buckeyes missed a layup with two seconds left on the clock.
Miller Kopp led the way with 23 points and is averaging 15.1 points per game this season, leading the team. Boo Buie also plays a significant role in the offense, averaging more than 14 points a game.
Betting Prediction
Iowa has dominated this series so far, but Northwestern has a much better team than usual. I believe the Hawkeyes might pull out the win, but it won't be enough to cover the spread. This matchup will come down to the wire.
Northwestern is 5-1 against the spread in their previous six matchups. With four guys averaging double digits in points, they will have enough to keep up with Garza and the Hawkeyes.
In the end, Iowa may have too much for the Wildcats to get the win. However, I'm still taking Northwestern to cover the spread.
The over/under is set at 157.5. Iowa has hit the over in 10 games out of the last 11, and Northwestern has gone over in nine of their previous 13. However, that has drawn this spread to be high for a college basketball game. Northwestern has not allowed an opponent to score more than 71 points so far this season. I'm taking the under.
Betting Pick: Northwestern Wildcats (+11) and Under 157.5.