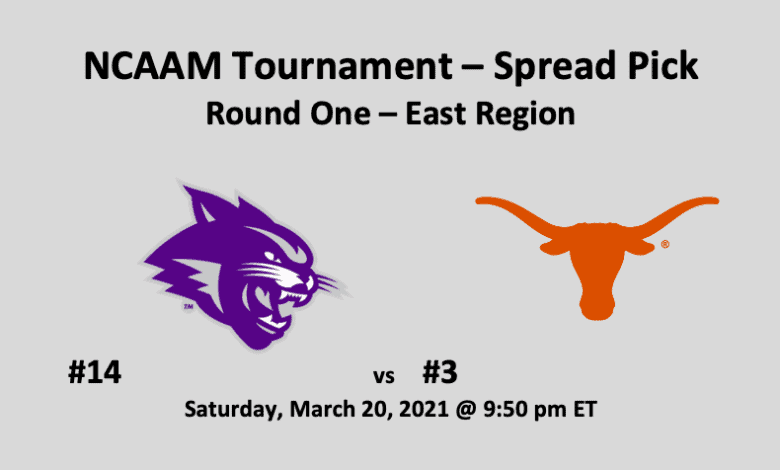 This Abilene Christian vs Texas pick has the Wildcats as the underdog. This 2021 NCAA Tournament East Region Round One game has the Abilene Christian Wildcats at +8.5 (-110). The best line for the favored Texas Longhorns is -8.0 (-115). The Abilene Christian Wildcats finished second in the Southland Conference. They were one-half game out of first place. The Wildcats then earned their ticket to the Big Dance by beating Nicholls 79-45 in the conference tournament final. Over their last five games, they've gone 4-1, winning their last four games. The Texas Longhorns, who've won five of their last five games, finished tied for third in the Big 12 Conference. In the Big 12 Tournament Finals, the Longhorns beat Oklahoma State 91-86.
The Wildcats and Longhorns will meet on Saturday, March 20 at 9:50 pm ET. The game will take place at Bankers Life Fieldhouse in Indianapolis, IN. Make sure you check out all of our March Madness picks, as we've got every game covered including Norfolk State vs Gonzaga.
Abilene Christian vs Texas Pick – Stats
With this game, you have to keep in mind that despite the fact that the Wildcats seem to run neck-and-neck statistically with the Longhorns, that the Southland Conference is in no way as competitive as the Big 12. Thus, even though Abilene Christian is scoring 77.6 PPG and Texas 75.2 PPG, it's hard to compare those stats. The Wildcats are averaging 36.3 RPG, 18.2 APG, 9.9 SPG, and 3.1 BPG. In comparison, the Longhorns averages are 38.7 RPG/13.2 APG/6.5 SPG/3.9 BPG. Both teams are good on 46% of their shots from the field and 35.5% of their threes. Texas tops Abilene Christian in frees, 70.8% to 67.3%.
Key Players
Three players are key to the Wildcats ' success. In the frontcourt, center Kolton Kohl is averaging 12.3 PPG and 4.8 RPG. Additionally, forward Joe Pleasant is good for 10.8 PPG and 5.4 RPG. In the backcourt, Coryon Mason is hitting for 10.7 PPG.
The Longhorns utilize three guards and two forwards. Guard Andrew Jones is averaging 14.6 PPG and 4.6 APG. Matt Coleman III and Courtney Ramey are each averaging four assists and about 3.5 rebounds per contest. Coleman is scoring 13.3 PPG, while Ramey is averaging 12.6 PPG. In the paint, Greg Brown is hitting for 9.6PPG and Jericho Sims for 9.2 PPG. Brown is grabbing 6.4 RPG, while Sims is handling 7.1.
Abilene Christian vs Texas Pick – Final Thoughts
In creating our Abilene Christian vs Texas pick, we find that the Wildcats will have a tough time holding the court. Texas is big and tough and will most likely run all over Abilene Christian. We're taking the Texas Longhorns at -8.0 (-115).
#14 Abilene Christian Wildcats vs #3 Texas Longhorns
Texas Longhorns at -8.0 (-115)