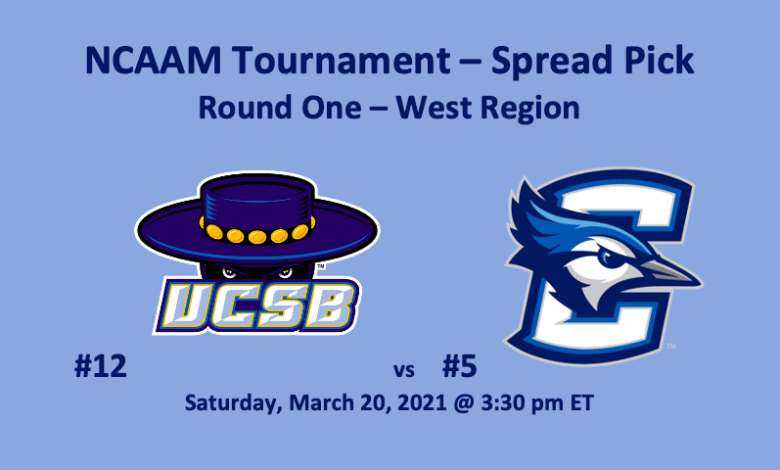 This UC Santa Barbara vs Creighton pick has the Bluejays as the favorite. In this 2021 NCAA Tournament West Region Round One game, Creighton is -7.5 (-104). The underdog Gauchos at +7.5 (-108). In the regular season, UC Santa Barbara finished first in the Big West Conference, and then they won the conference tourney by beating UC Irvine 79-63. The Gauchos have won their last five games. The Creighton Bluejays, who've won three of their last five games, finished second in the Big East Conference. The Bluejays made it to the Big East Conference Final where they lost to the Georgetown Hoyas 73-48. The Gauchos and Bluejays will meet on Saturday, March 20 at 3:30 pm ET. The game will take place at Hinkle Fieldhouse in Indianapolis, IN. Also, check out our Texas Southern vs Michigan pick.
UC Santa Barbara vs Creighton Pick – Stats
In most statistical categories, these two teams are close. However, UCSB out shoots the Bluejays at the foul line 75.0% to 64.2%. Both teams are recording approximately 36 rebounds, 16 assists, seven steals, and 11 TO. The Gauchos are hitting 48.5% of their field goals, which is one-percentage point higher than the Bluejays. When it comes to threes, Creighton's 36.7% three-point mark is about one-percentage point higher than UC Santa Barbara's.
Key Players
For the Gauchos, two players in front, Amadou Sow and Miles Norris, and two in back, JaQuori McLaughlin and Ajare Sanni, are solid scorers. Sow is shooting 57.1% from the floor and averaging 13.7 PPG. He's also making 7.6 RPG. Counterpart Norris is scoring 9.6 PPG and grabbing 4.5 RPG. At guard, McLaughlin leads the team with 16.2 PPG and 5.2 APG. He's shooting field goals at the rate of 48.9% and sinking threes 40.4% of the time. Sanni is good for 11.2 PPG.
The Bluejays feature five double-digit scorers, including guard Marcus Zegarowski, who's averaging 15.5 PPG as well as 4.3 APG and 3.7 RPG. Also, in the backcourt, Denzel Mahoney is good for 12.5 PPG and 4.2 RPG. Mitch Ballock, also at guard, is hitting threes at a 40% rate while averaging 10.2 PPG. In front, forwards Damien Jefferson and Christian Bishop are averaging 12.1 and 10.8 PPG and 5.5 and 5.9 RPG respectively. Bishop is good for 1.1 BPG.
UC Santa Barbara vs Creighton Pick – Final Thoughts
Our UC Santa Barbara vs Creighton pick notes that if the Gauchos can keep this game fairly close, they could certainly end up within six points of the Bluejays. The difference between these teams foul shot percentages is enough to close the gap on the spread. Thus, we're going with the Gauchos at +7.5. They've got the shooters to beat the spread.
#12 UC Santa Barbara Gauchos vs #5 Creighton Bluejays
UC Santa Barbara Gauchos at +7.5 (-108)