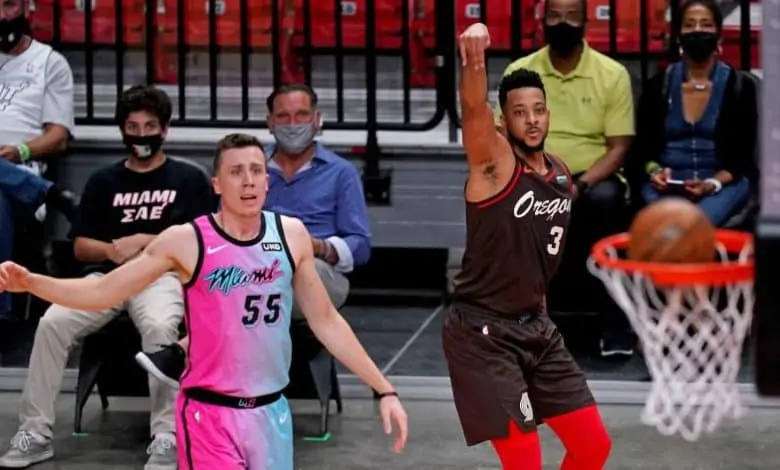 Oddsmakers are calling the April 11th Heat at Trail Blazers matchup a tight one, opening Portland as a -1 favorite but the home team likely resting as +1 underdogs. Miami has won five of their last six, a likely reason why a the betting public likes them in this matchup.
Portland did score a 125-122 win in South Beach on March 25th though, albeit with Miami not having Jimmy Butler in the lineup. The Trail Blazers also played Saturday night in a 118-103 home win over Detroit, while the Heat have had the last two nights off. Miami is also making their first trip out West since February 20th, so there's a lot going on in this tilt.
Heat Defense the X-Factor?
Miami has the #6 defensive efficiency in the NBA, Portland the 29th. That factor alone may give a lean towards the Heat in this matchup, even on the road. Miami has held four of their last six opponents to 104 points or less, but at the same time the Trail Blazers have the league's #5 scoring offense at 115.0 ppg.
The teams Miami has held in check lately include the Knicks, Pacers, Cavs, and Lakers – not exactly the most offensively impressive teams in the league. Which way is the April 11th Heat at Trail Blazers matchup going to go with a betting total of 223?
Another question is if Butler is indeed that crucial to the Miami defense based on the fact that he missed the March 25th matchup between these two teams and it ended up in a 125-122 Portland win. Bam Adebayo was big with a 29 point, 9 rebound, 7 assist performance that game, but it wasn't enough to counter a huge outing from the Portland backcourt.
Lillard and McCollum Lead the Way
In that first meeting with Miami CJ McCollum (35 points) didn't seem to mind he was facing the #10 defense vs. the SG position. Neither did Damian Lillard (22 points) up against the #3 unit against the PG spot. Being up 24 vs. Detroit on Saturday may leave the duo a bit refreshed for the back to back, even though Lillard logged 34:23 and McCollum 30:34.
Enes Kanter chasing history vs. the Pistons with a 24-point and whopping 30 rebound night may also be a bit damaging on the back to back, as the Portland big man was on the court for 37 minutes. The good news is that 7-footer Jusuf Nurkic is back in the lineup, providing at least a bit of resistance against Adebayo.
Portland's main defensive struggles are in their backcourt though, as evidenced by Tyler Herro and Kendrick Nunn combining for 51 points in the first meeting between these two. Both of those guards are likely out for Sunday night's matchup, as is newly acquired Victor Oladipo who could miss the rest of the year with a knee injury.
Free April 11th Heat at Trail Blazers Pick
It's huge for Portland to get Nurkic back in the lineup, and the fact that Miami is very thin in the backcourt – the Trail Blazers defensive weakness – and going to the West Coast for the first time in six weeks gives the home team the edge.
Trail Blazers 119 – Heat 110
Pick: Portland +1