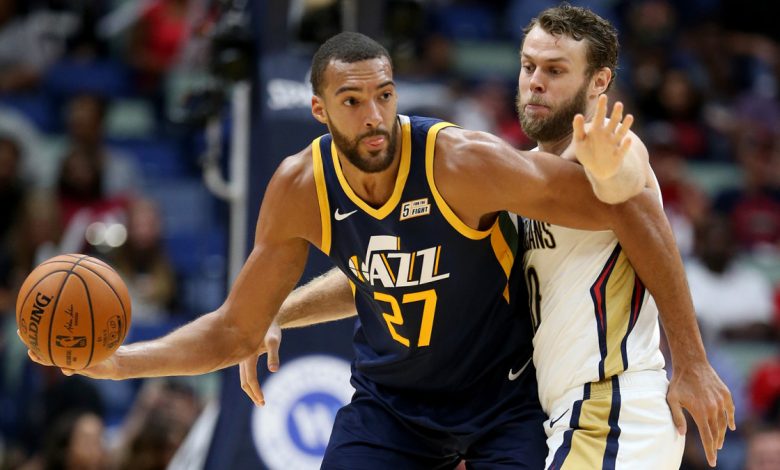 This is going to be an exciting battle as it is small ball versus well, not small ball. Trading away Clint Capela at the deadline was basically Houston's way of saying they are all in on something new. No more traditional big men, but guards and wings only.
The 6-5 PJ Tucker is serving as their starting center now, but this is still very different from when 6-6 center Chuck Hayes was getting all of the minutes back in the day. Let's see how they can handle Rudy Gobert.
Utah, meanwhile, has one of the top bigs, as mentioned above, in Rudy Gobert, first-time All-Star this season and winner of several DPOY awards. He can protect the rim and deter shots as well as any other player. But like most bigs, he does struggle when guarding the perimeter.
He has been crossed over and put onto the floor several times. He has even been postered by most of the league's youngest and most athletic guys. He'll match up with PJ, Robert Covington and Jeff Green tonight.
The spread for tonight's game favors Utah by two points, the over/under set at 235.
Houston looking to stay hot
They are playing some of their best ball of the year and now have a chance to pass Utah in the standings if they can claim a victory tonight. Russ has been on another level, though he got ejected late in the GS game for chirping an injured Klay Thompson a little too aggressively.
He is looking like the same player now, though, as he was in OKC two seasons ago. Scoring whenever you look up and making all of the right plays. He and Harden are both locked in right now, their wing players scoring it at a high clip. The new roster makeup is certainly interesting, and it's working for them so far.
We'll see how PJ can handle Gobert this time, but it's worth noting they won the last meeting against the Jazz with this lineup. And now you add Robert Covington, and you're a little better than before.
Jazz looking to get it done at home
If there was ever a game where they truly needed a big Jordan Clarkson performance to win, it would be tonight. He struggled in last night's loss to San Antonio and will need him to pick up his game along with Mitchell and Bojan tonight.
The three of them are the team's top scorers and will be needing to put the ball in the hoop consistently to keep pace with their high-scoring counterparts. When Rudy goes to the bench, don't expect to see Tony Bradley, but likely a small-ball lineup to match.
That will likely only be for 10-12 mins for the game, but it will be an important stretch when the lanes are open. They will need to make Houston's other guys beat them tonight. Russ and Harden need to be slowed.
Rockets win it on the road
Houston knocks off Utah on the road behind Russ' triple-double.
Free Play: HOU +2