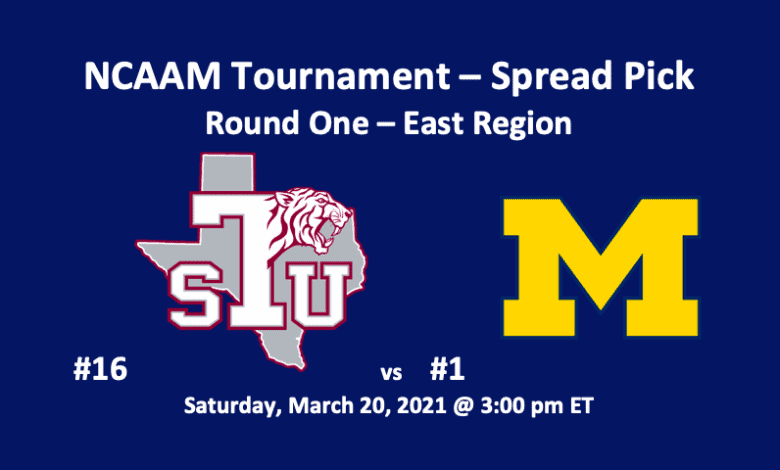 Our Texas Southern vs Michigan pick features one of four First Game winners from Thursday night, the Tigers, and the number one seed in the East, the Wolverines. After finishing third in the Southwestern Athletic Conference, Texas Southern beat the Prairie View A&M Panthers 80-61 in the SWAC Final to take the tournament crown. That was their ticket to the Big Dance. The other night, the Tigers took down the Mount St. Mary Mountaineers 60-52 to get to this Round One East Region 2021 NCAA Tournament game. The Tigers are on a 10-game winning streak. The Michigan Wolverines finished first in the Big Ten. In the conference tournament, the Wolverines lost to the Ohio State Buckeyes 67-68 in a semifinal game.
Texas Southern is a major underdog in this game. They are listed at +26 (-110). The best spread for favorite Michigan is -25.5 (-110). The game will be played on Saturday, March 20. The tipoff will be 3:00 pm ET. This East Region game will be played at Mackey Arena in West Lafayette, IN. For more great March Madness picks select our 2021 NCAAM Tournament Pick tag at the end of this article. Here's a quick link to our St. Bonaventure vs LSU prediction.
Texas Southern vs Michigan Pick – Stats
The Tigers are putting up 74.8 PPG while completing 45% of their shots from the field. A major problem for the Tigers is the fact that they are hitting only 27.6% of their three-point attempts. They're good on 69.9% of their free throws. In the paint, the Tigers are grabbing 41.6 RPG. They making 12.4 APG. On defense, the Texas Southern is averaging 7.2 SPG and 4.6 BPG. Turnovers are an issue, as they average 16.0 PG.
The Wolverines are averaging 76.3 PPG and connecting on 48.3% of their field goals and 77.7% of their free throws. When shooting threes, Michigan is a good 11 points better than their opponents, hitting 38.7% of their attempts. Their turnover rate is just 11.3 per game. Additionally, they are taking down 37.7 RPG and making only 15.5 APG. Finally, the Wolverines are averaging 4.4 SPG and 4.3 BPG.
Key Players
For the Texas Southern, guard Michael Weathers leads all scorers, averaging 16.5 PPG. He's also grabbing 5.2 RPG and dishing off 3.6 APG while hitting 48.8% of his attempts from the field. In the paint, forwards John Walker and Joirdon Karl Nicholas provide points and rebounds. Walker is averaging 12.0 PPG and 5.4 RPG. Nicholas is taking down 7.0 RPG while scoring 11.3 PPG. Both are shooting over 55%.
The Wolverines have a solid front and backcourt. Center Hunter Dickinson tops all players with 14.2 PPG, 7.6 RPG, and 1.4 BPG. He's completing 59.9% of his field goals. Forward Isaiah Liver is a fine inside-out player. He's shooting 45.7% from the field and 43.1% from downtown. Livers is averaging 13.1 PPG and 6.0 RPG. In the backcourt, Mike Smith is the court commander, recording 5.4 APG and 9.1 PPG. He's shooting 42-percent-plus from anywhere on the court. Also, guard Franz Wagner, a 49.3% shooter, is good for 12.8 PPG and 6.2 RPG.
Texas Southern vs Michigan Pick – Final Thoughts
Our Texas Southern vs Michigan pick finds that this is a real David versus Goliath game. Of course, in the Bible story, David beats Goliath. That will be tough to do for Texas Southern. But can they keep close enough to beat the 26-point spread? Especially with their lack of three-point prowess? We do find that Michigan with their three-point shooting and inside game will dominate this contest. However, we conclude that the Tigers will manage to beat the spread. Take them at +26.0 (-110).
#16 Texas Southern Tigers vs #1 Michigan Wolverines
Texas Southern Tigers at +26.0 (-110)