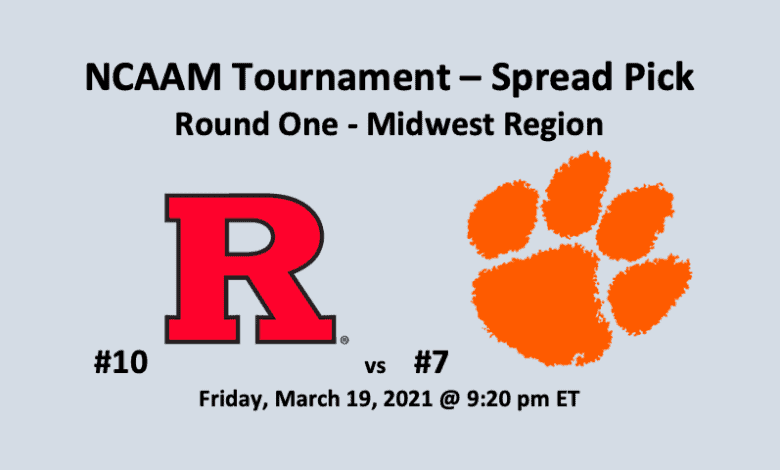 Our Rutgers vs Clemson pick offers the Scarlet Knights, who tied for fifth place in the Big Ten, against the Tigers, who tied for sixth in the Atlantic Coast Conference. These two teams meet in Round 1 of the Midwest Region in the 2021 NCAA Men's Tournament. Rutgers is favored and at -1.5 (-108), while the Tigers are at +1.5 (-102). In the Quarterfinals of the Big Ten Tournament, Rutgers lost to the Illinois Fighting Illini 90-68. Over their last five games, they've gone 3-2. The Clemson Tigers, who are also 3-2 for their last five matchups, lost to the Miami Hurricanes 64-67 in Round Two of the ACC Tournament. The Scarlet Knights and Tigers will meet on Friday, March 19 at 9:20 pm ET. The game will be held at Bankers Life Fieldhouse in Indianapolis, IN. We've got a great Cleveland State Vikings vs Houston Cougars pick.
Rutgers vs Clemson Pick – Stats
Statistically, the two teams are close in just about every category. However, the Tigers are better than the Hurricanes in three-pointer and foul-shot percentage, 34.6 to 29.5 and 76.5 to 70.0 respectively. In other statistical categories, Rutgers is shooting 42.5% from the court while scoring 66.4 points, grabbing 35.0 rebounds, and 11.3 assists per game. Clemson is averaging 65.3 PPG, 32.7 RPG, and 13.3 APG. They're good on 42.8% of their field goals.
Key Players
In the backcourt for the Rutgers Scarlet Knights, Ron Harper Jr., Jacob Young, and Geo Baker are the primary go-to scorers. Harper and Young are solid shooters with 15.4 and 14.4 PPG respectively. Harper is grabbing 5.9 RPG, while Young is making 3.2 APG. Both are shooting over 45% from the floor and over 32% from the arc. Baker is averaging 10.1 PPG, 3.2 APG, and 3.1 RPG. Young and Baker are solid on steals combining for 3.1 SPG. Other key players include guard Montez Mathis and forward Myles Johnson. Mathis is scoring 8.5 PPG, and front man Johnson is scoring 8.3 PPG and bringing down 8.7 RPG.
Clemson's top performer, forward Aamir Simms, is averaging 13.3 PPG while bringing down 6.2 RPG. He's good on 54.3% of his shots from the floor and 40.7% of his shots from the arc. Five other players are completing 40-plus-percent of their shots. Guards Al-Amir Dawes and Nick Honor are averaging 9.0 and 8.4 PPG. Forward Hunter Tyson is averaging 7.4 PPG and 4.3 RPG. At guard, Clyde Trapp is good for 7.0 PPG and 5.4 RPG.
Rutgers vs Clemson Pick – Final Thoughts
Our Rutgers vs Clemson pick likes the Tigers in this one. They're a bit deeper and they are better from downtown and the charity stripe. We do think that Rutgers has a shot at winning this one. But, in the end, we're going with Clemson at +1.5 (-102).
#10 Rutgers Scarlet Knights vs #7 Clemson Tigers
Clemson Tigers at +1.5 (-102)