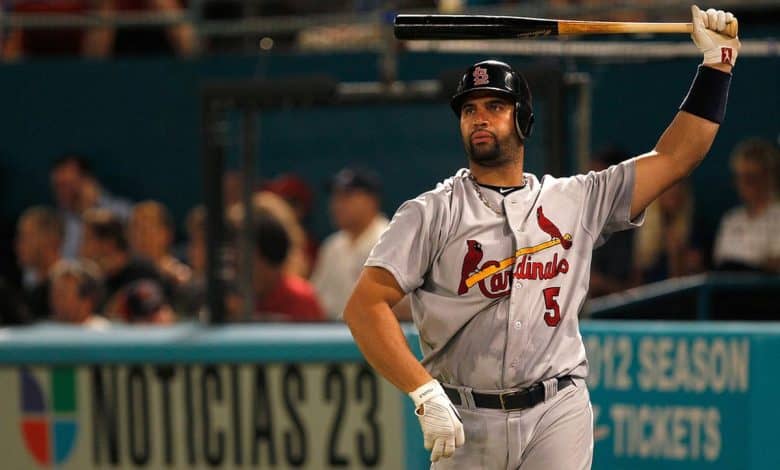 Somewhat surprisingly oddsmakers have listed the April 19th Cardinals at Marlins betting contest a toss-up, pricing both teams at -110. St. Louis started the year 3-1 against the Pittsburgh and Royals – but looked good in splitting a four game series in Milwaukee over the weekend.
Miami is playing well at home though, taking three of four at home vs. the Phillies in their last series. Both teams had Monday off, and St. Louis (5-3) will try to keep ahold of their slight NL Central lead over the red hot Cubs. The 4-5 Marlins are already 2.5 back from the Mets in the East so although early, this is still an important game for both teams.
Cards Offense Tries to Find Consistency
St. Louis had a great opportunity for a three game win streak on Sunday, heading to the bottom of the 9th down 6-5 to Milwaukee with Paul Goldschmidt, Tyler O'Neill, and Nolan Arenado due up in the lineup. Goldschmidt grounded out and O'Neill and Arenado K'd – as many batters do against Josh Hader – and the Cardinals could only manage a 4-game split in their first road series of the year.
After an off day, St. Louis stays on the road against Miami looking for a 7th straight win over the Marlins. St. Louis has won 40 of their last 56 games in South Beach, giving them tremendous value at -110 in the April 19th Cardinals at Marlins matchup. One thing plaguing St. Louis right now is consistency though, as they have 1, 10, 2, and 5 runs scored over their last four games.
Adam Wainwright also has the rubber game in his third start of the season, the first two going very different ways. The 40-year-old dazzled with 6.0 IP of 0 ER ball in his opener against Pittsburgh but backed that up by allowing 4ER in just 4.1 IP on Thursday in Milwaukee. Wainwright was 8-2 with a 3.58 ERA on the road last season, and 9-5 with a 2.74 ERA at home.
Luzardo Tries to Repeat
The Cardinals offense has been a bit up and down over their four game series with Milwaukee, and Tuesday's Miami starter Jesus Luzardo hopes the 'down' continues. The left-hander makes his second start of the year, striking out 12 Angels batters in just 5.0 IP last Tuesday. Luzardo threw 78 pitches in that matchup, and is well rested ahead of his first career meeting with St. Louis.
We will see if Luzardo has truly turned things around after going 4-5 with a 6.44 ERA and going 2-4 with 6.87 the last two seasons. Arenado (1-2) and Pujols (0-1) are the only two Cardinals batters to ever face the left-hander.
The Miami offense looked good in their first series at home, scoring 25 runs in the four game series (3-1) against the Phillies. Jesus Sanchez is staying hot with multi-hit games in 5 of the last 6, while Jazz Chisholm might be heating up too going 3 for his last 7 with 2 triples and 5 RBI.
April 19th Cardinals at Marlins Betting Pick
St. Louis seems like they should be much higher priced than -110, perhaps just because they are a 1st place team in the NL Central. Miami looked real good over the weekend against the Phillies though, and have hit above .300 as a team vs. Wainwright. If Luzardo throws like he did last week Miami runs away with this one pretty easily.
Free Pick: Marlins -110