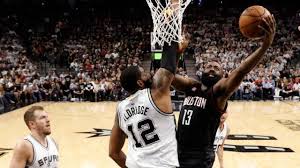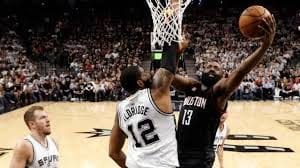 The Houston Rockets and San Antonio Spurs play tonight, Tuesday, May 9 at 8:00 p.m. E.T. with the series tied at two games apiece. For this Rockets play Spurs NBA West semifinals free pick San Antonio is at -5.5. The over/under is 214.5. The series started in San Antonio with Houston winning that initial contest 126-99. The Spurs then won the next two, which included a home victory 121-96 and an away win 103-92. The teams played in Houston on Sunday and the Rockets blew by the Spurs 125-104. Now the series shifts to San Antonio.
Important Players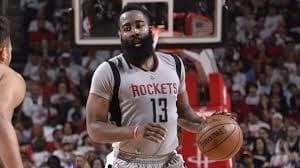 In game four, James Harden had 28 points. That's good news in that he led the team in scoring but did not take over the game. Three other starters and two players off the bench were in double digits. SG Eric Gordon out in 22 points. In the frontcourt, PF Ryan Anderson and SF Trevor Ariza has 13 points and 16 points respectively while combing for 10 rebounds. Center Clint Capela topped the Rockets in rebounds with nine. Perhaps the best news about Harden was that he had a dozen assists. That's a huge stat for Houston when it comes to winning. If the Rockets can run and pass the way they did in this game, they'll have a good chance of taking the fifth game of this series.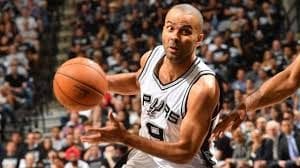 Kawhi Leonard was held to 16 points in game four. He needs to produce about 24 for this team to be on track for a win. PF LaMarcus Aldridge had a good effort with 16 points, SG Jonathan Simmons came off the bench to toss in 17 points. In this game, all three players need to perform better and the Spur defense has to slow down the game and regain control. Center Pau Gasol, who had seven rebounds, had an off-night shooting and managed just eight points. Look for him to step up. With Tony Parker out for the rest of the playoffs, San Antonio is struggling at the point.
Five keys to the Game
A balanced effort by Harden, about 28 points and 11 rebounds, is essential
Leonard has to take control and score and rebound more
The entire Rockets team needs to be involved
The Spurs need someone at the point to set up plays
The team that controls the pace wins
Rockets Play Spurs NBA West Semifinals Free Pick
This is a big game in this series as whichever team wins needs just one more victory to the 2017 NBA Western Conference Semifinals series. Tonight for our Rockets play Spurs NBA West semifinals free pick we like Houston at +5.5. We're also going with over 214.5.
Rockets Play Spurs NBA West Semifinals Free Pick: Houston at 5.5 and over 214.5