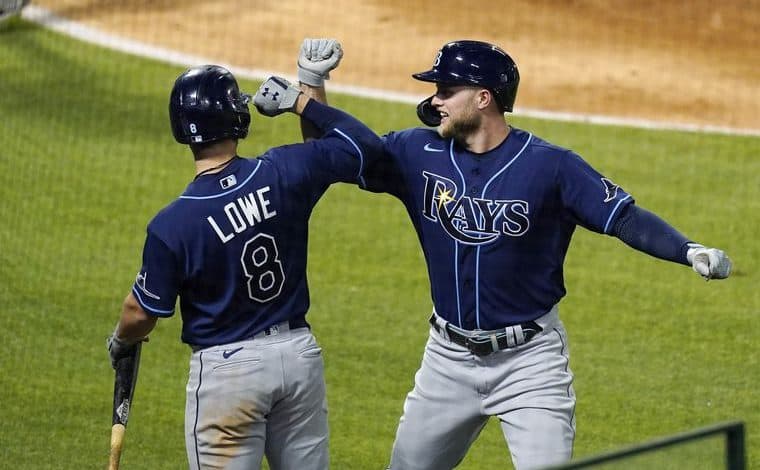 Tampa Bay is trying to pull off the rare 4-game sweep as they head into the May 6th Rays at Angels matchup. TB has won four straight overall, pulling to within two games of Boston in the AL East. The Rays send Collin McHugh (0-1, 10.13 ERA) to the mound however, in his first start in almost two years.
LAA has been outscored 18-7 so far in their three losses during this series. The Angels are still a whopping -149 favorite behind Andrew Heaney (1-2, 5.25 ERA) on the mound. That's a tough wager though, as Los Angeles has dropped four in a row and are just 6-7 at home on the year. TB is 10-5 on the road.
Can Rays Finish Things Off?
Tampa Bay is on a nice run right now, and the Angels have obliged in giving up 7, 8, and 3 runs so far this series. That's solid offensive output for a Rays team that ranks 25th in the majors in batting average and 22nd in OPS.
Yandy Diaz and Manuel Margot are both better than .300 over the past week, and Austin Meadows has supplied the power surge with 3HR in the last six games. Heaney has been a very hit or miss pitcher for the Angels, but Meadows has batted well against him, going 3-5 with a HR. As a team the Rays have gone 8-34 (.235) vs. the LAA starter.
Pitching is going to be the major concern for Tampa Bay heading into the May 6th Rays at Angels contest. Collin McHugh opted out of the 2020 season altogether to rehab his elbow, and has made four relief appearances this season. He's allowed 6ER in 5.1 IP on the year, throwing a ceiling of 45 pitches. Tampa Bay will likely rely on their bullpen in this one.
Angels Salvage One Here?
Los Angeles has scored just 7 runs in their last four games, not great for MLB's #2 ranked offense in batting average and #5 in OPS. LAA should see their offensive woes come to an end against McHugh and the Rays bullpen however.
Mike Trout is 8-24 with 3 HR off of McHugh in his career and that's when the Rays starter was in a little better spot in his career. Jose Iglesias has also hit McHugh well, going 6-11 (.545). Jared Walsh is hitting .350 with 2 HR over the past week, and 2 of Shohei Ohtani's 3 hits in his last 18 AB (.167) have left the yard.
We also don't know what to expect from Heaney in this matchup. The left-hander gave up 7ER in his first start of the season and 4 last time out in just 3.1 IP. Sandwiched between there though is a 3-game stretch where Heaney allowed just 3ER in 17.2 IP. Something has to give on Thursday night.
Free May 6th Rays at Angels Pick
There would seem to be some value on either side in this matchup. We've got the Rays on a four game win streak looking for the sweep, but the Angels also get to tee off against McHugh making his first start in nearly two years. Heaney could be great – but you never know with him either.
Rays 4 – Angels 6
Free Pick: Over 8