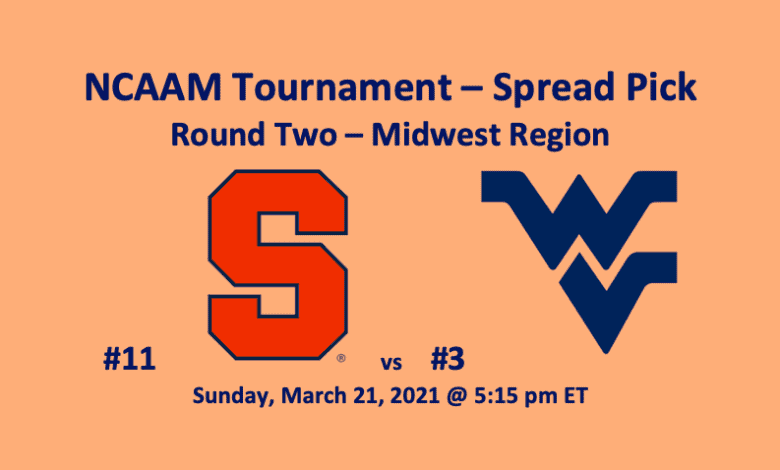 In this Syracuse vs West Virginia pick the Orange are the underdog. This 2021 NCAA Tournament Midwest Region Round Two game has the Syracuse Orange at +4.0 (-110). On the other hand, the favored West Virginia Mountaineers are at -4.0 (-110). The Syracuse Orange pulled an upset in Round One when they beat the #6 San Diego State Aztecs 78-62. The Orange are 4-1 for their last five. In Round One, the West Virginia Mountaineers, who are two and three for their last five games, took down the #14 Morehead State Eagles 84-67.
The Orange and Mountaineers will meet on Sunday March 21 at 5:15 pm ET. The game will take place at Bankers Life Fieldhouse in Indianapolis, IN. Make sure you check out all of our NCAAM Tournament picks, as we've got every game covered including North Texas vs Villanova. We have every game. Just click on the tag at the end of this article.
Syracuse vs West Virginia Pick – Stats
The Orange have a major edge on free throws (78.4% to 717%), are better on blocks (4.9 to 2.9), and are slightly better on assists (15.3 to 13.8). Additionally, in other statistical areas, Syracuse and West Virginia are very close. Points per game come out to 77.3 for the Mountaineers and 75.5 for the Orange, while rebounds per game are 38.1 for WVU and 35.8 for Syracuse.
Key Players
The Syracuse frontcourt is well-honed and disciplined. Forward Alan Griffin is averaging 14.1 PPG and 6.3 RPG, while Quincy Guerrier, who's also upfront, is scoring 14.0 PPG and taking down 86 RPG. Griffin is completing 36.9% of his threes, while Guerrier is good on 49.6% of his field goals. Also, forward Marek Dolezaj offers a solid 10.0 PPG, 5.2 RPG, and 3.3 APG. In the backcourt, it's coach Buddy Boeheim's show. He's averaging 17.7 PPG. Boeheim is completing 39% of his threes and 43.9% of his field goals. Guard Joseph Girard III is averaging 9.6 PPG and 3.5 SPG.
In the backcourt, West Virginia guard Miles McBride is averaging a team-best 16.0 PPG and 4.8 APG. He's a 40-percent plus shooter from anywhere on the court. Also, in the backcourt, Taz Sherman and
Sean McNeil are offering 13.4 and 11.9 PPG respectively. Forwards Derek Culver and Oscar Tshiebwe are scoring 14.5 and 8.5 PPG and grabbing 9.7 and 7.8 RPG.
Syracuse vs West Virginia Pick – Final Thoughts
Our Syracuse vs West Virginia pick likes the Orange. If they can keep this contest close, Syracuse can cover the spread through foul shooting and careful ball control. With those points in mind, we're going with the Syracuse Orange at +4.0 (-110).
#11 Syracuse Orange vs #3 West Virginia Mountaineers
Syracuse Orange at +4.0 (-110)