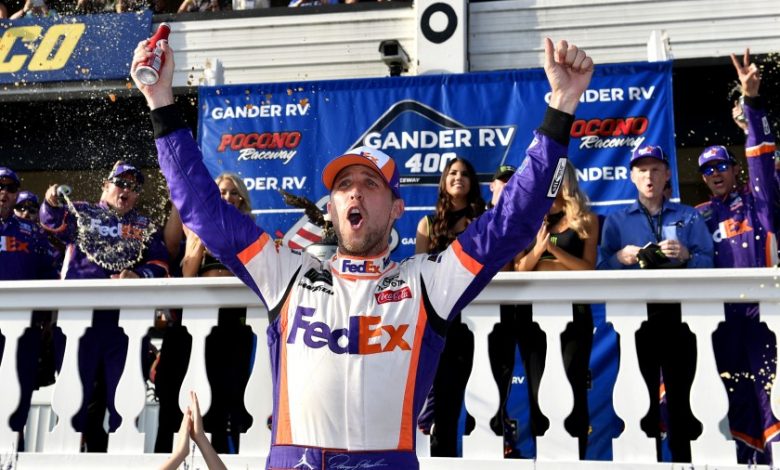 Pocono 350 betting gets interesting on Sunday as a majority of the field raced at this same track on Saturday. Kevin Harvick pulled out the win in that one and is +600 for day two. Denny Hamlin (+400) is the favorite after his 2nd place finish at the Pocono Green 325 yesterday and past success at the track. It's looking like a very top-heavy field, let's see the breakdown.
Denny Hamlin +400
Hard not to like the favorite Denny Hamlin in Sunday's Pocono 350 betting. Hamlin has finished 1st and 2nd in his last two at the Tricky Triangle and has finished in the top 10 four straight at Long Pond.
Hamlin has the best average driver rating at Pocono of anybody in the field (105.1) but will have some ground to make up from the #19 starting position. It's the first time starting outside the top 10 in the last six at Pocono for Hamlin. Therefore Kyle Busch looks like a solid matchup pick against Hamlin. Busch has finished in the top 5 in 4 of his last 5 at Pocono.
Pick: Driver head to head Kyle Busch -120 vs. Hamlin.
Aric Almirola +1800
Aric Almirola did have an advantage starting from the pole in Saturday's race as 19% of the winners had come from the top spot at Pocono in 84 races prior. Almirola still had a high functioning car on his way to a 3rd place finish. Almirola had 26 of the fastest laps en route to leading 61 total. He'll have a tougher time starting from 18th in Pocono 350 betting but did start 34th en route to a 7th place finish in 2018.
Pick: Almirola top 5 finish +245
Ryan Preece +35000
If nearly 1 in 5 winners at the history of Pocono come from the pole, why not take a flier on long shot Ryan Preece on Sunday? Preece does drive a Chevy which hasn't won at Pocono since 2016 but Almirola's 3rd place finish while starting at the pole Saturday was the best of his career at Long Pond. Preece was able to get up to 2nd place on Saturday even while starting in 30th making him a viable play at least in H2H wagers.
Pick: Driver head to head Preece +105 over Bubba Wallace
Ryan Newman +9000
Ryan Newman has the 11th best driver average of today's field at Pocono and his 6th place starting Sunday is the highest since 2016. Despite his success on paper, Newman has just one top 10 finish in his last 11 starts at Long Pond. That being said, the #6 Ford ran well on Saturday leading 13 laps and being in the top 15 for over 2/3 of the race. He didn't finish well crossing 13th but can make adjustments on the quick turnaround.
Pick: Ryan Newman top 5 finish +1200
Erik Jones +1700
Erik Jones was a trendy play for Saturday's race coming into Pocono with the 2nd best rating at the track (103.6). Jones had also finished in the top 5 for three straight races and had finished in the top 5 in 5 of his 6 races at Long Pond. Jones collided with Tyler Reddick on Sunday though and was done for the day on lap 73. Jones will be in a backup car on Sunday and will be starting 38th making him a good driver to bet against. Kurt Busch will be starting 3rd and has the 3rd best driver's rating at Pocono.
Pick: Driver head to head Kurt Busch -115 over Jones.