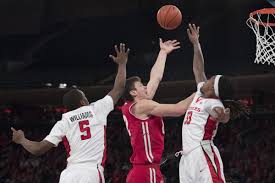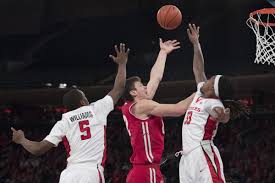 Our Maryland plays Wisconsin Big Ten college basketball free pick is the only game on Sunday, February 19 featuring two nationally ranked teams. The #21 Maryland Terrapins (22-4 Overall, 10-3 Big Ten) are second in the conference while the #11 Wisconsin Badgers (21-5 Overall, 10-3 Big Ten) are third. The over/under on this game, with a 1 pm E.T. tipoff, is 129.5 and the point spread has the Badgers at -7.0.
Over their first 21 games, the Terrapins went 19-2. In their last five games, they were 5-2. This season they have played one other nationally ranked team, #23 Purdue on Feb. 4, losing 73-72. That was followed by a second loss on Feb. 7 to Penn State 70-64. Prior to those two losses, Maryland enjoyed a string of seven wins. The Terrapins started a new winning streak on Feb. 11, beating Ohio State for a second-time this season. They then went on to take down Northwestern 74-64 on Feb. 15.
Like the Terrapins, Wisconsin also lost to Purdue (#20), with the score being 66-65. Over their last 10, the Badgers are 8-2. Those eight wins include three OT victories. The Badgers had not lost two straight all season until this past week when they first lost to Northwestern 66-59 on Feb. 12 and then to Michigan 64-58 on Feb. 16.
#21 Maryland Terrapins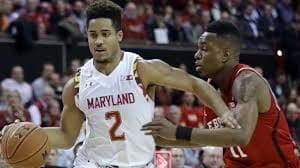 The Terrapins, who are averaging 75.5 PPG and holding teams to 66.8, have a slew of guards who can score points. Top scorer Melo Trimble (17.2 PPG, 3.5 RPG, 3.5 APG) is good on 44% of his shots and 35% from downtown. Guard Anthony Cowan (10.7 PPG, 3.0 RPG, 4.7 APG) is a 43% shooter. Both players are fine defenders. Freshman guard Kevin Huerter (9.0 PPG, 5.0 RPG, 2.5 APG), a 43% shooter with a 37% three-point shot, is a fine backcourt and frontcourt contributor.
Freshman forward Justin Jackson (11.0 PPG, 6.3 RPG, 45 FG%) is a keen talent who commands the paint while knocking down 45% from the three-point mark. Senior guard Demonte Dodd (6.6 PPG, 4.6 RPG, 58 FG%) is an important performer.
#11 Wisconsin Badgers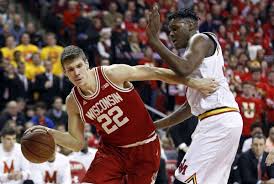 The Badgers are holding teams to 60.5 PPG while averaging 73.2 PPG. This is a team that excels in the frontcourt. Forward Ethan Happ (14.5 PPG, 9.1 RPG, 2.9 APG) has a 61% shot and offers refined defensive skills. Also in the frontcourt, Nigel Hayes (13.3 PPG, 5.9 RPG, 2.8 APG) is good on 45% of his field goals and 31% of his threes. Senior Vito Brown (7.3 PPG, 4.2 RPG, 41 FG%) also adds much needed inside points and rebbies.
In the backcourt, Bronson Koenig (13.4 PPG, 2.4 RPG, 2.2 APG) is good on 38% of his three-point tries and 42% of his field goals. Zak Showalter (8.0 PPG, 3.0 RPG, 1,9 APG) is good on 48% of his tries from the court and 38% of his shots from downtown. The team has decent depth in the backcourt.
Maryland Plays Wisconsin Big Ten College Basketball Free Pick
Maryland and Wisconsin are fairly close on all major stats. However, the Terrapins are better by a few percentage points on frees and threes. However, the Badgers are committing on average three fewer fouls than Maryland. We expect this game to be close. Our Maryland plays Wisconsin Big Ten college basketball free pick is the Terrapins at +7.0 and over 129.5.
Maryland Plays Wisconsin Big Ten College Basketball Free Pick: Maryland at +7.0 and over 129.5