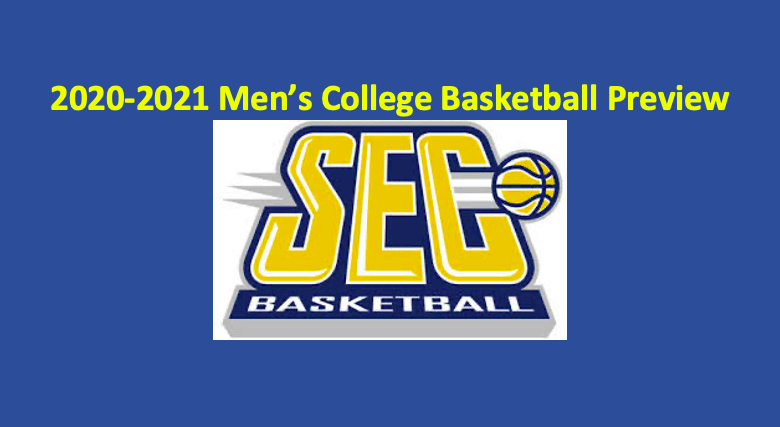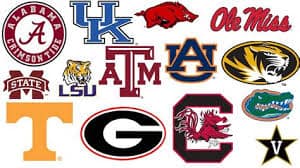 Our SEC basketball preview 2020 – 2021 finds that, once again, the #10 Kentucky Wildcats are favored to win the conference. But they will be challenged and not just by the #12 Tennessee Volunteers. The LSU Tigers, Florida Gators, and others will contend for the regular-season SEC title. That's because the SEC is brimming with new talent that includes some of the best freshman and top transfers recruits in the nation. This influx of skill, experience, and talent will help to even out the pool of premium players. Although only two SEC teams made the AP Preseason Top-25 this year, this conference has become much more competitive, and as the season goes on, you may see more clubs make their way into the AP Poll..
SEC Preview – 2019- 2020
Last season, the Kentucky Wildcats looked like they could go all the way. Along with easily winning the SEC, the Cats were 25-6 overall. They were 4-2 against top-25 teams, and only once last season did they record two-straight losses. After losing to Auburn 75-66 on February 1, Kentucky went on an eight-game winning streak, which included a 73-66 victory on February 29 over Auburn.
The Auburn Tigers ended the season with a record of 12-6 and tied for second place in the SEC with the LSU Tigers. Like the Wildcats, Auburn posted a 25-6 combined record. Auburn started their season with 15 straight wins. After losing two in mid-January to Alabama and Florida, they won seven more in a row. Of those seven wins, four were in OT, as at one-point, Auburn play three overtime games straight. Losses to Kentucky and Texas A&M at the end of the season relegated the team to second place.
Rest of the SEC
Our SEC basketball preview 2020 – 2021 observes that last season LSU suffered from inconsistency. They did find their groove when, from December 29 to February 1, they ran off 10 wins in a row. However, the Tigers had a bad February-March as the team went 4-6 in that time. Last season, LSU was 0-3 versus top-25 teams. As far as the middle of the SEC is concerned, the Mississippi State Bulldogs and Florida Gators were both at 11-7 and tied for fourth, while the 10-8 South Carolina Gamecocks and Texas A&M Aggies tied for sixth. After that, it was Tennessee at 9-9 and all alone in the eighth spot. More was expected from the Volunteers, but they were plagued by a large number of injuries. Consequently, those health issues compromised the team.
The rest of the basketball teams in the SEC posted losing records. The ninth-place Alabama Crimson Tide, who were 8-10 in conference play, recorded a 16-15 winning mark overall, while the Arkansas Razorbacks, who tied the Missouri Tigers for 10th place, came in at 7-11 and were 20-12 in conference/nonconference play. The final three teams, finishing 12 through 14, were the Ole Miss Rebels (6-12), Georgia Bulldogs (5-13), and Vanderbilt Commodores (3-15).
2019-2020 SEC Standings and Records
Kentucky Wildcats (#8) 15-3
Auburn Tigers (#20) 12-6
LSU Tigers 12-6
Mississippi State Bulldogs 11-7
Florida Gators 11-7
South Carolina Gamecocks 10-8
Texas A&M Aggies 10-8
Tennessee Volunteers 9-9
Alabama Crimson Tide 8-10
Arkansas Razorbacks 7-11
Missouri Tigers 7-11
Ole Miss Rebels 6-12
Georgia Bulldogs 5-13
Vanderbilt Commodores 3-15
SEC Basketball Preview 2020 – 2021 – Ranking the Teams
Our SEC basketball preview 2020 – 2021 does find that the Kentucky Wildcats will see more competition this season than they have recently. After all, various SEC teams have done exceptional work recruiting top freshmen and skilled and experienced transfers. Plus, it's important to note that Kentucky must just about start from scratch. Although they've done it before and done it well, this will still be a challenge. Subsequently, they will be vulnerable. Watch out for Tennessee, LSU, Florida, and Arkansas. As you'll see, they all have a lot of potential.
1. Kentucky
Kentucky comes to this season with what is the best recruiting class in the nation. Six of their top players are gone and just two veterans return, Keion Brooks Jr and Brennan Canada. Brooks is a five-star recruit who averaged a tad over 15 minutes a game last year. The 6-7 forward averaged 4.5 points and 3.2 rebounds per game. Seven freshmen and three transfers will help ensure that this edition of the Wildcats is highly competitive. After all, it's not as if head coach John Calipari (330-77) hasn't been here before.
Incoming five-star recruits for 2020 – 2021 are shooting guards Brandon Boston and Terrence Clarke. They will rotate in and out, and it's expected both will be double-digit scorers. Freshman point guard Devin Askew and wing Cam'Ron Fletcher should also get court time. Forwards Isaiah Jackson and Lance Ware, also freshmen, will garner playing time. Wake Forest transfer Olivier Sarr, a 7-0 center who averaged 13.7 points and 9.0 rebounds, was a third-team All-ACC member. Thus, we expect he'll play an important role. Creighton guard Davion Mintz is a big addition. In 2018 – 2019 with the Bluejays, he averaged 9.7 points and 3.0 assists per game. Simply put, these Wildcats are loaded for Bear.
2. Tennessee
Last year, Rick Barnes saw his Volunteers falter in a major way. Injury sidelined star senior guard Lamonte Turner, and the season went downhill from there. However, there's good news for this season. Senior forward Yves Pons returns as the SEC Defensive Player of the Year, four of the Vols' top scorers return, and Tennessee welcomes the top-three freshman class in the nation. Plus, there's senior John Fulkerson. Fulkerson, who last season averaged 13.7 points, 5.9 rebounds, and 1.1 steals per game, is considered to be the top power forward in the SEC. Consequently, we expect that the Vols will be able to control the paint.
Senior graduate transfer E.J. Anosike, a forward from Sacred Heart, and junior transfer Victor Bailey, a guard from Oregon, will be important contributors. Last season, Anosike averaged 15.7 points, 11.6 rebounds, 1.7 assists and 1.0 steals per game. As a sophomore at Oregon, Bailey averaged 7.4 PPG. Five-star recruits Keon Johnson and Jaden Springer, both guards, will be ready to go, while top-100 prospect forward Corey Walker adds depth in the paint. As can be seen, there's a lot of talent on this team. As a result, they will be very competitive.
3. LSU
In 2018 – 2019, Will Wade's Tigers finished first in the SEC. Last year was one of regressions. Our SEC basketball preview 2020 – 2021 finds that this season it is onward and upward for the LSU men's basketball team. This group is very deep and talented. In the backcourt, Javonte Smart and Charles Manning return. Smart had a sound sophomore year, averaging 12.5 PPG and 4.2 APG. We expect that freshman shooting guard Cameron Thomas will see a lot of action and score a lot of points.
Freshman forward Mwani Wilkinson and freshman guard Eric Gaines add depth and will play. Returning forwards Trendon Watford, a sophomore, and Darius Days, a junior, bring fine scoring chops. Trendon Watford averaged 13.6 PPG and Days garnered 11.1 PPG. Transfers Shareef O'Neal (Forward – UCLA), Bryan Penn-Johnson (Center – Washington), and Josh LeBlanc (Forward – Georgetown) will all play. Due to their veteran, freshmen, and transfer players, the LSU certainly possess a lot of potential.
4. Florida
Head coach Mike White looked like he had a contender last season. But the Gators did not meet expectations. Forward Keyontae Johnson, who last year averaged 14.0 points and 7.1 rebounds per game, leads Florida. Sophomore guard Scottie Lewis was good for 8.5 PPG in 2019 – 2020. He could have a breakout year in 2020 – 2021. Junior transfers Tyree Appleby (Guard – Cleveland State) and Anthony Duriji (Forward – Louisiana Tech) will help stabilize this team. Both stand to be double-digit scorers. Guards Tre Mann and Noah Locke will have room to step up and contribute more. They're ready. Thus, the Gators stand to be one of the better teams in the SEC.
5. Arkansas
Razorbacks' coach Eric Musselman had a solid first season at the helm as Arkansas went 20 – 12. However, the 'Backs went 7-11 in the SEC. Arkansas loses six of its seven top scorers from last season. However, we do expect Arkansas will have a winning season, as Musselman welcomes a top-10 recruiting class and some fine transfers. We project forwards Vance Jackson Jr (New Mexico) and Justin Smith (Indiana) to be major contributors. Jackson is a fine front man who can stretch the D, and Smith averaged 10.4 points and 5.2 rebounds per game with New Mexico. Junior guard Desi Sills returns having averaged 10.6 PPG. Northern Kentucky transfer Jalen Tate, a point guard, averaged 13.9 points, 5.4 rebounds, 3.6 assists and 1.9 steals per game last year. As can be seen, Musselman has a lot of talent to work with. Thus, these Razorbacks will be a very competitive team.
6. Alabama
Alabama returns a fine core that includes guards Jaden Shackelford (15.0 PPG) and John Petty Jr (14.5 PPG) and forwards Alex Reese (8.8 PPG) and forward/guard Herbert Jones (7.9 PPG). Plus, former five-star recruit, Jahvon Quinerly, a Villanova transfer who did not play last season, will be at guard. Yale grad transfer Jordan Bruner, a forward, comes to the Crimson Tide having averaged 10.9 points and 9.2 rebounds last season. Last year, 'Bama allowed 79.0 PPG (333th Nationally, 14th SEC) and recorded TPG14.9 (314th Nationally, 14th SEC). Consequently, they must correct both of those areas. We believe they will to some degree. However, how much success they willenjoy is difficult to access.
7. South Carolina
The Gamecocks bring back guard A.J. Lawson, who averaged 13.4 PPG and 3.7 RPG. He is one of three top scorers that returns, which includes Jermaine Couisnard. Couisnard, who's also in the backcourt, averaged 12.1 PPG. Sophomore T.J. Moss rounds out the trio of guards. The frontcourt is manned by forwards Justin Minaya and Keyshawn Bryant. Sophomore forward Wildens Leveque will see minutes after a solid freshman performance. North Carolina transfer guard Seventh Woods could become a major contributor. Head coach Frank Martin has a good team, but they are not spectacular. Thus, we project South Carolina finishing somewhere in the middle of the SEC.
8. Auburn
After losing all five starters from last season, head coach Bruce Pearl will have to make major adjustments. Two guards, junior Jamal Johnson (3.5 PPG) and sophomore Allen Flanigan (3.2 PPG), come back, as do two front men, sophomore forward Jaylin Williams (2.4 PPG) and sophomore center Babatunde Akingbola (0.2 PPG). Incoming freshmen forward JT Thor and guard Sharife Cooper will be asked to step up immediately. There's talent here. However, there is very little experience. By the way, those five starters who departed were responsible for 60 PPG. Last season, the Tigers averaged 78.0 PPG. It's hard to say where the Tigers will find those points. Subsequently, we project Auburn recording a losing record as they adjust to the numerous changes and challenges.
9. Texas A&M
Buzz Williams, SEC Coach of the Year, sees a sound core of players return. Senior forward Savion Flagg, who averaged 10.4 points and 5.1 rebounds per game last season, will lead the Aggies. Also back are sophomore forward Emanuel Miller (6.4 PPG) and sophomore guard Andre Gordon (6.3 PPG). However, no matter how good a job Williams does as a coach these players won't be enough to make this team win consistently. That means that Williams will press talented freshmen into service immediately. Point guard Hassan Diarra and scoring guard Jaxson Robinson will play, as will graduate transfer Kevin Marfo (Quinnipiac). He led the nation in rebounding last season with 14.0 PPG. As a result of these additions, be sure to watch this team. They could deliver some surprises.
10. Ole Miss
Ole Miss brings back a fine core of players, including senior guard Devontae Shuler (11.7 PPG) and junior forward KJ Buffen (10.1 PPG). Shuler, who is the team's leading returning scorer, averaged 4.5 rebounds, 3.3 assists, and 1.7 steals per game. Guard/forward Luis Rodriguez (5.8 PPG) is a versatile player. Senior forward Khadim Sy (9.0 PPG) is sound in the paint. Transfers will be essential to this team's success. Consequently, Arizona State transfer Romello White, a forward, will help to upgrade this team's rebounding and shot blocking. Last year with ASU, he averaged 10.2 PPG and 8.8 RPG. Also, Rider graduate transfer Dimencio Vaughn, a 6-5 wing, comes to the Rebels having averaged 14.8 PPG and 6.6 RPG last season. Guard Jarkel Joiner, transfer from at CSU Bakersfield, was a 2018 – 2019 First-Team All-WAC choice after averaging 18.6 PPG. Therefore, the Rebels could pull off some surprise wins.
11. Missouri
At the helm of the Tigers, head coach Cuonzo Martin has led the team to two consecutive sub-500 seasons. However, there is good news. After coaching around various injuries, Martin has a healthy squad that is experienced. Top players Mark Smith and Jeremiah Tilmon come back healthy. How experienced is this team? Our SEC basketball preview 2020 – 2021 finds that 88% of Missouri's scoring from last season returns. Senior Drew Buggs, a graduate transfer from Hawaii, will contribute. Last year, the guard averaged 9.4 points, 5.4 assists and 4.2 rebounds per game last season. Thus, we conclude that Missouri will show some improvement this year.
12. Georgia
The Bulldogs lose Anthony Edwards who was the top NBA draft pick this year. What a huge loss. The guard averaged 19.1 PPG. Head coach Tom Crean will now utilize guards Sahvir Wheeler and Tye Fagin. In front, Christian Brown, Mike Peake, and Jaykwon Walton, all sophomores, will look to expand on their total average of 7.8 PPG. This core is joined by eight new players. Thus, it's going to take some time for Georgia to rebound. Also, this SEC basketball preview 2020 – 2021 notes that the big question is where will Crean finds the points this team needs to win?
13. Mississippi State
There is not a lot of experience on this Bulldog team. Coach Ben Howland will be without three starters, who together averaged over 40 PPG. Gone is Co-SEC Player of the Year Reggie Perry, who averaged 17.4 PPG. Returning players include forward D.J. Stewart (8.5 PPG), guard Iverson Molinar (5.9 PPG), both sophomores, and senior forward Abdul Ado (5.7 PPG). Graduate transfer Jalen Johnson, who last season with Louisiana averaged 15.5 points and 6.6 rebounds, steps into a forward spot. Also, four-star, top-75 recruit point guard Deivon Smith will take the court immediately. It will take some time for this team to find its rhythm.
14. Vanderbilt
Coach Jerry Stackhouse certainly has a major undertaking as the Commodores lose top performers Aaron Nesmith and Saben Lee. This is a team that in the last two years has won just three SEC games. Our SEC basketball preview 2020 – 2021 finds that Stackhouse will look to transfers D.J. Harvey and Isaac McBride to play and score immediately. In the paint, Dylan Disu and Clevon Brown will need to take command and Scotty Pippen, Jr. and Maxwell Evans must step up and lead. This will be an uphill battle for the Commodores. As a result, we find it will be a tough battle to win.
SEC Basketball Preview 2020 – 2021 – Final Word
Our SEC basketball preview 2020 – 2021 certainly likes Kentucky. However, Tennessee, LSU, and Florida could all have something to say about that. Then again, the Wildcats could run away with the conference. It will be interesting to see if any of the teams we've projected to finish seventh and lower might surprise us. It's doubtful that they will. After all, this is a large conference and despite some leveling off, there are still gross disparities between the top four to six teams and the rest of the SEC. Follow this link back to our NCAAM homepage.